North Korea Nullifies 1953 Armistice
Things are heating up on the Korean Peninsula again.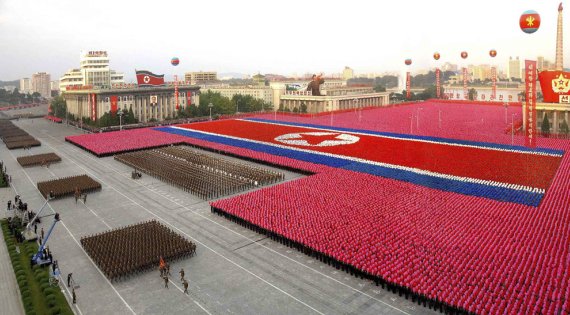 North Korea says that has withdrawn from the Armistace that ended the Korean War:
SEOUL, South Korea — North Korea declared the 1953 Korean War armistice nullified on Monday, following through on a longstanding threat that it renewed last week amid rising tensions with South Korea.

The move comes as the United States and South Korea are in the midst of two months of joint military drills, which started on March 1, and on Monday they began another planned joint military exercise that involved bringing 2,500 troops from the United States. Stirring up a sense of crisis among its impoverished people, North Korea was also staging an unusually vigorous military drill of its own, South Korean officials said.

However, there were no signs of hostility along the border between the two Koreas. South Korean officials said they were increasing their vigilance amid fears that North Korea might use the United States-South Korean military drills and a fresh round of United Nations sanctions as an excuse to create an armed skirmish against the South.

"We must deal strongly with a North Korean provocation," the South's new president, Park Geun-hye, said during her first cabinet meeting on Monday. She called for the protection of people living on a border island that was attacked by North Korean artillery in 2010 and of South Koreans working in a joint industrial park in the North Korean border city of Gaesong.

But she also said her two-week-old government would work to build "trust" with North Korea.

During the cabinet meeting, Ms. Park also criticized senior military officers for playing golf last weekend amid the tensions with the North. Her office was investigating news reports that a military golf course in Seoul was crowded with senior army officers, including generals, on Saturday and Sunday.

Kim Min-seok, spokesman of the Defense Ministry, admitted that some some officers played golf at the weekend. But he added that none of them served in sensitive commanding posts.

The exchange of bellicose language between the two Koreas has recently intensified, recalling the level of tension after the North Korean artillery barrage in 2010, which left four South Koreans dead. After the United Nations imposed the new sanctions as a penalty for the North's third nuclear test, on Feb. 12, the North said that it would nullify the armistice and that it was being threatened with a pre-emptive nuclear strike that it might itself pre-empt with nuclear strikes on Washington and Seoul. South Korea responded that in the case of such attacks, the North Korean government would be "erased from the Earth."
The North Koreans also cut a Red Cross hotline between Seoul and Pyongyang and threatened further escalation:
(Reuters) - North Korea has cut off a Red Cross hotline with South Korea as it escalates its war of words against Seoul and Washington in response to a military drill in the South and U.N. sanctions imposed for its recent nuclear test.

The North had threatened to cut off the hotline on March 11 if the United States and South Korea did not abandon their joint military exercise.

The Red Cross hotline is used to communicate between Seoul and Pyongyang which do not have diplomatic relations.

"We called at 9 a.m. and there was no response," a government official from South Korea said. The line is tested each day.

Pyongyang has also threatened to cut off a hotline with U.N. forces in South Korea, at the border "truce village" of Pammunjom.
Cutting off both of these hotlines would be a potentially serious move, most especially because it would mean the end of communication between DPRK and United Nations (mostly, of course, United States) forces,  which creates the risk that a mistake or error on one side of the border or another will lead to escalation far beyond what is justified. All this come at the same time as  reports that the latest round of sanctions, along with Chinese efforts to crack down on cross border smuggling have caused the prices of basic commodities like rice to jump as much as 50-70%, creating an impossible situation for most North Koreans. Thus, we're likely looking at yet another round of North Korean saber rattling prompted by a domestic crisis. This time, though, they're taking steps that make the situation even more dangerous than it already is.