Does Rand Paul Have A Future In The GOP?
Rand Paul's filibuster has made him a darling among conservatives but it may not last.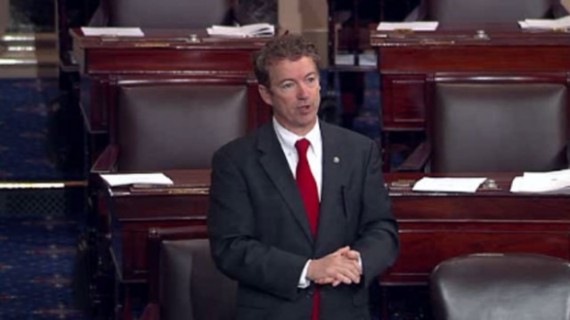 Timothy Noah argues that the current fascination on the right with Rand Paul, and the extent to which conservatives have rallied behind him in the wake of his filibuster last week, will only last for so long:
Remember Chuck Hagel? Former Republican senator from Nebraska? Just before the sequester hit Hagel was confirmed as defense secretary, but his margin washistorically narrow because nearly every Senate Republican opposed him. (Paul was one of only four GOP yeas.) The president named a Republican to be secretary of defense, and Senate Republicans (including, for very foggy reasons, Paul) actually gave serious thought to filibustering the nomination. Much of the Republican resistance to Hagel was based, childishly, on the mere fact that Obama wanted him. But much of it was based on Hagel's having taken positions on national security issues that his fellow Republicans judged unacceptably dovish—and Hagel isn't nearly as dovish as Paul is. If Hagel proved unacceptable to the GOP, it's inconceivable that Paul—who less than one month before the 2012 election published an op-ed condemning Mitt Romney for being too hawkish in the Middle East and too willing to increase Pentagon spending—will ever pass muster. And by "the GOP" I don't just mean GOP politicians. I mean voters, too. Those Reagan Democrats whom Paul thinks he can woo in California, New England, and the Great Lakes? They're pretty hawkish. They won't vote for a candidate who's weaker on defense than Barack Obama is. New York magazine's Jonathan Chait writes that Paul's libertarianism on national security issues "will remain cool with his party only as long as the GOP remains out of the White House." I disagree. I think it will remain cool with his party only as long as the GOP dwells in Sequesterland. Once that little matter gets resolved, Paul will go back to being an oddball. I'm not saying he won't try to get elected president—after all, it runs in the family—but he will never inhabit the "top tier of Republican players." That it looks like he might right now is just a quirk of circumstances.
Daniel Larison disagrees:
It's true that Sen. Paul will continue to face significant resistance inside the party on foreign policy, and he will almost certainly face at least as much hostility from party hard-liners as Hagel did if he ever competes for the presidential nomination. Having said that, Noah gets a few things wrong. The first is that hard-line foreign policy is much more important to national Republican politicians and pundits than it is to most Republican voters. There is not that much enthusiasm among rank-and-file Republicans for new wars or a party leadership that seems dedicated to keeping the U.S. at war forever. There is a growing constituency inside the party that rejects both. As long as Rubio and McCain are the most well-known alternatives to Paul, Paul will most likely be well-received by a growing number of Republican voters. Outside the GOP, there are even fewer Americans interested in the sort of foreign policy that Hagel-bashers prefer. Hard-liners have already contributed to three Republican national losses. It seems likely that the voters alienated by Bush-era foreign policy incompetence and "omni-directional belligerence" are more likely to gravitate back to the party if there is good reason to expect that the next Republican administration will do its best to avoid rather than start new wars, and persuading those voters to come back and to turn out is an important part of assembling a winning coalition. Marco Rubio or Jeb Bush can't do that, and probably don't want to try.
As a preliminary matter, I think that Noah is placing far too much importance on the Sequester as a reason for why many conservatives have seemingly rallied around Paul over the drone issue. At least at the moment, the impact of the Sequester seems to be entirely superficial. Even the White House has begun to walk back many of  the doomsday claims there were making about the Sequester's impact on Federal Government operations and the economy. Moreover, at this point the GOP seems united behind the idea of letting the Sequester stay in place absent a comprehensive budget reform plan that includes entitlement reform. Since that seems pretty unlikely at this point, I would suggest that the Sequester is here to stay and that most Republicans have accepted that fact. Trying to tie in the rallying around Paul last week to the Sequester is, well, a complete non sequiter.
Notwithstanding that, though, Noah does raise a valid point here. I've long had my doubts about how far Senator Paul could actually go as a national political figure given the fact that he holds positions on foreign policy and civil liberties that are not exactly consistent with what one would consider to be the mainstream of Republican thought. While Senator Paul has tended to cut a slightly different path on foreign policy than his father did, it's fairly clear that the foreign policy vision that he supports, which I once referred to as a foreign policy of self-interested non-interventionism. Of course, as I noted at the time, Paul's vision isn't exactly in the majority inside the GOP:
Of course, Paul's vision is very much in the minority in the Republican Party, even though in many ways it is closer to the mainstream of American public opinion than the interventionism espoused by people like John Bolton and Newt Gingrich, and eagerly and completely adopted by Mitt Romney throughout the 2012 campaign. Indeed, more often than not someone who expresses ideas similar to Senator Paul's among other Republicans and conservatives ends up being called, falsely, an isolationist, a word that still seems to retain some sense of being a slur even though its been some 75 years or more since the pre-World War II "American First" crowd was a thing. It's not a fair or accurate representation of the ideas that Senator Paul is talking about here, but it is used by many on the right as a way of attempting to silence debate on foreign policy issues. While it doesn't seem to be nearly as effective as it used to be given that there are a growing number of Republicans, in the House, who are willing to break from GOP orthodoxy on issues such as the Afghanistan War and the defense sequestration cuts, it's still used and, especially among activists it still works. Call someone an "isolationist" and that give other people an excuse to just ignore them rather than giving their ideas the consideration they deserve. That may be the fate that awaits Senator Paul.