Trump Will Rely On Fear And Racial Divisiveness To Win In 2020, It's All He's Got
Trump's attacks on racial minorities are going to continue, and get worse, the closer we get to 2020. Because stirring up fear and racial resentment among white working-class voters is the only way he can win.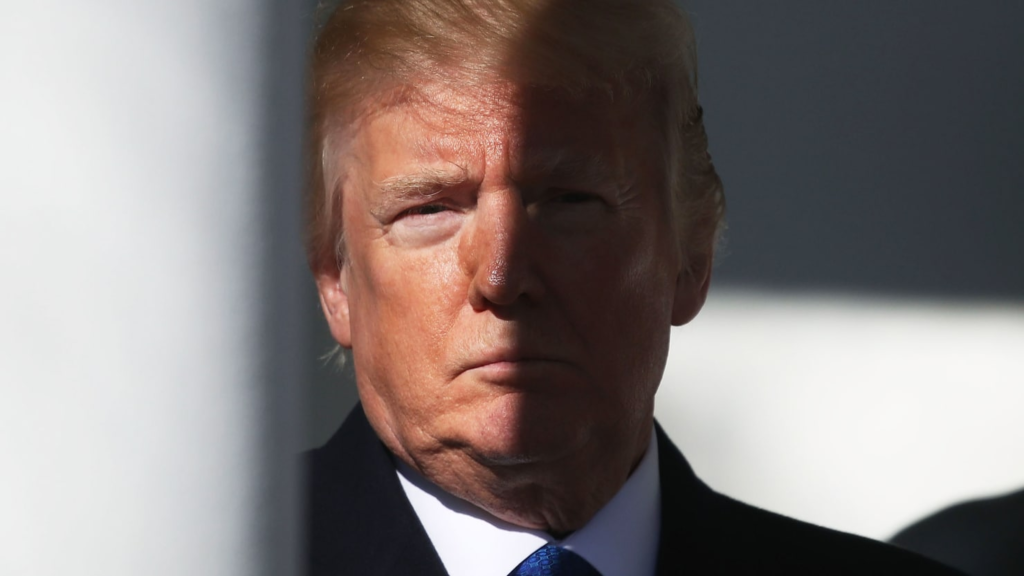 President Trump's Twitter attacks on Maryland Congressman Elijah Cummings, which mirror his racist screed two weeks earlier against four minority Democratic Congresswomen have demonstrated yet again the extent to which his campaign intends to rely on the politics of racial division as the 2020 campaign heats up:
As condemnations have poured in over the past two weeks accusing Trump of bigotry — including a bipartisan House resolution decrying his "go back" tweets as racist — Trump's campaign has mounted an all-out effort to defend the president and turn his offensive comments into a political advantage with his base.

epublican officials say Trump is harnessing the anger of those who continue to feel left behind despite the strong economy, and steering their fury toward members of Congress he has accused of bad-mouthing the country and embracing socialist policies.

"This is Hillary's 'basket of deplorables' all over again," said Trump campaign communications director Tim Murtaugh, referring to a term Hillary Clinton used to brand some Trump supporters as bigots in 2016. "They're trying to say anyone who supports this president is racist."

Trump, who turned the "deplorables" label into a rallying cry for his base, is seeking to do the same in 2020 as he tries to retain support in key Midwestern swing states.

Trump kicked off the controversy with a July 14 Twitter attack on the four Democrats — Reps. Ilhan Omar (Minn.), Alexandria Ocasio-Cortez (N.Y.), Ayanna Pressley (Mass.) and Rashida Tlaib (Mich.) — suggesting that they "go back" to the "totally broken and crime infested places from which they came." All four are U.S. citizens; Omar was born in Somalia.

That was followed several days later by a campaign rally in which the crowd broke into chants of "Send her back!" as Trump was attacking Omar. Facing some criticism from a smattering of Republican lawmakers, Trump briefly distanced himself from the chants — before fully embracing the chanters as "incredible patriots."

Campaign advisers and party officials, some of whom spoke on the condition of anonymity to discuss internal deliberations, said that an appeal targeted at Trump's white working-class base will not necessarily cost him moderate voters.

"The general assumption with everything Squad-related is this helps shore up our base. It definitely helps with white working-class voters," said one person close to the campaign, using the term that refers to the four congresswomen. "I think that shows that this can be turned into a positive, in terms of a very political viewpoint."

Publicly, campaign aides and advisers have sought to shift the conversation away from race and toward the less explosive territory of ideology. But they have also pushed back aggressively against charges of racism, seeking to make common cause with supporters who also feel they are too quickly branded as bigots.

Murtaugh said Democratic lawmakers are seeking to "create conditions where if you are a certain gender or a certain race all criticism is considered racist or sexist."

Bryan Lanza, an adviser to Trump's 2016 campaign and transition, said that although he did not like the "Send her back!" chants, he hoped Republicans would double down rather than back down from their attacks on the four lawmakers.

"Usually, when they are faced with charges of racism, Republicans hide a little bit. And the president's not hiding," he said. "And I think that's what the Republican voters like about him."

Trump has shown no sign of reversing course. A few days ago, he renewed his attacks on the four minority lawmakers, calling them "very Racist" and "not very smart."

The president's allies say that combative approach appeals to white Republicans who are tired of being accused of racism.

"Republicans, for as long as I can remember in politics, we've all been called racists just because of our policy ideas," said Kelly Sadler, a spokeswoman at America First Action, a pro-Trump super PAC. "The Republicans who have been struggling with these criticisms want somebody to fight back. And the president now is reversing the game on the Democrats."

Republicans are funding an opposition research campaign targeting the four lawmakers, and the Trump campaign has been disseminating talking points highlighting their controversial statements and liberal policies.

But some Republicans have expressed concern with how quickly Trump's attacks escalated into racially offensive chants calling for Omar to be deported to Somalia.

"Sometimes crowds get a little unruly at times," said Mark Jefferson, executive director of the Wisconsin Republican Party, referring to the "Send her back!" chants at the Trump rally in Greenville, N.C. "That's not something that I feel terribly comfortable with. You won't see me saying it."

Jefferson said that although Trump performed better than expected in some rural parts of Wisconsin, he performed worse than the state's Republican senator among suburban voters and establishment Republicans.

(…)

Trump can focus on appealing to his base of white working-class voters in part because his coalition may not need to deliver a popular vote victory for him to win the electoral college in 2020, said Dave Wasserman, a political analyst with the Cook Political Report.

"He may only need to come within 4 percent," Wasserman said, adding that Trump's rhetoric may boost his support among white voters in Michigan, Wisconsin and Pennsylvania. "The best way to come within 4 percent is to keep your core supporters motivated to turn out, especially in the upper Midwest."

Democrats are banking on the idea that even if Trump's language excites his base, it is likely to offend a diverse coalition of voters who will turn out to defeat him.

"I don't think it's going to depress Democrats. I think it's going to make them angry," said Jennifer Palmieri, an adviser to Clinton's 2016 campaign.
None of this is surprising, of course. This, after all, is the same man who engage in housing discrimination in the 1970s. The same person who in the 1990s took out a full-page ad in The New York Times calling for the death penalty for the so-called Central Park Five, a group of five African-American teens who were falsely convicted of raping a jogger in Central Park. Even to this day, Trump refuses to apologize for that position and refuses to acknowledge the overwhelming evidence of their innocence. It's the same candidate who first dipped his toes in the political waters by embracing the racist birther conspiracy. When he became a candidate for the Republican Presidential nomination in 2016, he did so by attacking Mexicans, Muslims, disabled people, a Federal District Court Judge who happened to be Mexican-American and a Gold Star Family who happened to be Muslim.  In response to N.F.L. players who were peacefully kneeling to protest racially biased police violence, he responded by calling the largely African-American players "sons of bitches." And, of course, most recently he has spent the last two week engaged in racist attacks on four minority Congresswomen and on House Oversight Committee Chairman Elijah Cummings.
The reason that Trump is doing this is quite simple. He's doing it because it appeals to his base and because he knows at this point that the only way he's going to get re-elected is if he keeps that base fired up headed into Election Day 2020. As I've said before, previous Presidents running for re-election have sought to broaden their base. This President, paradoxically, seems to be intent on shrinking it and yet still believes that he can win by getting that base so scared of the future, so scared of the "other," and so scared of people who don't look like him that they make sure to get to the polls on Election Day.
Because of this, we're unlikely to see this racially divisive strategy of Trump's come to an end. If anything, it's going to get much, much worse as we get closer to the election, especially if the current polling that shows the President losing to several of the top Democratic contenders in key states continues. With numbers like that, Trump knows that he can't and likely won't win if he runs a campaign that attempts to broaden his base. The only hope he has is to rile up his base and hope that their turnout in key states is stronger than Democratic turnout, or at least strong enough for him to pull off what would likely be another narrow Electoral College win, perhaps one even narrower than the one he won in 2016 which ranks at 46th among the 58 Presidential elections we've had since 1789. (Source) Will it work? We'll find out on the night of November 3rd, 2020.