$15 Minimum Wage for Soldiers?
Our junior enlisted members make far less than that.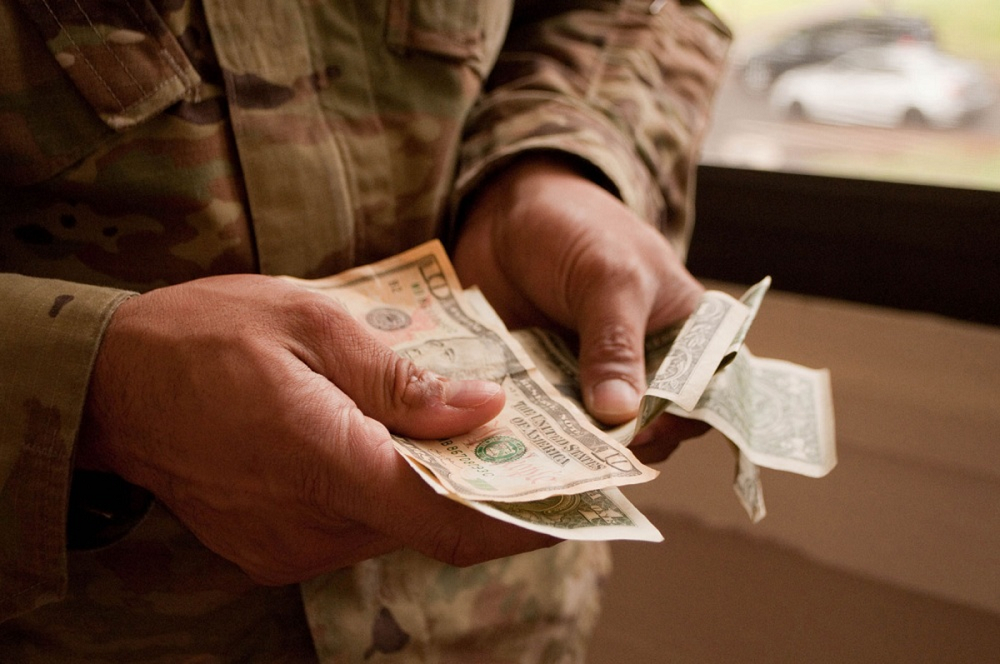 Retired Army lieutenant colonel Anthony Dean has a commentary piece in the Military Times papers titled "Raise military pay to match minimum wage for federal contract employees." As always with claims that servicemembers are underpaid, I was extremely skeptical. But he actually has a sound argument.
On April 27, 2021, President Biden boldly signed an executive order raising the minimum wage for federal contract employees to $15 per hour. According to the accompanying White House fact sheet, this "ensures that hundreds of thousands of workers no longer have to work full time and still live in poverty." In pursuing this laudable goal, the president has effectively made the federal minimum wage for unskilled contractor workers $31,000 a year.

My question is why is the contractor slinging hash in the mess hall making nearly 60 percent more than the private who is willing to risk everything for his country standing in the chow line? Currently, a new enlistee in the armed forces makes $1,650.30 per month, or roughly $19,803 annualized — an $11,400 difference. This works out to about $9.52 per hour — only if you make the fantastical assumption that new soldiers work only 40 hours a week. It takes a service member serving in the pay grade E-4 with three years of service to make the kind of scratch the dishwasher makes. To fix this, not only does pay for new enlistees need to increase by more than 57 percent, but the raise needs to be applied across the board. You cannot have privates making more than sergeants. Or sergeants more than lieutenants.
Now, let's get past the hackneyed bits about the risks. Yes, some members of the armed forces take extraordinary risk for their country. Most don't and, overall, the actuarial data rate soldiering as safer than all manner of jobs, from fishers to loggers and longshoreman to truck driver. But it's true that, looking at base pay only, the most junior enlisted members make less than a $15/hour minimum wage assuming 40 hours/week at 52 weeks a year. To hit $31.000 a year on unadjusted base pay alone, one needs to be an E-4 with 3 years of service.
Yes, a lot of people start out above pay rate E-1 and most will get to E-3 and even E-4 very quickly. Still, looking at base pay only, that's a lot of people making less than the proposed minimum wage.
Of course, even the most junior enlisted member gets great benefits. Free medical care on base or the rather Cadillac-caliber TRICARE off. Free housing and meals for junior enlisted in the barracks or tax-free subsidies for housing and meals for those living off base. There are enough variables as to make calculations impossible but, even so, these likely aren't enough to take the very junior-most personnel up to $31,000 a year.
Regardless, Dean is honest about this:
Technically, military personnel are "salaried" employees, and pay is just one portion of an enlistee's compensation package, that also includes housing, medical, educational benefits and a host of other things, including tax-free shopping at the PX. In fact, I fondly remember receiving a form along with my Leave and Earning Statement telling me how I was really swimming in dough based on the benefits I did not know I was receiving. That said, there is also the inherent danger in military jobs, the extended separation from family and friends, the limitations on personal freedoms, the routine 80-120 hour work weeks, and the miserable living conditions during training exercises. On the plus side, there is the bonus of deployments, where a sizable portion of the population is actively trying to kill you. You rarely get that slinging hash.
Again, I think Dean undermines his argument with constant appeals to the hazards of the job. And, frankly, despite the stories well tell ourselves, very few junior enlisted (or senior officers, for that matter) work anything like 80-120 hour work weeks. (The latter is more than 17 hours a day, 7 days a week. Nobody does that more than a day or two in a row, let alone routinely, unless they're deployed—and even then, only if we count all their waking hours as "work" because they're unable to go home.)
But, again, unless they're stationed somewhere with a high cost of living and drawing an offsetting COLA, few junior enlisted are making $15/hour even assuming a standard workweek. (I suppose they're doing better if we amortize the pay over 11 months, since they get 30 days' paid vacation, but it still doesn't translate to the $31,000 figure).
Then again, Dean's point gets strengthened with this argument:
It is not only military pay that is now suddenly lagging in light of the recently signed executive order. A number of administration proposals, including two years of free college, student loan forgiveness, and increased access to free health care, are also undercutting many of the core benefits that the military uses for recruiting.
This is an excellent point. Right now, these are inducements used to get people to volunteer for what's otherwise, frankly, often a rather undesirable job. It gets much better—attractive even–as one rises in rank and responsibility but, at entry level, it's dirty, thankless work.
Dean spends the last several paragraphs, though, making what I think is the wrong point: that giving these benefits out for free will harm recruiting and retention. That's almost certainly right, of course. But there's a better argument that we shouldn't put people in the position of "volunteering" for a job they didn't otherwise want to do—and which, yes, comes with a not insignificant risk of getting shot at and, certainly, a near certainly of surrendering some basic freedoms—in order to get a subsistence wage, medical care, and an education.
Rather, Dean's argument leads to the natural conclusion reached by his headline writer: we will likely need to pay junior enlisted folks more in an environment in which those basic necessities of modern living are simply taken for granted. And, yes, that will make our Defense budget, already overburdened with high personnel costs, even more strained.