AOL Buys HuffPo for $315 Million
AOL has bought the Huffington Post. But, really, it's the other way around: HuffPo has taken over AOL.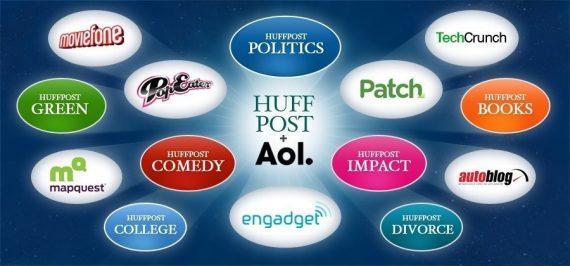 AOL has bought the Huffington Post. But, really, it's the other way around: HuffPo has taken over AOL.
NYT goes with the unintentionally ironic headline "Betting on News, AOL Is Buying The Huffington Post"
The two companies completed the sale Sunday evening and announced the deal just after midnight on Monday. AOL will pay $315 million, $300 million of it in cash and the rest in stock. It will be the company's largest acquisition since it was separated from Time Warner in 2009.

The deal will allow AOL to greatly expand its news gathering and original content creation, areas that its chief executive, Tim Armstrong, views as vital to reversing a decade-long decline.

Arianna Huffington, the cable talk show pundit, author and doyenne of the political left, will take control of all of AOL's editorial content as president and editor in chief of a newly created Huffington Post Media Group. The arrangement will give her oversight not only of AOL's national, local and financial news operations, but also of the company's other media enterprises like MapQuest and Moviefone.

[…]

AOL's own news Web sites like Politics Daily and Daily Finance are likely to disappear when the deal is completed, and many of the writers who work for those sites will become Huffington Post writers, according to people with knowledge of the deal, who asked not to be identified discussing plans that are still being worked out.
Why "unintentionally ironic"?  Because HuffPo is not and never has been a "news" site. It started as a political commentary site featuring celebrity posters and evolved into a gigantic content farm built mostly on salacious celebrity gossip and weird stories.  As of 7 Eastern this morning, here are HuffPo's most popular stories:

And, no, that's not an aberration.  Here's a screencap from August 31, 2010:

And one from August 25, 2009: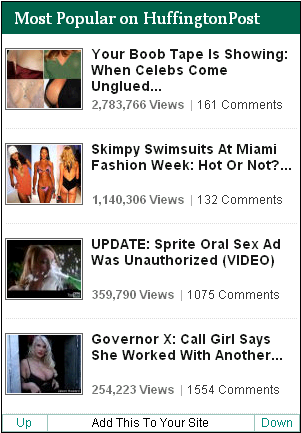 TechCrunch's Paul Carr, now part of the HuffPo-AOL empire, thinks it's brilliant:
Arianna Huffington's genius is to churn out enough SEO crap to bring in the traffic and then to use the resulting advertising revenue – and her personal influence – to employ top class reporters and commentators to drag the quality average back up. And somehow it works. In the past six months journostars like Howard Fineman, Timothy L. O'Brien and Peter Goodman have all been added to the HuffPo's swelling masthead, and rather than watering down the site's political voice, it has stayed true to its core beliefs.
It's an interesting model.  And, clearly, a financially successful one.
But AOL isn't just acquiring HuffPo, it's merging all of its media content under the HuffPo brand and Arianna Huffington's leadership. Certainly, HuffPo is a stronger brand than Politics Daily and Daily Finance, which are incredibly generic names and lack any real identity. But does AOL want to go from putting together a news network to a lefty opinion site which happens to aggregate "news"?   Apparently so.