As Militants Advance, Iraqis Look To U.S. For Help
The Iraqi government seems to be panicking.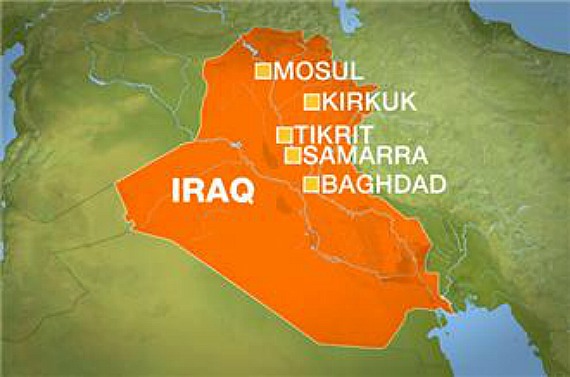 Just days ago, the Iraqi militants loosely associated under the name ISIS captured Mosul, widely regarded as the second most important city in Iraq, in a battle that seemed from the outside to be fairly one-sided. Now there's word that these same militants have scored another victory with the seizure of Tikrit, formerly the home base of none other than former Iraqi leader Saddam Hussein:
Islamist insurgents in Iraq have seized the city of Tikrit, their second major gain after capturing Mosul on Tuesday, security officials say.

Tikrit, the hometown of former leader Saddam Hussein, lies 150km (95 miles) north of the capital Baghdad.

Iraqi PM Nouri Maliki vowed to fight back against the jihadists and punish those in the security forces who fled offering little or no resistance.

The insurgents are from the Islamic State of Iraq and the Levant (ISIS).

ISIS, which is also known as ISIL, is an offshoot of al-Qaeda.

It controls considerable territory in eastern Syria and western and central Iraq, in a campaign to set up a Sunni militant enclave straddling the border.

There were also reports on Wednesday of fighting further south, in Samarra, 110km north of Baghdad.

Separately, at least 21 people were killed and 45 hurt by a suicide bomber at a Shia meeting in Baghdad, police said.
In what seems like a probable explanation for the recent military successes scored by the militants, The Telegraph reports  that the Iraqi army seems to be giving up the fight:
Iraqi officials told the Guardian that two divisions of Iraqi soldiers – roughly 30,000 men – simply turned and ran in the face of the assault by an insurgent force of just 800 fighters. Isis extremists roamed freely on Wednesday through the streets of Mosul, openly surprised at the ease with which they took Iraq's second largest city after three days of sporadic fighting.

Senior government officials in Baghdad were equally shocked, accusing the army of betrayal and claiming the sacking of the city was a strategic disaster that would imperil Iraq's borders.

The developments seriously undermine US claims to have established a unified and competent military after more than a decade of training. The US invasion and occupation cost Washington close to a trillion dollars and the lives of more than 4,500 of its soldiers. It is also thought to have killed at least 100,000 Iraqis.

(…)

Mosul is by far its biggest prize so far: a gain that will seriously undermine Nour al-Maliki's efforts to be renominated as prime minister for a third term - and cripple the standing of the military, regarded for the past three years as the most important institution in the land. Any counter-offensive against Isis is expected to be led instead by Kurdish Peshmurga forces, which remain fiercely loyal to Kurdish leaders, but not to Baghdad.

A spokesperson for the Peshmurga, Brigadier General Halgord Hekmat, told the Guardian that "the sudden collapse of the Iraqi army has left us with no option but to fill some areas with our forces because we can't have a security vacuum on our border".

Maliki accused some senior military figures of "negligence" and "betrayal", attempting to deflect blame for the rout. As commander in chief, Maliki has ultimate responsibility for Iraq's armed forces and has presided over a series of spectacular defeats at the hands of Isis, starting last July when Abu Ghraib prison on Baghdad's western outskirts was overrun by the extremist group in a raid that freed several hundred convicted terrorists.

In December parts of Fallujah and Ramadi – both former al-Qaida strongholds – were retaken by the group, which has ever since deterred Iraqi forces from trying to re-enter the cities and maintained a withering insurgency in the nearby countryside.

"I know the reasons why the army collapsed," Maliki said. "But now is not the time to point the blame to whoever ordered the army to fall back. Even if it's a ploy, the generals who are responsible must be held accountable. A conspiracy has led Isis to occupy Mosul. Whoever is responsible will not get away with that they did."

Most of the weapons seized by Isis were taken from the al-Qayara base in Mosul, the fourth largest in the country, after two divisions of the Iraqi army fled the city en masse on Tuesday, allowing a far smaller extremist force to enter.

The haul included armoured humvees, rockets, tonnes of ammunition and assault weapons. Evidence of the large-scale desertion remained littered across the streets of the central city, with flak jackets, camouflage uniforms and ammunition clips being held up by insurgents as they celebrated their victory.

Hamad al-Mutlaq, a member of the Iraqi parliament's defence committee, said: "I'm convinced that what happened in Mosul is deliberate negligence or there is an agreement between the parties because it's impossible for an army to be unable to stand up to a group made up of hundreds of men."

"Isis can't have had more than a few thousand men versus two divisions made up of 30,000 Iraqi soldiers. This signifies that the army has been built on weak foundations. The Iraqi government is the one to blame and should be held responsible for this failure; it has been unable to build a healthy state and unable to defend it."
Meanwhile, The New York Times reports that the Obama Administration seems to be rebuffing requests from the Iraqi regime for military assistance:
WASHINGTON — As the threat from Sunni militants in western Iraq escalated last month, Prime Minister Nuri Kamal al-Maliki secretly asked the Obama administration to consider carrying out airstrikes against extremist staging areas, according to Iraqi and American officials.

But Iraq's appeals for a military response have so far been rebuffed by the White House, which has been reluctant to open a new chapter in a conflict that President Obama has insisted was over when the United States withdrew the last of its forces from Iraq in 2011.

The swift capture of Mosul by militants aligned with the Islamic State of Iraq and Syria has underscored how the conflicts in Syria and Iraq have converged into one widening regional insurgency with fighters coursing back and forth through the porous border between the two countries. But it has also called attention to the limits the White House has imposed on the use of American power in an increasingly violent and volatile region.

A spokeswoman for the National Security Council, Bernadette Meehan, declined to comment on Mr. Maliki's requests. "We are not going to get into details of our diplomatic discussions," she said in a statement. "The current focus of our discussions with the government of Iraq and our policy considerations is to build the capacity of the Iraqis to successfully confront" the Islamic extremists.

(…)

Hoshyar Zebari, Iraq's foreign minister, last year floated the idea that armed American-operated Predator or Reaper drones might be used to respond to the expanding militant network in Iraq. American officials dismissed that suggestion at the time, saying that the request had not come from Mr. Maliki.

By March, however, American experts who visited Baghdad were being told that Iraq's top leaders were hoping that American air power could be used to strike the militants' staging and training areas inside Iraq, and help Iraq's beleaguered forces stop them from crossing into Iraq from Syria.

"Iraqi officials at the highest level said they had requested manned and unmanned U.S. airstrikes this year against ISIS camps in the Jazira desert," said Kenneth M. Pollack, a former C.I.A. analyst and National Security Council official, who is a senior fellow at the Brookings Institution and who visited Baghdad in early March. ISIS is the acronym for the Islamic State in Iraq and Syria, as the militant group is known.

As the Sunni insurgents have grown in strength those requests have persisted. In a May 11 meeting with American diplomats and Gen. Lloyd J. Austin III, the head of the Central Command, which oversees American military operations in the Middle East, Mr. Maliki said he would like the United States to provide Iraq with the ability to operate drones. But if the United States was not willing to do that, Mr. Maliki indicated he was prepared to allow the United States to carry out strikes using warplanes or drones.

In a May 16 phone call with Vice President Joseph R. Biden Jr., Mr. Maliki again suggested that the United States consider using American air power. A written request repeating that point was submitted soon afterward, officials said.

Some experts say that such American military action could be helpful but only if Mr. Maliki takes steps to make his government more inclusive.

"U.S. military support for Iraq could have a positive effect but only if it is conditioned on Maliki changing his behavior within Iraq's political system," Mr. Pollack said. "He has to bring the Sunni community back in, agree to limits on his executive authority and agree to reform Iraqi security forces to make them more professional and competent."

But so far, the administration has signaled that it is not interested in such a direct American military role.

"Ultimately, this is for the Iraqi security forces, and the Iraqi government to deal with," Rear Adm. John F. Kirby, the Pentagon spokesman, said Tuesday.
Obviously, any decision to intervene in Iraq even in a limited fashion would be fraught with domestic political complications for the Obama Administration. At the top of that list, of course, there's the fact that President Obama campaigned for office on his opposition to the Iraq War and for re-election on the fact that he presided over the end of that war. Making the case to the American public for what would obviously be new American intervention in Iraq that could not credibly be sold as an extension of the 2003 war would be difficult for any President, of course, but it would be doubly difficult for him. Second, of course, there's the fact that the the American public has a negative opinion of the Iraq War even today, an opinion that has shaped public opinion regarding the propriety of U.S. involvement in other world hot sports such as Libya, Syria, and Ukraine. As the President's failed efforts to sell the public on the idea of attacking Syria over chemical weapons use last year demonstrates quite well, the American public is not in a mood for foreign adventurism right now. A President who tries to sell the idea of even limited American involvement in what is quite obviously a deteriorating situation in Iraq is going to be fighting an uphill battle that they probably cannot win, and while it's true that President Obama could decide to take unilateral action without public support, such action is not likely to have a positive impact on his poll numbers or on the prospects for his political party in November. Finally, of course, there's the fact that any new military action in Iraq would seem to require some kind of Congressional authorization. The AUMF that authorized war in Iraq clearly wouldn't apply to a military intervention in what is clearly turning into an Iraqi civil war. By all indications, Obama would have lost a vote to authorize military action in Syria had it taken place. Given the current political climate, it seems unlikely that he'd do any better with a vote on military action in Iraq. Taking all of that into account, it strikes me as incredibly unlikely that the United States will be taking any military action on Iraq's behalf.
As for Iraq itself, it's hard to know what's going to happen next. The recent spate of advances by ISIS, as well as development in the north such as the seizure of Kirkuk by Kurdish forces certainly lead to the conclusion that the state is falling apart into the kind of ethnic civil war between Sunnis, Shiites, and Kurds that many anticipated might occur after the downfall of Saddam, and which indeed flared up during the American occupation.  The additional influence on the situation of al Qaeda linked militants drawn to the area by the Syrian Civil War certainly hasn't helped to calm down the situation. Already, there is speculation about how much longer it will be before ISIS and its supporters, now strengthened by the arms they have captured with the fall of Mosul and the retreat of the Iraqi Army, start advancing on Baghdad. As well as reports that American officials are preparing to evacuate personnel from the U.S. Embassy in Baghdad should it become necessary. Viewing all this from the outside, it certainly seems as though the situation in Iraq is about to go from bad to worse.
Much of that, however, may be just be fear talking, and it may well be possible that the Iraqi government will be able to stem the militants rise before it spirals out of control. Whatever happens, though, it strikes me that the fate of Iraq is ultimately in the hands of the Iraqis and that we'd be wise to stay out of there this time around.
Map graphic via Al-Jazeera