American Public Opposes Military Action In Syria
A new poll from Gallup shows that the American public overwhelmingly opposed involvement in the Syrian Civil War:.
Most Americans oppose U.S. military action in Syria, a new poll finds.

According to a Gallup survey out Friday, 68 percent of Americans say that the U.S. should not resort to military action if diplomatic and economic efforts don't stop the civil war that is raging in Syria. Twenty-four percent of Americans would back military action. But Americans aren't hopeful that other efforts to stop the conflict will succeed: 58 percent don't think that economic and diplomatic measures alone will stop the war; 27 percent do..
As the poll itself shows, this is an attitude that crosses all partisan, ideological, and demographic categories: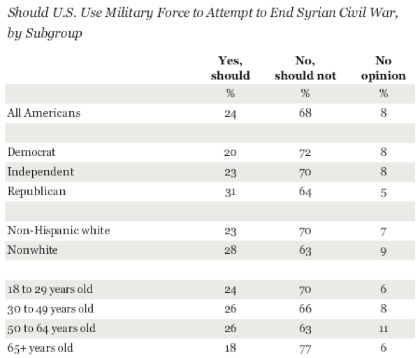 One criticism of a poll like this, of course, is that it asks about "military force" without breaking it down into categories such as establishing no-fly zones, arming the rebels, or other such possible courses of action. Previous polls have at least known a slight majority in favor of arming the rebels, although that doesn't mean that it would be an advisable strategy. Of course, it's also worth noting that President Obama intervened in Libya even though majorities opposed action there, and he did so without even consulting Congress. So, there's no guarantee he'll listen to the polls here either.