Most Americans Oppose Obama Administration's Incoherent Syria Policy
Two polls indicate that most Americans oppose the President's latest moves on Syria. This makes sense considering actual policy there seems to be entirely incoherent.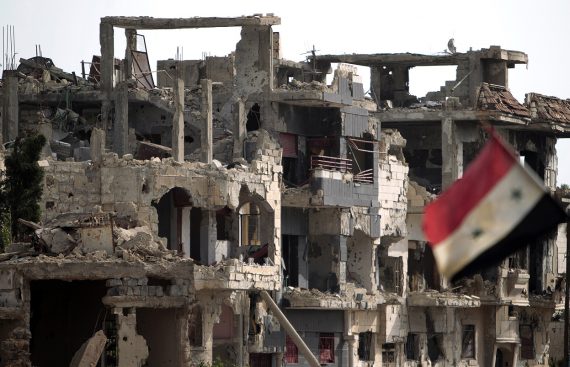 Last week, we learned that the Obama Administration had officially certified that Assad regime in Syria had used chemical weapons against the Syrian rebels, albeit on a very limited basis given the overall scope of a civil war that has lasted more than two years now. In response to that, the Administration has apparently decided to take a step that the President had been resisting for some time and begin sending arms to the Syrian rebels. Unanswered so far is the question of exactly who they'd be sending arms to and what kind of arms would be sent, although preliminary reports indicate that it would consist mostly of small arms and body armor rather than heavier, more powerful, material such as anti-tank or anti-aircraft weaponry.
Whatever the details are, though, a new Pew Research Center poll finds that the vast majority of Americans are opposed to the idea:
Americans overwhelmingly oppose arming anti-government groups in Syria even as a new U.S. policy looks to do just that, a poll posted on Monday says.

According to a survey from the Pew Research Center, 70 percent of Americans don't want the United States and allies to send arms and military supplies to those factions challenging Syrian dictator Bashar Assad; 20 percent support that strategy. The Obama administration, however, has decided to send such aid to some elements of the Syrian opposition.

Sixty percent of those surveyed said the opposition forces "may be no better than the current government." Still, more than half also said it "is important for the U.S. to support people who oppose authoritarian regimes," 53-36 percent.
Digging deeper into the poll, it's clear that this is a position the crosses all party lines:
There is very little partisan divide in attitudes about the conflict in Syria. Majorities of independents (74%), Republicans (71%) and Democrats (66%) oppose the U.S. and its allies sending arms and military supplies to anti-government groups in Syria.

Nearly identical majorities of Democrats (69%), independents (69%) and Republicans (68%) also believe that U.S. military forces are too overcommitted to get involved in another conflict.

Independents (66%) and Republicans (64%) are most concerned that the opposition groups in Syria may be no better than the current government, but 52% of Democrats also agree with this statement.

By a 58%-38% margin, more Democrats agree than disagree that the U.S. has a moral obligation to do what it can to stop the violence in Syria. Republicans are split with 49% saying the U.S. has a moral obligation to do what it can to stop the violence, and 48% saying it does not have this responsibility. Most independents (53%) disagree that the U.S. has a moral obligation to stop the violence in Syria.
There are similar numbers in a new Gallup poll:
PRINCETON, NJ — The slight majority of Americans — 54% — disapprove of the Obama administration's decision to send direct military aid to Syrian rebels fighting against the Syrian government, while 37% approve. Those who are following the situation in Syria closely — about half of the public — are significantly more likely to approve of the decision than are those who are not following the situation closely, although a majority of both groups disapprove.

These results are from a June 15-16 Gallup poll conducted just after the Obama administration announced that it directed the CIA to provide direct military aid to the Syrian rebels. Prior to this announcement last Friday, the administration had been opposed to providing military aid. The administration stated that part of its rationale for the shift in policy was its conclusion that the Syrian government had used chemical weapons against the rebels.

(…)

A slight majority of Democrats (51%) approve of the provision of military aid to the Syrian rebels, no doubt reflecting the fact that the decision to do so was made by a Democratic president, although more than four in 10 Democrats disapprove. Independents and Republicans react much more negatively, with roughly six in 10 disapproving.

Republicans' disapproval may be tied as much to their general opposition to Obama as to the policy itself, given that some Republican leaders, most notably Sen. John McCain, have come out publicly in favor of assisting the rebel fighters in Syria.
I don't know how to explain the differences between the Pew and Gallup numbers other than to suggest that the questions asked may have been radically different and to remind everyone of Gallup's problems while polling for the 2012 election. In any case, though, it seems fairly clear from both polls that the American people are far from convinced of the wisdom of the new policy turn that seems to be going on regarding Syria, which is one of the reasons that the Obama Administration's decision to change policy now is so confusing.
For one thing, there isn't anything new on the ground today that wasn't there a year ago, or even two years ago. The one major difference in terms of the war itself is that the Assad regime seems to be on a run of great successes against the rebels, but the truth is that this war has had several ebbs and flows to it on both sides from the beginning and its entirely possible that the current status on the ground will change in the coming months. The other part of the Administration's policy that doesn't make much real sense is the fact that it has been the apparent use of limited quantities of chemical weapons that has become the impetus for further American involvement in the war. As I've noted, the war itself has been going on for more than two years, since it began in February 2011 when the anti-government protests were sweeping the Arab world. In that time, at least 93,000 people, and according to some non-official estimates as many as 120,000, have died. According to the reports regarding the chemical weapons attacks, they were responsible for, at most, the deaths of about 150 people, which is itself an indication that they were used in a limited way and, quite possibly, not entirely without the  proper authority. It's true that chemical weapons have been the subject of special world attention ever since the end of World War One, indeed even the Soviets and Germans didn't used them during the most desperate hours of the fighting on the Eastern Front. Nonetheless, if it is a good idea to send arms to the Syrian rebels  now (a position with which I agree disagree), why did it take the use of chemical weapons to get even a minimal response from the Administration on the issue of arming the rebels?
The only conclusion I can reach is that the Administration, and the West as a whole, doesn't really have a coherent Syria policy at this point. Clearly, there's a desire to avoid making the same mistakes that were made in Iraq and Afghanistan. That's why continue to hear officials insist that there are no plans for American "boots on the ground," even though the reality is that there are very likely American CIA operatives and Special Forces members embedded with the rebels and providing both assistance and acting as reconnaissance back to a Washington that doesn't seem to understand who these rebels actually are even while it moves to get behind them. At the same time, though, you can see the Administration being pulled by the "humanitarian" wing of those advising  Obama to do something to help the Syrians. That's what makes the recent appointment of Susan Rice as National Security Adviser and Samantha Power as U.N. Ambassador so interesting, although I noted at the time that neither one of them seems very eager for further intervention in Syria judging by their public statements. Added on top of this are people outside the Administration ranging from John McCain to Bill Clinton who are pressuring the President to act.
In the midst of all of this, it's difficult to determine exactly what Administration policy in Syria actually is, and whether it has even thought a few moves of the chessboard forward to determine what the impact of current policy on the future might be. For example, has their been any discussion of who exactly these Syrian rebels are, and how we're going to ensure that the arms we will apparently be providing won't be going to the al Qaeda linked elements that everyone admits have become an important part of the rebel military forces? What happens if Americans delivering supplies are captured by one side or the other while doing so? If we go forward with a no-fly zone, how will that be implemented without creating an inevitable confrontation with the Russians, who are making clear yet again that they cannot support the idea of a no-fly zone? Finally, and most importantly, has anyone give the slightest bit of thought to what the future of a post-Assad Syria might be, and how we'd guarantee that it wouldn't turn into a factional war of all against all that would make post-Saddam Iraq seem like paradise? Based on how they've conducted their policy to date, and the utter failure to communicate anything regarding it clearly, I can only assume that they haven't come up with real answers to any of these questions. As long as that's the case, I doubt the public will ever rally around a Syria policy that really doesn't seem to have any purpose at all.