American Skepticism About Interventionism Is A Return To Historical Norms
Americans are skeptical about getting involved in the Ukraine crisis. This isn't a surprise.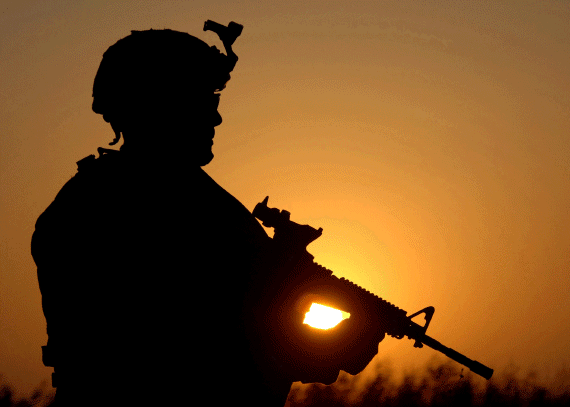 A new CBS News poll finds that the vast majority of Americans don't believe the United States should involve itself in the ongoing crisis between Ukraine and Russia:
Most Americans don't think the U.S. is obliged to intervene in the recent annexation by Russia of the Ukrainian territory of Crimea. A majority of 61 percent of Americans do not think the U.S. has a responsibility to do something about the situation between Russia and Ukraine, nearly twice as many as the 32 percent who think it does. There is widespread bipartisan agreement on this.

Public opinion about U.S. responsibility in Ukraine is similar to views about U.S. responsibility in other international conflicts. Majorities of Americans did not think the U.S. had a responsibility to intervene in Syria (68 percent), in the fighting and ethnic cleansing in Bosnia (65 percent) or in the mass killings in Rwanda (51 percent). In contrast, 54 percent of Americans believed the U.S. did have a responsibility to intervene in Kosovo, a situation where the U.S. began a bombing campaign against Serbian forces in cooperation with NATO.

More specifically, 65 percent of Americans do not think the U.S. should provide military aid and equipment to Ukraine in response to Russia's actions, while only 26 percent think the U.S. should. Majorities of Republicans (59 percent), Democrats (67 percent), and independents (69 percent) are opposed to providing military aid and equipment to Ukraine.
This isn't entirely a surprise, of course. The American public seems to continue to be in a mood after Iraq and Afghanistan that is, at the very least, skeptical of intervention in foreign conflicts to a far greate r degree than it was beforehand. To some extent, this is arguably a return to a norm that existed prior to the September 11th attacks and the War On Terror. As noted above, the Americans were just as skeptical of President Clinton's interventions in Bosnia and Kosovo as they have been of President Obama's intervention in Libya or of the threats that he made last year about intervening in the Syrian civil war over the Assad regime's use of chemical weapons. Indeed, outside of the Cold War one could make the case that Americans have traditionally been skeptical of military action of any kind and that the periods when public opinion has been otherwise such as in the run-up to events such as the Spanish-American War or World War One. Additionally, of course, there are those times in history where the nation has been attacked, such as World War Two, that stand as an obvious exception to the general rule. Finally, as noted, for at least part of the Cold War the American public generally supported an activist foreign policy in response to the perceived threat of expansionist Communism. Even that support began to evaporate, though, in the face of a stalemate in Korea and, more importantly, what can only fairly be described as a defeat in Vietnam. Looking at the broad sweep of history, then, what you see is an American public that is generally skeptical of intervention abroad except in circumstances where real threats to national security exist.
Politically, of course, this suggests that there might be an opening for candidates advocating a less interventionist foreign policy, such as Kentucky Senator Rand Paul on the Republican side. At the same time, though, it's worth noting that such candidates haven't always been successful at the Presidential level. The Democrats tried taking that tack in the years after the Vietnam War and were spectacularly unsuccessful at the Presidential level in every election from 1972 to 1988 with the singular exception of Jimmy Cater's narrow victory over Gerald Ford in 1976. Alternatively, of course, Bill Clinton, George W. Bush, and Barack Obama arguably did win election based at least in part on a message that they would be less focused on foreign adventurism than their predecessors. In reality, of course, all three of them ended up being adventurous overseas in their own ways, but the general fact that candidates who advocate restraint abroad can be electorally successful is something worth noting. Could this be an opening for a candidate like Paul in 2016? That's unclear, but it's something that I'm much less willing to dismiss than I was in the past.