Most Americans Now See Iraq And Afghanistan Wars As Failures
Most Americans now see America's decade of war as a failure.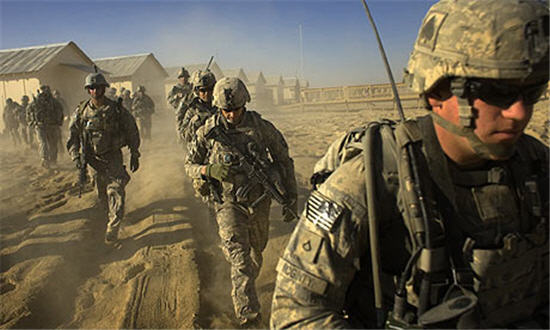 If you start counting from October 7, 2001, when the United States began attacking al Qaeda strongholds and Taliban air defenses in Afghanistan as part of the initial round of the retaliatory response to the terrorist attacks in New York and Arlington, Virginia that had taken place less than a month earlier, then the United States has been at war for a longer period over the past 12+ years than at any other time in its history. Not only has our engagement in Afghanistan lasted that long, but in that same period we also fought a full-scale war in Iraq that lasted from 2003 until American troops left in 2011, and we've been fighting a far more secret war in areas around the Middle East and Africa sending out drone attacks against suspected terrorists that often end up causing civilian casualties. In the beginning, public support for all of these campaigns remained fairly high. Even with all the doubts that critics expressed, the public was highly supportive of the Iraq War at the beginning and only began turning negative when it became clear that the initial claims that Saddam Hussein was stockpiling WMDs turned out to be untrue and the anti-U.S. insurgency began sending American casualty rates soaring. With regard to Afghanistan, the relationship between that war and the general idea of retaliation for the September 11th attacks meant that public support for the war remained fairly high for a much longer period time, Indeed, when he was running for President in 2008, then Senator Obama made a big deal out of contrasting the conflict in Afghanistan, which he characterized as a necessary conflict, with Iraq, and suggested that obsession over the War in Iraq had caused the Bush Administration to take its eye off the ball in the fight against al Qaeda in Afghanistan. Over time, though, public support even for the war in Afghanistan began to slip precipitously to the point where majorities were expressing the opinion that the war was no loner worth it.
Twelve years after it all started, a new Pew Research poll shows that the American public views both wars as a failure
After more than a decade of war in Iraq and Afghanistan, the public does not think the United States has achieved its goals in either country. About half of Americans (52%) say the U.S. has mostly failed to achieve its goals in Afghanistan while 38% say it has mostly succeeded. Opinions about the U.S. war in Iraq are virtually the same: 52% say the United States has mostly failed in reaching its goals there, while 37% say it has mostly succeeded.

In both cases, evaluations of the wars have turned more negative in recent years. In November 2011, as the U.S. was completing its military withdrawal from Iraq, a majority (56%) thought the U.S. had achieved its goals there.

Similarly, the public's critical assessment of U.S. achievements in Afghanistan stands in contrast to opinion in June 2011, shortly after Osama bin Laden was killed in neighboring Pakistan. At that time, 58% answered a forward-looking question by saying they thought the U.S. would achieve its goals in that country; the question in the current survey asks whether the U.S. has achieved its goals.

The national survey by the Pew Research Center and USA TODAY, conducted Jan. 15-19 among 1,504 adults, finds more positive views of the original decision to take military action in Afghanistan than about whether the U.S. has achieved its goals. About half (51%) say the decision to use military force was the right one while 41% say it was the wrong decision. However, the share saying the war was the right decision has fallen five points since November (from 56%) and 13 points since January 2009 (64%), shortly before Barack Obama took office.
While the headline grabbing numbers are the ones that show public dissatisfaction with both wars,  Ed Kilgore draws attention to another part of the poll:
Among Democrats and independents, there remains a sizable gap between support levels for the original Afghan and the original Iraq interventions (Democrats narrowly support the use of force in Afghanistan 48/45, while opposing the Iraq intervention 28/64; for indies, it's similarly 47/45 for Afghanistan, 37/53 for Iraq). But Republicans support the Afghanistan engagement 61-31, and the Iraq invasion 55-33. That may just be a reflection of instinctive support of George W. Bush's foreign policies. But now that we know there was zero connection between 9/11 and Iraq, and no imminent WMD threat, either, you have to wonder if the two military actions are merging in the minds of many Republicans as part of a generalized War With Islam that transcends the particular justifications made at the time.
I tend to think that what you're seeing in those numbers is indeed a somewhat partisan response by Republicans in support of actions initiated by the Bush Administration. However, it strikes me that Kilgore is only looking at half the picture here. While it's true that the poll seems to show GOP support for the initial decision to go to war in both Iraq and Afghanistan to be higher than it is for Democrats and Independents, there's very little difference between the parties when it comes to the current evaluation that we have not achieved our goals in either wars. With respect to Iraq, for example, 36% of Republicans say that the U.S. succeeded in achieving its goals in Iraq, compared to 38% of Independents and 37% of Democrats. For Afghanistan, 39% of Republicans say that we've achieved our goals, compared to 42% of Democrats and 36% of Republicans. In other words, the partisan differences on the question of whether or not the two wars have succeeded or failed is, by and large, statistically insignificant.
The more important takeaway from a poll like this, I'd submit, is what it says about the way that the American public is likely to view calls for military intervention in the future. In the immediate wake of the September 11th attacks, support for the idea of retaliating against al Qaeda and the Taliban led government in Afghanistan that was providing it support and shelter was, understandably, quite high. When the Bush Administration came forward with purported evidence regarding Saddam Hussein and WMDs, the combination of public opinion in the wake of 9/11 and a history with Hussein's Iraq that went back a decade no doubt contributed to the fact that, initially, public support for going to war was quite high and war dissenters were, at the time, a distinct minority.  Now, we seem to be at a point where more than a decade of war has had an important impact on the American public's views on foreign policy. When President Obama committed American force to assist in the civil war in Libya, public opinion was strongly against the President notwithstanding America's long-standing history of conflict with Libyan leader Muammar Gaddafi. Late last summer, when President Obama began to hint that he intended to take military action against Syria in connection with the Assad regime's use of chemical weapons, public opinion was decidedly against taking any action at all. No doubt, public opinion about these wars was influenced by ten years of what the public views as two failed wars. The question is whether this skepticism about foreign intervention will last as the memory of Iraq and Afghanistan fades.