Catholic League President Blames Charlie Hebdo Publisher for Own Death
Bill Donohue rightly condemns insulting Muslims---but goes way too far.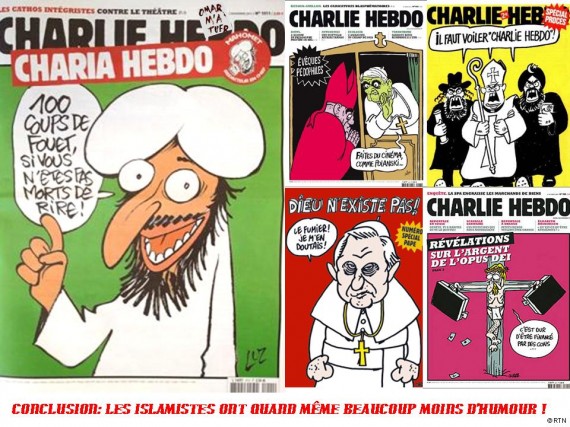 Catholic League president Bill Donohue rightly condemns the murder of 12 people at the office of French satirical newspaper Charlie Hebdo:
Killing in response to insult, no matter how gross, must be unequivocally condemned. That is why what happened in Paris cannot be tolerated.
Amen, brother. Alas, there's a "but" coming:
But neither should we tolerate the kind of intolerance that provoked this violent reaction.
Um, wait a minute. I agree with Donohue that many of the cartoons published by Charlie Hebdo were tasteless and insulting. It's perfectly reasonable to point that out and debate whether publishing such things is the best way to make one's point. But the notion that we shouldn't tolerate free speech that we happen to find offensive in a free society is simply outrageous.
Those who work at this newspaper have a long and disgusting record of going way beyond the mere lampooning of public figures, and this is especially true of their depictions of religious figures. For example, they have shown nuns masturbating and popes wearing condoms. They have also shown Muhammad in pornographic poses.

While some Muslims today object to any depiction of the Prophet, others do not. Moreover, visual representations of him are not proscribed by the Koran. What unites Muslims in their anger against Charlie Hebdo is the vulgar manner in which Muhammad has been portrayed. What they object to is being intentionally insulted over the course of many years. On this aspect, I am in total agreement with them.
While I have no dog in this particular fight, I agree with Donohue's assessment of why a large number of people would go beyond being insulted or offended and become angry over these particular cartoons. They're vulgar, childish, and intended to provoke. I happen to think publishing cartoons with those characteristics perfectly permissible in a free society. Similarly, Donohue has every right to point out how vulgar, childish, and provocative they are. Alas, he goes further:
Stephane Charbonnier, the paper's publisher, was killed today in the slaughter. It is too bad that he didn't understand the role he played in his tragic death. In 2012, when asked why he insults Muslims, he said, "Muhammad isn't sacred to me." Had he not been so narcissistic, he may still be alive.
That sentiment is much more offensive than any cartoon ever published.
To be sure, we have long recognized that even free speech has its limits. We've struggled with the notion of "fighting words," utterances that are so offensive that they naturally provoke violent response. A white man walking up to a group of black men and shouting "nigger" takes his life into his hands. But we're not talking about that here. Charbonnier published a newspaper. Absent walking into a mosque and handing out copies, there's no direct provocation to what he did.
Donohue veers back into reason:
Muhammad isn't sacred to me, either, but it would never occur to me to deliberately insult Muslims by trashing him.

Anti-Catholic artists in this country have provoked me to hold many demonstrations, but never have I counseled violence. This, however, does not empty the issue. Madison was right when he said, "Liberty may be endangered by the abuses of liberty as well as the abuses of power."
Again, Donohue is counseling good behavior here. We shouldn't insult billions of people just because we have the freedom to do it. But Donohue misunderstands or is deliberately distorting Madison here. He was counseling against a tyranny of the majority and the need to protect the rights of the minority; he wasn't arguing that the majority had a duty to be silent, lest they offend the minority.