Cheney and Rumsfeld Booed at CPAC
The media are wildly exaggerating the heckling at a gathering of conservatives.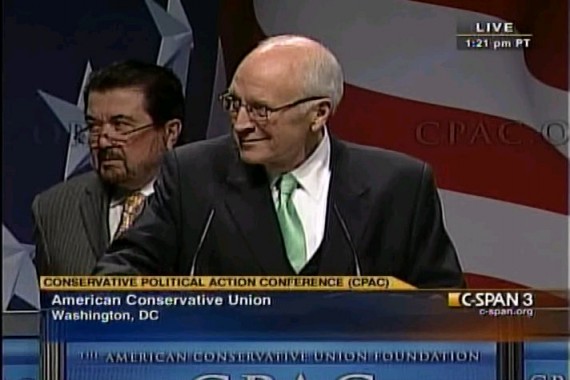 One of the truisms of media reporting is that press accounts almost never match up to my own experience when I've attended the event in question. This happened again with the presentation of an award to former Secretary of Defense Don Rumsfeld at CPAC yesterday, which featured a surprise appearance by former Vice President Dick Cheney.
CBS News ("Ron Paul Supporters Heckle Cheney, Rumsfeld at CPAC"):
Most of those preparing for the Conservative Political Action Conference in Washington this week anticipated a division over social issues, but the real conflict at the convention today erupted between young libertarians and supporters of the Bush administration.

The annual convention has attracted about 11,000 conservatives to the nation's capital, many of them young supporters of libertarian icon Ron Paul. They were ready this afternoon to show their opposition to the Bush administration when former Defense Secretary Donald Rumsfeld was presented with the conference's "Defenders of the Constitution" award.

Loud boos resounded through the convention hall as Rumsfeld's name was announced on stage. The numerous young attendees got up from their seats and filed out of the room in protest.

The commotion only grew when former Vice President Dick Cheney surprised the audience by showing up to honor his longtime friend and White House colleague.

"America is stronger and more secure" because of Rumsfeld's service, Cheney said, prompting one person to loudly shout, "Where's bin Laden at!"

Some of the vice president's supporters shouted, "Shut up!" and started a loud chant of "USA, USA!"

The jeering continued, with some yelling "draft dodger!" at Cheney.
TPM ("Paul Supporters Hijack Cheney-Rumsfeld Reunion (Video)"):
Dick Cheney just popped up here at CPAC to introduce his old pal and Bush administration colleague Donald Rumsfeld. Fans of Ron Paul turned what should have been a friendly moment before an audience of fellow conservatives into a screaming match and protest action that resembled what a Cheney-Rumsfeld hug at the Netroots Nation convention might look like.
Mediaite ("CPAC Civil War: Ron Paul Supporters Scream 'War Criminal' At Dick Cheney")
Things should have been nice and chummy at CPAC an hour ago. Dick Cheney strolled on stage to cheers and the inspirational tune of Tina Turner's "Simply the Best" and got began to present the "Defender Of The Constitution" award to Donald Rumsfeld. However, as the chants of "USA! USA!" died down, a voice screaming "War criminal!" could be heard. And then, as Cheney continued to talk up his former colleague, a shouting match began between supporters of Ron Paul and the rest of the convention hall.

The Paul supporters eventually walked out in the middle of Rumsfeld's speech as way of protest.
Here's my quick take:  Rumsfeld and Cheney were greeted enthusiastically and cheered wildly throughout their appearances and a couple of assholes yelled insults once or twice during their speeches.
Dave Weigel has a more nuanced take:
First, a word about hecklers: It's awful that they get so much attention. A few bad apples in a room of thousands can create the impression of massive dissent, when it really isn't there.

That said, boy, was there a lot of heckling when Donald Rumsfeld arrived at CPAC to accept the Defender of the Constitution Award. The ballroom for big events fills up many minutes in advance. In this instance, the people who wanted to hear Rand Paul speak at 3:45 had to arrive around 2:30, and stay there. If they did, they sat through a speech from Donald Trump (a surprise to attendees who weren't checking the news frequently), and used every possible moment to yell "RON PAUL" at the Donald. When Trump responded to one of the heckles, and said that Paul "can't win" the presidency, there were loud and righteous boos.

It takes a while to exit the ballroom. This means that hundreds of Paul fans — recognizably younger and sometimes beardier than the median CPAC attendee — are in the room or in lines as Donald Rumsfeld is introduced.

"I am pleased to recognize our chairman, David Keene, to recognize Donald Rumsfeld," says emcee Ted Cruz.

There are loud boos.

Keene mentions that this is the "Defender of the Constitution Award." More boos; also, shouts of "RON PAUL! RON PAUL!"

When Rumsfeld takes the stage, the boos keep going, because some anti-war conservatives have stuck around to heckle. When it sees Dick Cheney, the crowd's din drowns out the boos… for a while. I find a place on the floor next to several activists wearing Ron Paul gear.
CPAC is a huge gathering. For a variety of reasons, it has to be held in DC proper, near a Metro stop. That leaves two choices, neither of them good:  The Omni Shoreham and the nearby Marriott Wardman Park. Neither of them are equipped to handle CPAC, which means it's nearly impossible to get around the place, it's next to impossible to grab lunch because the restaurants can't hold the overflow crowds, and people have to line up hours in advance for popular speakers and there's still nowhere near enough room to accommodate everyone who wants to go in. And both places are mazes, who compounds the problem because people are wandering all over the place trying to find their venues. It's just a zoo.
Unlike Weigel, who was on the floor surrounded by Ron Paul supporters, I was above it all on a mezzanine outside the bloggers' room.  So, I was able to hear not only the speakers but get a good sense of the crowd as a whole rather than just the people nearby.
Were there boos? Sure. Rumsfeld and Cheney are controversial figures and anyone can buy a ticket to CPAC. But the overwhelming response was sheer enthusiasm. They were greeted more warmly than Rand Paul, Rick Santorum, or Donald Trump. Indeed, you can see/hear that for yourself in the TPM video:
Literally one person yelled "War criminal!"  I presumed it was one of the Antiwar.com contingent, which was stronger than at any CPAC I've attended, but it might have been a Paul enthusiast.
I get that controversy sells and that the press will highlight outlier events. That's especially true for things like CPAC, where the speeches are frankly boring boilerplate that the reporters have heard dozens of times before. But the story here is that Rumsfeld and Cheney, two key architects of two unpopular wars and of some very controversial policies surrounding those wars, are wildly popular among young conservatives, not that a couple of people from fringe movements acted out in a crowd of over a thousand people.