D.C. Metro Considering Private Cars For Participants In White Supremacist Rally
Next week, some of the same groups that rallied in Charlottesville last year will be gathering in Washington, D.C. and the D.C. Metro is considering a transportation plan that is causing controversy.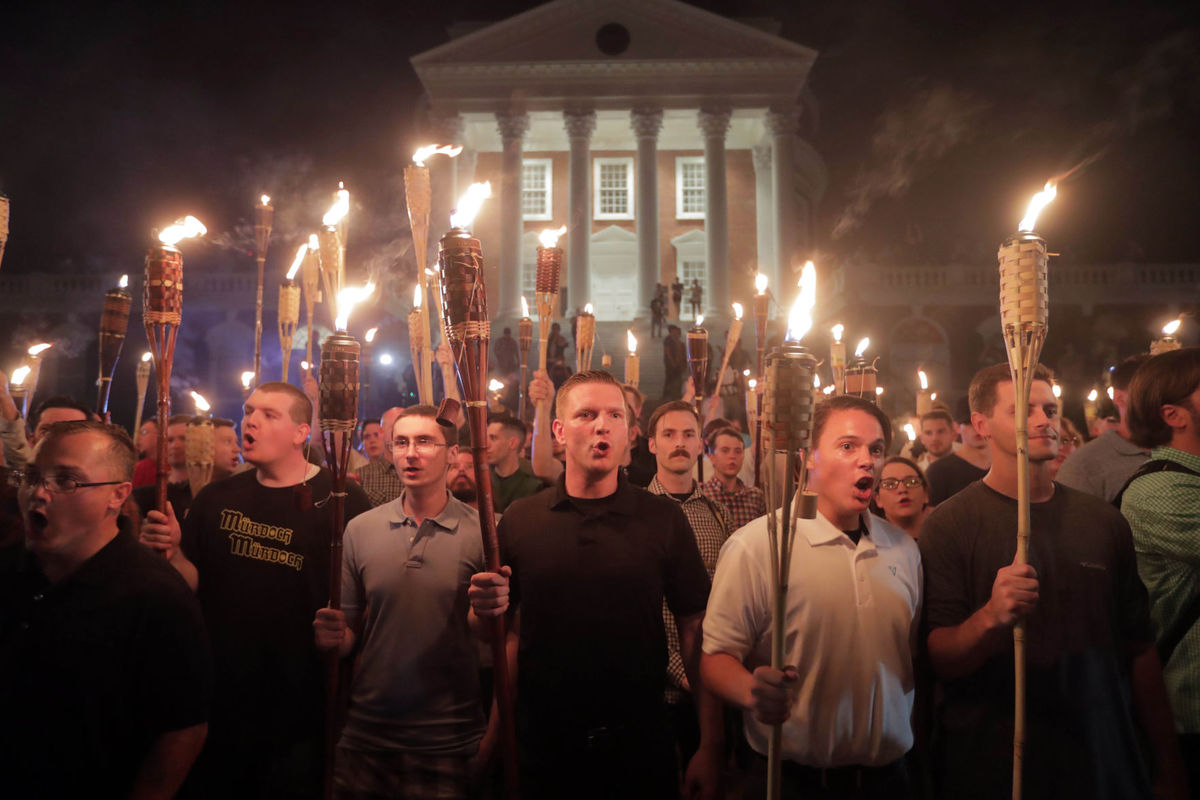 It has been just under a year since a march in Charlottesville, Virginia primarily attended by an assortment of alt-right white supremacists, Nazis, and self-identified members of the Ku Klux Klan resulted in the murder of a young woman who was in town to protest against the rally. The purported intent of that rally was to protest against plans by the city to remove a statue of Confederate General Robert E. Lee from a prominent location in the city. Rather than being just a simple rally about a statue, though, the event clearly had overtones of a Nazi rally at Nuremberg in the 1930s with Nazi-era slogans like "Blood and Soil!" and "The Jews will not replace us!" were chanted by torch-bearing men, followed by a rally the following day that resulted in violence between participants and counter-protestors that led to the death of one woman and more than a dozen injuries. These events, of course, took on a national tone thanks to the President's response to the tragic events of that Saturday. In his initial response, Trump blamed 'both sides' for the violence, referred to the participants in the rally as "very fine people," and  refused to directly condemn groups such as the Ku Klux Klan, which was present at the rally, or the broader so-called alt-right movement whose supporters made up the vast majority of the participants. The outrage over these comments was sufficiently broad, even from fellow Republicans in Washington, that the White House was compelled to have Trump deliver a follow-up comment the following Monday that was more measured and emphatic than what he had said before. Whatever damage had been repaired by that statement, though, was short-lived, though, because less than twenty-four hours later Trump repeated his 'both sides' argument in a press conference at Trump Tower in New York and then repeated it again a month later in the wake of a meeting purportedly intended to discuss race with Republican Senator Tim Scott, the only African-American Republican in the Senate.
Now with that one year anniversary approaching, many of the same groups that organized the rally in Charlottesville are planning to gather in Washington, D.C., and local media is reporting on what seems to be some unusual concessions purportedly being made by the local transit authority:
WASHINGTON (ABC7) — Sources told members of Metro's largest union that a Ku Klux Klan-affiliated hate group will receive special accommodations following the "Unite the Right" rally in Washington, D.C.

The sources shared with ATU Local 689 that the hate group will be provided with three private Metro rail cars and a police escort that will allegedly stop at the Foggy Bottom Metro Station on August 11 and 12. From there, sources say the group will march through the streets of D.C. before arriving at Lafayette Park for the rally.

ATU Local 689 members say they "have been informed and are encouraged to follow safety protocol in the presence of this hate group if the rumored special accommodations General Manager Paul Wiedefeld plans to give are true."
The Union released a statement about the matter:
"Local 689 is proud to provide transit to everyone for the many events we have in D.C. including the March of Life, the Women's March and Black Lives Matters. We draw the line at giving special accommodation to hate groups and hate speech, especially considering that the courts granted Metro the ability to deny ads on buses and trains that are 'issue-oriented,' we find it hypocritical for Mr. Wiedefeld to make these unprecedented special accommodations for a hate group."
And the Washington Metropolitan Area Transit Authority (WMATA) issued a statement as well:
"As we do for all events of this nature, Metro is working collaboratively with law enforcement to ensure safe travel for our customers and employees. Transit Police are engaged in ongoing discussions with MPD, the lead agency for the Aug. 12 event, as well as Virginia State Police and others as to how to keep everyone safe on that day. While details of the plan are security sensitive at this stage, I can tell you that it has *not* been finalized."
Fox5DC, the local Fox Broadcasting affiliate posted this report this morning:
Metro officials are considering offering a private train for white nationalists participating in the Unite the Right rally in the District, according to Metro union workers.

ATU Local 689 said sources have told them that Metro officials are considering to provide members of the Unite the Right rally with three private rail cars on one Metro train to participate in their event scheduled for Aug. 12.

The union said the plan being considered would provide the train and police escort from Virginia to the Foggy Bottom-GWU Metro station. The crowd would then march through the District to Lafayette Park near the White House.

ATU Local 689 is opposed to what they are calling special accommodations while more than 80 percent of its membership are people of color.

"Local 689 is proud to provide transit to everyone for the many events we have in D.C. including the March of Life, the Women's March and Black Lives Matters," ATU Local 689 President Jackie Jeter said in a written statement. "We draw the line at giving special accommodation to hate groups and hate speech, especially considering that the courts granted Metro the ability to deny ads on buses and trains that are 'issue-oriented,' we find it hypocritical for (Metro General Manager) Mr. Wiedefeld to make these unprecedented special accommodations for a hate group."

FOX 5 asked Metro about its plans for the weekend of Aug. 11 and 12, but a spokesperson said in a statement that while many of the details are security sensitive, nothing has been finalized.

Metro Transit Police is working with D.C. police to try to keep everyone safe.

"It certainly puts the workers at risk, but again I can't stress enough this is unprecedented," said union spokesperson David Stephen. "Here we are in Washington D.C., the home of the president of the United States. But for some reason, we need a chartered train for this group which very frankly is a hate group, and that is a problem in itself. It creates an unsafe environment for everyone that they are around."

This year's rally, spearheaded by white nationalist Jason Kessler, is being organized by the same group behind the deadly Unite the Right rally in Charlottesville.
The Washington Post is also on the story:
Metro is considering providing separate trains for participants of the "Unite the Right" white-nationalist rally Aug. 12, board chairman Jack Evans said Friday.

Evans said the move would be an effort to prevent violence between rally participants and counterprotesters.

"We haven't made any decisions about anything," Evans said about conversations he has had with Metro General Manager Paul J. Wiedefeld and D.C. Police Chief Peter Newsham. "We're just trying to come up with potential solutions on how to keep everybody safe."

The event is being organized by the white supremacist group behind last summer's rally in Charlottesville that led to protests, violent clashes and the death of a counterprotester. In addition, two Virginia state troopers conducting surveillance of the event were killed when their helicopter crashed.

The permit request submitted by organizers bills this month's event as a "white civil rights" rally in Lafayette Square "protesting civil rights abuse in Charlottesville."

Evans, who is also a Democratic D.C. Council member representing Ward 2, said officials are concerned that tensions resulting from the event could result in physical clashes between rally attendees and those who could come out in droves to protest their presence.

Among the potential scenarios to help head off violence, Evans said: Rally participants could gather at East Falls Church Metro station, board special cars on a train to Foggy Bottom and then receive a police escort to the rally.

Evans said he and Wiedefeld acknowledge the logistical difficulties of such a plan. How would they be able to enforce a separation between "Unite the Right" participants and counterprotesters? What happens if members of the union representing train operators and station managers refuse to operate a train designated for white supremacists?

And perhaps most important, what kind of precedent would this set for future protests and political events in the District that cause tension and pose a threat of violence?

"We're not trying to give anyone special treatment," Evans said. "We're just trying to avoid scuffles and things of that nature."

Evans said officials also are considering simply allowing anyone to use any train they want, and increase the police presence on the trains.

"Frankly, we don't know who's coming, how many people we're expecting for this thing, and whether it's actually going to happen at all," Evans said. "We're trying to prepare."
On some level, I can understand the logic behind the idea of segregating the protesters from the general population that would be riding Metro next Saturday and Sunday, and especially the idea of keeping the rally participants and counter-protesters as far apart as possible, especially given what happened a year ago in Virginia. With the legacy of that march still fresh in people's minds, the potential for clashes between rally participants and counter-protesters is rather obvious, and this risk would be substantially increased if the two groups ended up taking the same Metro cars to the rally next Sunday.  Add into that the D.C. residents and tourists who will also be using the system next Sunday, and the possibility of deliberate or accidental violence resulting even from a misunderstanding is fairly high, and the prospect of something happening while the trains are traveling underground just adds to the danger, and the difficulties that police would have in quelling it should it get out control.
That being said, there's something utterly offensive about the idea of these Klansmen and others being given private Metro cars to get to their hate rally. Like many participants in protests before them, there's nothing preventing them from driving into the city on their own or chartering buses to get to the rally location from outside the city. This kind of a special privilege, though, seems way over the top and it's likely that WMATA is going to fact significant blowback if they actually go forward with this plan. Additionally, as the Post notes, giving rally participants this kind of special treatment would arguably create a precedent that would pose serious logistical problems for WMATA officials in the future should the organizers of any of the other numerous rallies and protests that take place in the city demand equal treatment for themselves. Metro officials are right to be thinking about ways to minimize the potential for violence next Sunday, but this is not the way to go about it.
Update:  I've posted an update in a new post. Metro is now saying that it has scrapped any consideration of plans for private rail cars for rally participants.