Death of the Telephone
Experts say the phone call is a relic of the past.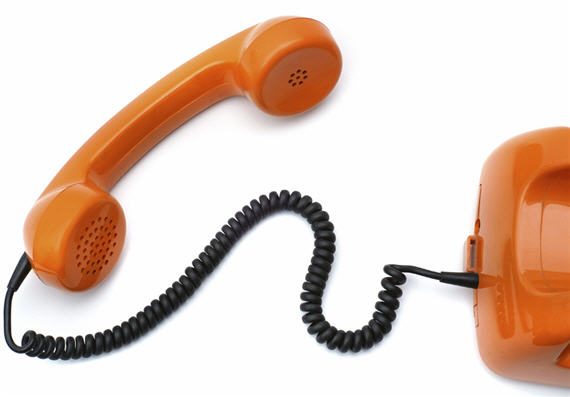 Even though everyone above the age of 6 seems to carry a phone around with them experts say that the phone call is a relic of the past.
Pamela Paul, NYT: "Don't Call Me, I Won't Call You"
In the last five years, full-fledged adults have seemingly given up the telephone — land line, mobile, voice mail and all. According to Nielsen Media, even on cellphones, voice spending has been trending downward, with text spending expected to surpass it within three years.

"I literally never use the phone," Jonathan Adler, the interior designer, told me. (Alas, by phone, but it had to be.) "Sometimes I call my mother on the way to work because she'll be happy to chitty chat. But I just can't think of anyone else who'd want to talk to me." Then again, he doesn't want to be called, either. "I've learned not to press 'ignore' on my cellphone because then people know that you're there."

"I remember when I was growing up, the rule was, 'Don't call anyone after 10 p.m.,' " Mr. Adler said. "Now the rule is, 'Don't call anyone. Ever.' "

Phone calls are rude. Intrusive. Awkward. "Thank you for noticing something that millions of people have failed to notice since the invention of the telephone until just now," Judith Martin, a k a Miss Manners, said by way of opening our phone conversation. "I've been hammering away at this for decades. The telephone has a very rude propensity to interrupt people." Though the beast has been somewhat tamed by voice mail and caller ID, the phone caller still insists, Ms. Martin explained, "that we should drop whatever we're doing and listen to me."

Even at work, where people once managed to look busy by wearing a headset or constantly parrying calls back and forth via a harried assistant, the offices are silent. The reasons are multifold. Nobody has assistants anymore to handle telecommunications. And in today's nearly door-free workplaces, unless everyone is on the phone, calls are disruptive and, in a tight warren of cubicles, distressingly public. Does anyone want to hear me detail to the dentist the havoc six-year molars have wreaked on my daughter?

"When I walk around the office, nobody is on the phone," said Jonathan Burnham, senior vice president and publisher at HarperCollins. The nature of the rare business call has also changed. "Phone calls used to be everything: serious, light, heavy, funny," Mr. Burnham said. "But now they tend to be things that are very focused. And almost everyone e-mails first and asks, 'Is it O.K. if I call?' "

Even in fields where workers of various stripes (publicists, agents, salespeople) traditionally conducted much of their business by phone, hoping to catch a coveted decision-maker off-guard or in a down moment, the phone stays on the hook. When Matthew Ballast, an executive director for publicity at Grand Central Publishing, began working in book publicity 12 years ago, he would go down his list of people to cold call, then follow up two or three times, also by phone. "I remember five years ago, I had a pad with a list of calls I had to return," he said. Now, he talks by phone two or three times a day. "You pretty much call people on the phone when you don't understand their e-mail," he said.

[…]

Receiving calls on the cellphone can be a particular annoyance. First, there's the assumption that you're carrying the thing at all times. For those in homes with stairs, the cellphone siren can send a person scrambling up and down flights of steps in desperate pursuit. Having the cellphone in hand doesn't necessarily lessen the burden. After all, someone might actually be using the phone: someone who is in the middle of scrolling through a Facebook photo album. Someone who is playing Cut the Rope. Someone who is in the process of painstakingly touch-tapping an important e-mail.
I'm skeptical that phone usage is actually down, given that everyone on the highway on standing next to me in line seems to be talking on one. But I agree with the sentiment that uncoordinated  phone calls are annoying disruptions. The telephone is a great way to catch up with friends and family who don't live nearby. But, for the most part, I'd rather schedule a time to call.