Does the Constitution Matter?
It's a wonder the Constitution gets followed at all.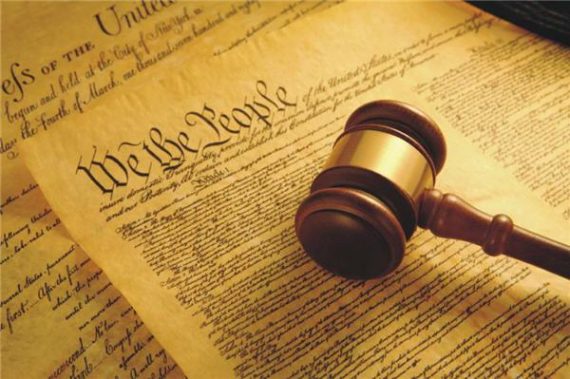 In a column titled "All the President's Privileges," Ross Douthat catalogs the degree to which both Barack Obama and the Democratic establishment seem to have enthusiastically embraced the consolidation of power in the executive branch that they vigorously decried when George W. Bush and the Republicans were in control. None of this is unfamiliar and hypocrisy of that sort is so engrained in our system that it's almost unsporting to point it out at this point.
Douthat draws an interesting lesson, though:
But these turns are not always a bad thing. Sometimes it was the original partisan critique that was overdrawn, and sometimes power educates rather than corrupts. If the view from the State Department looks different from the view from Yale Law School, it isn't necessarily the State Department that's wrong.

What's more perilous is the extent to which these sudden shifts reflect something unique to constitutional debates — namely that arguments for constitutional limits tend not to sway people who don't already have a political incentive to support them.

Partisan about-faces are inevitable, but they're arguably easier on constitutional matters. Change your mind on immigration, and your constituents may well revolt. Change your mind on whether a president has the power to do things on immigration policy that your constituents already support, though, and only your partisan critics and the occasional law professor will care.

This is why it's so remarkable that our constitutional order has lasted so long, given the perpetual incentive — common to both parties, and all three branches of government — to abandon its safeguards in order to push a particular agenda.
This is exactly right. Those of us who actually do care very much about process even when our guy is in office or when we're getting our way on policy are rare birds, indeed. We're more likely to write blogs and op-eds about it but, at the end of the day, we really don't much matter. So, while I think Obama's decision to selectively enforce our immigration laws as an end around against Congressional intransigence is a dangerous overreach–despite preferring his selective approach to the outcome of vigorously enforcing the laws on the books–Obama's calculus is based almost entirely on whether it helps or hurts him at the polls in November.
Douthat's close, though, doesn't make much sense:
Today those incentives are strongest for Democrats — visible in their support for Obama's more dubiously constitutional forays, and also in the widespread liberal attempt to explain his struggles by casting him as a Gulliver tied down by an antiquated system of government.

Conservative pundits have noted that similar explanations were proferred to explain the failures of Jimmy Carter. That in and of itself isn't proof that they're wrong. But it suggests the possibility that some of the ways this president has been baffled, legislatively and perhaps soon in the courts, reflect the genius of our constitutional system rather than its failings. It's a system that often lacks principled defenders, but that's designed to defend itself.
It's rather odd to argue that the current operation of our government has much at all to do with the design of the Framers. The presidency is radically more powerful than it was intended to be, both because it commands a vast national security state that most of the Founders would have found abhorrent and because it oversees a bureaucratic leviathan that the Framers couldn't have imagined and certainly never provided for. The Senate operates nothing at all like the Framers envisioned,  having all manner of extraconstitutional hurdles like anonymous holds and requiring supermajorities for just about any legislation. And the Supreme Court is not only more powerful than most of the Framers anticipated but operates as a partisan political venue.
Nor is it obvious how the president being able to ignore laws passed through our already labyrinthine process–which, after all, already provides for a presidential veto–reflects "the genius of our constitutional system rather than its failings."
The only real saving grace is that even the most imperial presidents–Woodrow Wilson, Franklin Roosevelt, Richard Nixon, and George W. Bush–have heretofore backed down when the Supreme Court rules that they've exceeded their authority. But, with public respect for the Supreme Court at an all time low, it's not at all inconceivable that presidents might one day treat Court opinions with all the respect they now accord the law of the land.