Final State Department Review Finds No Wrongdoing Regarding Clinton Emails
In what is hopefully the final review of the mater, an internal State Department view finds no wrongdoing with regard to Hillary Clinton's use of a private email server.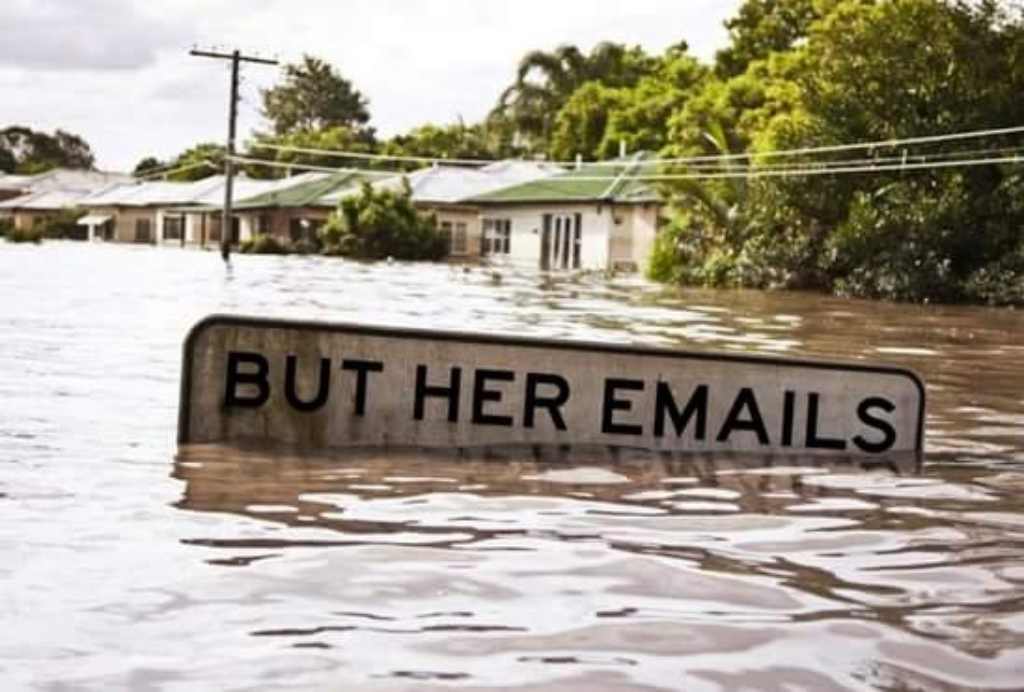 In what is likely to be the final statement on the matter, an internal State Department report has found no deliberate wrongdoing in former Secretary of State Hillary Clinton's use of a private email server during her time in office:
A multiyear State Department probe of emails that were sent to former secretary of state Hillary Clinton's private computer server concluded there was no systemic or deliberate mishandling of classified information by department employees, according to a report submitted to Congress this month.

The report appears to represent a final and anticlimactic chapter in a controversy that overshadowed the 2016 presidential campaign and exposed Clinton to fierce criticism that she later cited as a major factor in her loss to President Trump.

In the end, State Department investigators found 38 current or former employees "culpable" of violating security procedures — none involving material that had been marked classified — in a review of roughly 33,000 emails that had been sent to or from the personal computer system Clinton used.

Overall, investigators said, "there was no persuasive evidence of systemic, deliberate mishandling of classified information." The report cited "instances of classified information being inappropriately" transmitted, but noted that the vast majority of those scrutinized "were aware of security policies and did their best to implement them."

The release comes as Trump continues to raise the Clinton email issue to attack Democrats, even as new evidence has emerged of apparent security lapses by senior officials in his own administration.

Diplomats involved in pressuring Ukraine to pursue investigations that would politically benefit Trump used private phones and texting apps to trade messages about their efforts, according to records released by leaders of the House impeachment inquiry.

The State Department probe focused on internal communications that were up to nine years old.

Dozens of former State employees were brought back in for questioning in recent months after being notified that emails they had sent years ago had been retroactively classified.

The renewed activity after a long stretch in which the investigation had seemed to go dormant sparked suspicion that the Trump administration was seeking to revive an issue that had been politically advantageous to Republicans.

One former official who was questioned described it as "a way to tarnish a whole bunch of Democratic foreign policy people."

State Department officials denied any political agenda, saying the interviews were part of the final stages of an internal inquiry that the department was under pressure to complete this month. Among those applying pressure was Sen. Charles E. Grassley (R-Iowa), who had sent letters to the State Department's Bureau of Diplomatic Security seeking updates.
This investigation apparently began well before the Trump Administration came into office and began as an effort by the Obama-Era State Department to determine if any internal mistakes had been made in connection with Clinton's private email server. In other words, this was basically a review for policy purposes rather than one that could or would have resulted in the bringing criminal charges or some other form of administrative punishment. This is especially true given the fact that most of the people who were involved in the matter during the Clinton Era at Foggy Bottom, meaning that there's very little the authorities at the State Department could have done.
This is, of course, the second time that a Federal investigation has found no systematic wrongdoing in connection with the former Secretary's use of a private server. At nearly the same time as this State Department investigation began, the F.B.I. began its own investigation of the matter and, specifically the question of whether or not Clinton or her associates mishandled classified information. In the end, the Bureau found that while there had been 'extreme carelessness' in the handling of classified information in some cases there was no justification and insufficient evidence to support bringing criminal charges. All that being said, it is worth noting that the State Department Inspector General found that the decision by Clinton to use a private server was improper and that it should not have been done. This mirrors an observation I made back in 2015 when this story first broke:
On it's face the answer that Clinton decided to use a private email server, notwithstanding the fact that anyone in her position should have anticipated the problems that would arise especially if and when she ran for President, because "she didn't think it through" is even more silly than Clinton's original justification for the decision that she didn't want to use more than one mobile device. From the beginning of this campaign, and indeed, reaching all the way back to Clinton's first campaign for President, one of the former Secretary of State's overriding themes has been that she would be ready to be President because she has a record of 'making the tough decisions.' Leaving aside the fact that there was little in her record in 2008 to substantiate this claim, and not very much this time around either, this proved to be a compelling argument for her supporters, as evidence by the effectiveness of the "3am phone call" ad that attacked then Senator Obama for his apparent lack of preparedness. Palmieri saying that Clinton "didn't think things through" when the decided to start using a private email server rather than the State Department's system doesn't exactly say very much for her judgment skills in that instance in particular, or in general.
In any case, this latest report is likely to finally be the end of the line for this controversy. For conservatives, of course, it will never be over, as the chants of "Lock her up!" at Trump rallies demonstrate quite aptly. For the rest of us, what we have here is confirmation yet again that, while Clinton acted with bad judgment in deciding to use a private email server instead of official channels, there was no crime or wrongdoing committed.
Here's the report:
State Departmet Clinton Ema… by Doug Mataconis on Scribd