Finland's Cardboard Baby Boxes
Finland gives all parents of newborns a cardboard box for their babies to sleep in. No, they're not homeless.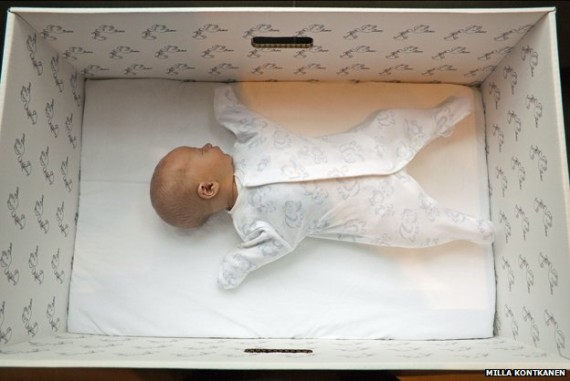 Finland gives all parents of newborns a cardboard box for their babies to sleep in. No, they're not homeless.
BBC ("Why Finnish babies sleep in cardboard boxes"):
For 75 years, Finland's expectant mothers have been given a box by the state. It's like a starter kit of clothes, sheets and toys that can even be used as a bed. And some say it helped Finland achieve one of the world's lowest infant mortality rates.

It's a tradition that dates back to the 1930s and it's designed to give all children in Finland, no matter what background they're from, an equal start in life.

The maternity package – a gift from the government – is available to all expectant mothers.

It contains bodysuits, a sleeping bag, outdoor gear, bathing products for the baby, as well as nappies, bedding and a small mattress.

With the mattress in the bottom, the box becomes a baby's first bed. Many children, from all social backgrounds, have their first naps within the safety of the box's four cardboard walls.

Mothers have a choice between taking the box, or a cash grant, currently set at 140 euros, but 95% opt for the box as it's worth much more.

The tradition dates back to 1938. To begin with, the scheme was only available to families on low incomes, but that changed in 1949.

"Not only was it offered to all mothers-to-be but new legislation meant in order to get the grant, or maternity box, they had to visit a doctor or municipal pre-natal clinic before their fourth month of pregnancy," says Heidi Liesivesi, who works at Kela – the Social Insurance Institution of Finland.

So the box provided mothers with what they needed to look after their baby, but it also helped steer pregnant women into the arms of the doctors and nurses of Finland's nascent welfare state.

In the 1930s Finland was a poor country and infant mortality was high – 65 out of 1,000 babies died. But the figures improved rapidly in the decades that followed.
So, what's in the box?
Mattress, mattress cover, undersheet, duvet cover, blanket, sleeping bag/quilt
Box itself doubles as a crib
Snowsuit, hat, insulated mittens and booties
Light hooded suit and knitted overalls
Socks and mittens, knitted hat and balaclava
Bodysuits, romper suits and leggings in unisex colours and patterns
Hooded bath towel, nail scissors, hairbrush, toothbrush, bath thermometer, nappy cream, wash cloth
Cloth nappy set and muslin squares
Picture book and teething toy
Bra pads, condoms
So, basically, a baby starter kit and a baby stopper kit. Interestingly, no baby formula, which we got with both our babies despite intentions to breastfeed.
For some families, the contents of the box would be unaffordable if they were not free of charge, though for Vayrynen, it was more a question of saving time than money.

She was working long hours when pregnant with her first child, and was glad to be spared the effort of comparing prices and going out shopping.

"There was a recent report saying that Finnish mums are the happiest in the world, and the box was one thing that came to my mind. We are very well taken care of, even now when some public services have been cut down a little," she says.

When she had her second boy, Ilmari, Vayrynen opted for the cash grant instead of the box and just re-used the clothes worn by her first, Aarni.

A boy can pass on clothes to a girl too, and vice versa, because the colours are deliberately gender-neutral.
This is pretty genius. And, while surely not the only or even the most important factor, this trend line is amazing: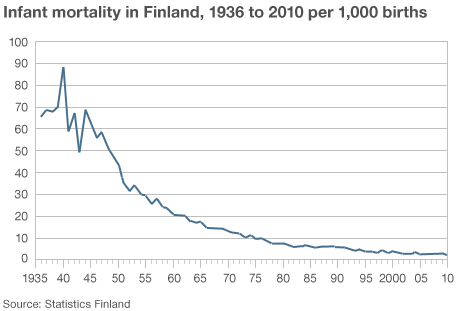 Not a bad investment, I'd say.