Germany Promises Expanded Military Role But Its Military Isn't Ready
Germany's new defense minister has promised a more robust role but lacks the ability to back her words with action.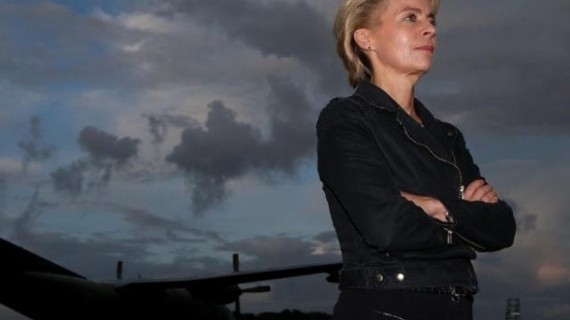 Germany's new defense minister has promised a more robust role but lacks the ability to back her words with action.
The Economist ("Chinks in the armour: Is Germany able to give its allies more military help?"):
URSULA VON DER LEYEN, Germany's first female defence minister and a possible successor to Angela Merkel as chancellor, likes a good photo opportunity. One that backfired recently had her standing under a dramatic sky with an army transport aircraft in the background, gazing into the distance as though on the look out for geopolitical derring-do. The derision was instantaneous. The image matched both her ambition and the vision she outlined in January of Germany's armed forces playing a bigger role in international crises. Given post-war Germany's radical pacifism, that was controversial.

She is now at risk of failing her first two practical tests. Last month she dispatched German army volunteers to Africa to help in the struggle against Ebola. And although Germany has not joined its allies in bombing the Islamic State (IS), she sent weapons to the beleaguered Iraqi Kurds. Sensing another photo-op, she boarded a Transall transport plane and flew to Iraq for a ceremonial delivery. But the anti-tank weapons, rifles and machine guns had not arrived, nor the German trainers, because the planes carrying them (one of them leased from the Dutch) were grounded en route for repairs. Another Transall, bound for Senegal with the German volunteers to fight Ebola, was stranded with technical difficulties in the Canary Islands.

The problems extend far beyond unreliable transport aircraft. Reporting to parliament last month, inspectors said that only a fraction of Germany's helicopters, submarines and tanks are fit to be deployed. The problem is a lack of spare parts. Ordering and making them will take time. On September 30th another blow came when it emerged that technical defects affecting the air force's Typhoon fighter jets had been found.

Mrs von der Leyen has some explaining to do. Airbus should finally deliver the first of its new A400M aircraft to replace the old Transalls this autumn, she said. The other maintenance problems, she claims, date back to her predecessors and have come to light because more is being asked of the army.

All true, but the question remains whether in a crisis Germany could meet its obligations as part of NATO. With Russia's aggression in Ukraine on their minds at their summit in Wales last month, the 28 allies renewed their pledge to commit at least 2% of GDP to their armed forces. Germany has steadily cut its defence budget. It spends only 1.3%, putting it 14th among alliance countries.

The shoddy state of the armed forces is now Mrs von der Leyen's biggest problem. It is causing tension within the grand coalition of the centre-right camp (to which she and Mrs Merkel belong) and the centre-left Social Democrats. Their parliamentary leader, Thomas Oppermann, accused Mrs von der Leyen of poor management but simultaneously ruled out spending more. Another senior Social Democrat, Thorsten Schäfer-Gümbel, suggested that she should do more work and "fewer photo shoots".
Germany has been ridiculed for years by American, British, and French security experts for its parsimonious approach to defense. By far Europe's biggest economic power, it's punching well below its weight.
Regardless, I've long defended Germany, in that, unlike the Brits and French, their underwhelming contribution to NATO was at least matched by a modest set of foreign policy ambitions. The Brits and French have cut back their defense spending almost as much—to the extent they couldn't even undertake a tiny mission like the air campaign over Libya without massive American assistance—but continue to have superpower ambitions for policing the world. Germany, by contrast, has basically seen its military mission simply the protection of its homeland and that of its NATO allies.
If Germany is serious about being part of a global police force, then it's going to have to meet the NATO minimum of 2% GDP for defense. Thus far, it's not looking like there's the will to do that. In which case, perhaps they should go back to their previous announced foreign policy.