Hezbollah Right Across the Rio Grande (or Something Like that)
Not only is Hezbollah taking up with the cartels, they appear to have a massive new geography-bending technology. As such, we are all doomed.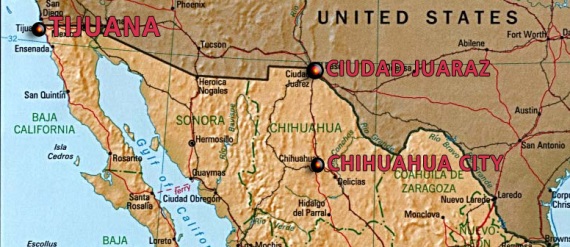 Alt title:  "Don't Know Much About Geography"
Greg Weeks points to a NY Daily News editorial that warns of the threat posed by Hezbollah joining up with Mexican cartels:  Close to home: Hezbollah terrorists are plotting right on the U.S. border.
The story states:
Mexican authorities have rolled up a Hezbollah network being built in Tijuana, right across the border from Texas

[…]
Now they are right across the Rio Grande – a stone's throw.
Minor problem:  Tijuana is just over the border from San Diego (that's in California, for those keeping score at home.  Indeed, as one who drove from Alabama to SoCal last summer, I can personally attest that it is a long damn way between El Paso and San Diego).
The piece cites an unlinked Kuwaiti newspaper as its source.  This is typical, I would note, for such stories, which tend to be big on sensationalism and low on facts and solid sources.
Indeed, this reminds me of a 2007 story (Jihadists Working With Mexican Cartels to Infiltrate the Border! (Or, Not)) which ended up being untrue.