Housing Prices Hit New Low, But Buyers Are Staying Away
Real Estate prices continue to fall, but where are the buyers? Maybe they're acting sane this time.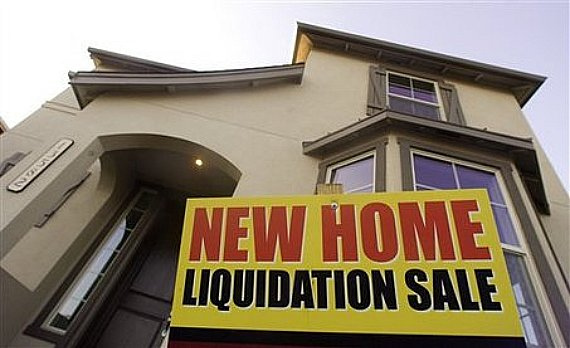 Evidence continues to mount that we will not be returning to the days of the late 90s/early 2000s housing bubble, and that isn't necessarily a bad thing:
Housing prices fell in March to their lowest point since the downturn began, erasing the last little bit of recovery from the depths plumbed two years ago, according to data released Tuesday.

The Standard & Poor's Case-Shiller Home Price Index for 20 large cities fell 0.8 percent from February, the eighth drop in a row. Prices are now down 33.1 percent from the July 2006 peak.

"Home prices continue on their downward spiral with no relief in sight," said David M. Blitzer, chairman of the S.& P. index committee.

Housing is in persistent trouble, industry analysts say, not only because so many people are blocked from the market — being unemployed, in foreclosure or trapped in homes that are worth less than the mortgage — but because even those who are solvent are opting out.

The desire to own your own home, long a bedrock of the American Dream, is fast becoming a casualty of the worst housing downturn since the Great Depression.

Even as the economy began to fitfully recover in the last year, the percentage of homeowners dropped sharply, to 66.4 percent, from a peak of 69.2 percent in 2004. The ownership rate is now back to the level of 1998, and some housing experts say it could decline to the level of the 1980s or even earlier.

"The emotional scars left by the collapse are changing the American psyche," said Pete Flint, chief executive of the housing Web site Trulia. "There was a time when owning a home was a symbol you had made it. Now it's O.K. not to own."

Trulia, a real estate search engine for buyers and renters that is based here, is a hive of renters, including Mr. Flint. "I'm in no rush at all to buy," he said. He expects homeownership to decline further to about 63 percent, a level the country first achieved in the mid-1960s.

The new Case-Shiller data did not offer much room for short-term optimism. The national housing index, which is reported quarterly, fell 4.2 percent in the first quarter after a drop of 3.6 percent in the fourth quarter of 2010. This, too, is a new recession low.

Twelve of the 20 cities in the index hit a new recession low in March. Washington was the only city where prices rose both in March and over the last year.
Of course, thanks largely to the Federal Government, the area around Washington DC is one of the few parts of the country that has seemed to recover steadily over the past year or so. It isn't entirely surprising then, that the real estate market would reflect this. Nonetheless, prices across the country have fallen dramatically. Ordinarily one would expect lower prices to start bringing buyers back into the market, notwithstanding the state of the economy, instead, we seem to be seeing a re-evaluation of the way Americans have looked at housing over the past 20 years or so: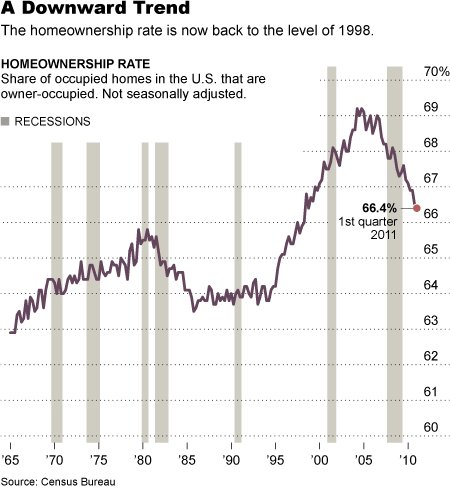 It's possible that this will turn itself around in a year or two. The economy may turn around enough that people start feeling confident about buying a home again. When that happens, though, I suspect we'll see a different kind of housing market than the one we experienced in the 90s and 00s. Instead of flipping homes every few years, people are more likely to hold on to a house for a longer period of time. Instead of viewing their homes as a source of income and refinancing at the drop of a hat, we may even see a return to the days when people actually paid off their mortgages (I remember when my parents did, it was a big deal back then).
One of the biggest problems with the housing bubble was that housing went from being a long-term investment where people stayed for a long time, it turned into a short-term get-rich-quick scheme. Many people made out very well, which is usually what happens at the beginning of a bubble, but there was no way it could last forever (especially when sustaining it meant convincing lenders to give money to people who had no realistic possibility of being able to meet their obligations) We're paying the price for that foolishness now. Hopefully when its all over, we'll be a little anser.