If Trump Really Was Trying To Hobble The Russia Investigation, He Has Failed Miserably
If President Trump's decision to fire James Comey was motivated by an effort to impact the Russia investigation, this week has only served to guarantee it will continue and expand.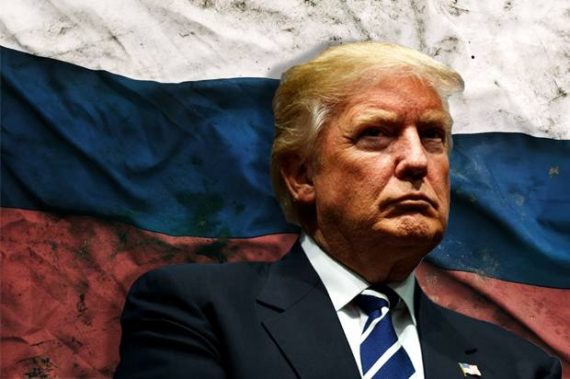 Charles Krauthammer makes an excellent point in connection with President Trump's decision to fire former F.B.I. Director James Comey.
There was ample bipartisan sentiment for letting Comey go. And there was ample time from election day on to do so. A simple talk, a gold watch, a friendly farewell, a Comey resignation to allow the new president to pick the new director. No fanfare, no rancour.

True, this became more difficult after March 20 when Comey revealed that the FBI was investigating the alleged Trump-Russia collusion. Difficult but not impossible. For example, just last week Comey committed an egregious factual error about emails from Huma Abedin [formerly a senior aide to Hillary Clinton] that the FBI had to abjectly walk back in a written memo to the Senate Judiciary Committee.

Here was an opportunity for a graceful exit: Comey regrets the mistake and notes that some of the difficult decisions he had previously made necessarily cost him the confidence of various parties. Time for a clean slate. Add the usual boilerplate about not wanting to be a distraction at such a crucial time. Awkward perhaps, but still dignified and amicable.
Instead we got this – a political axe murder, brutal even by Washington standards. (Or even Roman standards. Where was the vein-opening knife and the warm bath?) No final meeting, no letter of resignation, no presidential thanks, no cordial parting. Instead, a blindsided Comey ends up in a live-streamed OJ Simpson-style Bronco ride, bolting from Los Angeles to be flown, unfrocked, back to Washington.

Why? Trump had become increasingly agitated with the Russia-election investigation and Comey's very public part in it. If Trump thought this would kill the inquiry and the story, or perhaps even just derail it somewhat, he's made the blunder of the decade. Whacking Comey has brought more critical attention to the Russia story than anything imaginable. It won't stop the FBI investigation. And the confirmation hearings for a successor to Comey will become a nationally televised forum for collusion allegations, which up till now have remained a scandal in search of a crime.

So why did Trump do it? Now we know: the king asked whether no one would rid him of this troublesome priest, and got so impatient he did it himself.
As Krauthammer notes at the start of his most recent column, there was something of a bipartisan consensus in Washington that Comey's position was vulnerable. For Democrats, there was the fact that Comey had taken what they contend to this day was the unprecedented and unnecessary step of sending and making public a letter he sent to Congress in October of last year just ten days prior to the election in which he revealed the existence of additional emails that may have been connected to Hillary Clinton's email server found on a computer belonging to Huma Abedin and Anthony Weiner. That letter, they contend, served to upend an election campaign that was clearly moving in Hillary Clinton's favor and managed to throw enough doubt into the minds of the electorate to throw doubts about Clinton back into the minds of voters. The follow-up letter that Comey sent just days before the election, they say, came far too late to undo any damage that initial letter may have done. For Republicans, Comey's sin was committed back in July of last year during which he held a lengthy press conference in which he announced the results of the F.B.I's investigation and announced that based on the investigation the Bureau was recommending that no charges be filed against anyone in the matter due to the fact that Clinton's actions, while "extremely careless," did not rise to the level of criminality needed for prosecution. This action, Clinton critics maintained, was in no small part a display of favoritism toward Clinton that similarly situated civilians would not have received. Whether or not Krauthammer is correct about the existence of this consensus and whether the President shared it, which seems doubtful given his effusive praise for Comey in the wake of the October letter, it's certainly true that Comey had managed to get himself into a position where he had many doubters in political circles in Washington and that there could have been a way to dismiss him had it been handled correctly.
Instead of handling it correctly, though, this Administration has done precisely everything that one would expect someone who has ulterior motives or something to hide would do. As I have detailed in successive posts since Monday afternoon — see here, here, here, here, and here — the Administration's explanation for why Comey was fired has changed about as many times as the sun has risen and set over that period. At first, we were told that the entire impetus for the decision that the President made came from the memorandum prepared by Deputy Attorney General Ron Rosenstein regarding Comey, a memorandum that focused exclusively on his July press conference regarding the Clinton email server investigation. Then, when the media began to question the timing of the announcement and the fact that it came only days after Comey's testimony regarding the Russia investigation, we learned that Trump had met with Attorney General Sessions, who had supposedly recused himself from the Russia investigation, and Rosenstein, who was  tasked with the job of coming up with reasons to fire Comey, no doubt reasons that had nothing to do with the ongoing Russia investigation since explicitly citing that as a reason for firing would be politically untenable. Also lending suspicion to the questions about ulterior motives were things such as  Trump's claim in his letter to Comey that Comey had told him on three separate occasions that he was not a target of an investigation. Such a conversation would, of course, be an entirely improper thing for Comey to do regardless of whether or not Trump himself were a target, and sources close to Comey have told reporters that the President's claim is nonsense. It's was also reported that Comey refused a request that he give the White House a preview of his testimony before the Senate Judiciary Committee, something which reportedly "infuriated" the President, and that he rebuffed a request from the President for a pledge of personal loyalty to the President. We also learned Additionally, that Comey had been asking for additional resources for the Russia investigation in the days before being fired. Then, yesterday, Trump seemed to confirm that the Russian investigation was involved his decision to fire Comey in a television interview,
Taken together, these stories reveal either utter incompetence on the part of the White House, or a conscious effort to cover-up, well, something, and to divert public attention from an investigation that has reportedly been infuriating the President for weeks now. Because of the manner in which they executed Comey's dismissal and the manner in which they have bungled their public response, though, the White House has guaranteed that the investigation will not only continue but that it's likely to intensify. Rather than shutting down anytime soon, the investigation will not include an examination of the circumstances regarding Comey' firing, the contacts between Comey and Trump, including the allegation that Comey revealed the status of the investigation to the President in violation of F.B.I. policies and procedures and that Trump demanded a loyalty pledge from Comey, the existence of a taping system in the White House, and any conversations that the President may have had with advisers regarding firing Comey. So rather than making this investigation go away, President Trump has guaranteed that it will gain new momentum both in Congress and, most likely, among the F.B.I. agents tasked with investigating the matter. Where that leads is something only time will tell.