Joe Lieberman Retiring?
Joe Lieberman will not run for a fifth term in the U.S. Senate.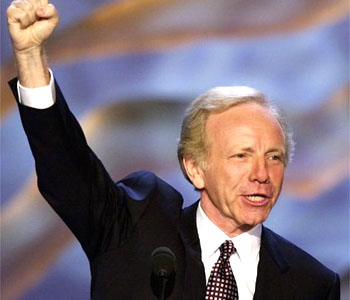 Joe Lieberman has announced a 12:30 news conference in Stamfort, Connecticut to announce whether he'll run for a fifth term.  The betting is that he's stepping aside.
John Lender of the Hartford Courant:
"You can bet the farm" that Lieberman won't seek a fifth term in 2012, said a Democratic insider who is close to the 22-year Senate veteran.  But neither Lieberman nor his Senate office would confirm that.

[…]

Lieberman's Senate press secretary, Erika Masonhall, wouldn't elaborate Tuesday on the upcoming announcement except to say: "After many thoughtful conversations with family and friends over the last several months, Senator Lieberman made a decision about his future over the holidays which he plans to announce on Wednesday."

The advisory that Lieberman will reveal his plans came on the same day as former secretary of the state Susan Bysiewicz's sudden announcement that she is seeking the Democratic nomination for Lieberman's seat.

[…]

Lieberman's ratings in polls have sagged seriously in recent years as he alienated many Democrats by aligning himself with Republicans.  Polls also show, however, that Republican voters have not embraced him enough to give him strong prospects of winning re-election via a combination of unaffilated, Democatic and Republican voters.

While Lieberman's office was mum about whether he'll announce he's not seeking re-election, at least a some longtime Lieberman allies have been asked to show up at Monday's announcement in Stamford.

A couple of active Democrats said they think the timing of the event, and the tone of the behind-the-scenes conversations, indicate that Lieberman wants to announce that he's not running while there's still speculation that he could still win if he chose to run. In other words, they said, he can pull out of the 2012 race now — before being battered by continual announcements of polls that show him sinking ever farther in his prospects.
That strikes me as quite plausible.  This is as close as he can get to going out with dignity.
via Taegan Goddard