Justice Requires Holding Both Baltimore's Rioters And Its Police Responsible For Their Actions
There is no excuse for last night's rioting in Baltimore, but that should not deflect attention from the problems with that city's police.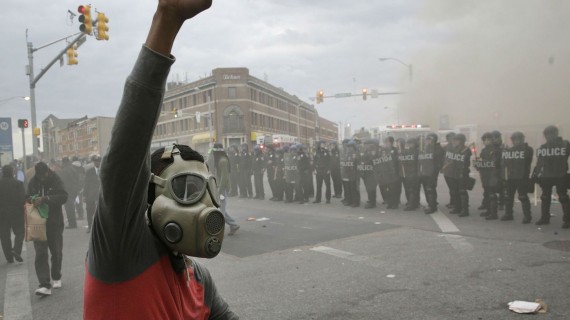 Conor Friedersdorf makes an excellent point about both the rioting in Baltimore and the underlying issues that have been driving the protests that have been taking place ever since the death of Freddie Gray. and about the media coverage that we've seen since the protests started turning violent on Saturday:
Justice demands that participants in the riots are identified, arrested, and charged with whatever crimes they committed. Their unjustifiable violence endangered innocents, destroyed businesses, and harmed the economic future of largely black neighborhoods; they earned the frustrated contempt of Baltimore's mayor and members of its clergy and strengthened the hand of the public-safety unions that are the biggest obstacles to vital policing reforms.

But a subset of Baltimore police officers has spent years engaged in lawbreaking every bit as flagrant as any teen jumping up and down on a squad car, however invisible it is to CNN. And their unpunished crimes have done more damage to Baltimore than Monday's riots. Justice also requires that those cops be identified and charged, but few are demanding as much because their brutality mostly goes un-televised. Powerless folks are typically the only witnesses to their thuggery. For too long, the police have gotten away with assaults and even worse. The benefit of the doubt conferred by their uniforms is no longer defensible.

To any reader who sees Baltimore smoldering and believes that this isn't the appropriate time to start focusing on police misbehavior, I'd have to agree: The right time to start would've been any time over the many years that it's been epidemic. Last week, I wrote about the brutality of police culture in there, drawing on the Baltimore Sun and other news sources that documented cops beating an elderly grandmother, a pregnant woman, and scores of others, prompting almost $6 million in police brutality settlements in the course of a few years.

Why hasn't Wolf Blitzer ever expressed on-air outrage at any of those cases or their sum? It is perfectly possible to laud police heroes, lament injured police officers, and excoriate bad cops for undermining their colleagues and their community. Imagine watching a rioter beat and kick someone on television and knowing that no one in the city would ever attempt to prosecute the attacker. That's the lived experience of many blacks in Baltimore, except that no one was recording when they watched brutality by police who still patrol their streets.

That context doesn't justify riots or looting. Many who've been victimized by Baltimore police have not felt the need to victimize other innocents in turn. But it does help explain the contempt many in Baltimore have for its police department, although even its harshest critics will acknowledge that it isn't all bad and rightly insist that violence should not ever be initiated against police officers.

Why is television news so bereft of this background information?
Part of the answer to that question, of course, is that television news depends principally on imagery, and the images that came across our television screens starting late yesterday afternoon were indeed quite compelling. There were police standoffs with protesters, protesters throwing rocks at police, police using tear gas and other means to try to disperse crowds, looting of local businesses, and, of course, fires, which seem to always make for good television whether we're talking about national news or local news. The Freddie Gray story, on the other hand, is lacking in the kind of compelling imagery that is the bread and butter of the visual media. Outside of some video from a camera on the street that showed the initial moments of Gray's arrest, but didn't show anything that could explain what could have happened to lead to injuries that include a crushed larynx and a nearly completely severed spine, there aren't any images of what happened to Gray that can be played over and over again the way that the video of yesterday's rioting is being replayed. That's why, while there was some coverage of the Freddie Gray story prior to yesterday, it was not the kind of wall-to-wall coverage we're seeing now. Even when the protests that had risen up in the wake of Gray's death turned violent on Saturday right outside the area where tens of thousands of people were watching a baseball game, the media didn't cover it all, with both CNN and MSNBC preferring instead to carry live coverage of the White House Correspondent's Association Dinner, something which earned scorn last night from Jon Stewart. It wasn't until Baltimore started burning that the media started paying attention.
Friedersdorf is right, however, that both the very suspicious circumstances of Gray's death, and the overall issue of what appears to all the world to be a Baltimore Police Department with fairly serious abuse problems deserve to get as much attention as the riots themselves. The details of that reality can be found in an investigation done by the Baltimore Sun which found, among other things that, since 2011 the City of Baltimore has paid out nearly $6 million dollars to victims of police abuse. These victims have included:
[A] 15-year-old boy riding a dirt bike, a 26-year-old pregnant accountant who had witnessed a beating, a 50-year-old woman selling church raffle tickets, a 65-year-old church deacon rolling a cigarette and an 87-year-old grandmother aiding her wounded grandson. Those cases detail a frightful human toll. Officers have battered dozens of residents who suffered broken bones — jaws, noses, arms, legs, ankles — head trauma, organ failure, and even death, coming during questionable arrests. Some residents were beaten while handcuffed; others were thrown to the pavement.
These ant other reports that have come out in the past week since the Freddie Gray story made national news make it clear that there are serious problems with abuse in the Baltimore Police Department, and that this has led to many of the same feelings of resentment, anger, and fear that motivated the protests that occurred in the wake of the shooting of Michael Brown in Ferguson, the death of Eric Garner in New York City, and the failure of Grand Juries in either of those jurisdictions to indict the officers involved. Since then, we've seen similar incidents in other parts of the country, including Cleveland, North Charleston, and Tulsa, and those are just the stories that have made the national news over the past several months. Each of those cases has their own facts, of course, and at least in the Brown case it seems clear that there was no wrongdoing by the officer involved, but as I have said before the facts of the individual cases are only part of what has motivated the protests that continue to occur across the country. Obviously, these stories resonate with a certain segment of the American public because they reinforce perceptions that they have developed about law enforcement over a long period of time, and it's hard to dismiss the outpouring of anger as some observers have tried to do. In the immediate future, obviously, there needs to be a full investigation of the Freddie Gray case and, if the facts justify it, then charges need to be brought against the officer involved. Beyond that, though, it is obvious that there are serious problems with policing in Baltimore and other parts of the country, and until those issues are addressed in some broad way, then the problem is just going to continue and there will be most protests the next time there's another Eric Garner, Walter Scott, or Freddie Gray, And given the fact that these stories now get immediate national media attention, there's no question that another one of these cases will happen again, probably sooner rather than later.
None of this is to excuse the actions of the rioters, of course. A I said last night, there is no justification for the kind of violence against property and persons that was being committed on the streets of Baltimore, or that we saw in Ferguson in the wake of the decision not to indict former Officer Darren Wilson. It is not a legitimate form of protest, and in the end all it really ends up doing is causing harm to the neighborhoods of the people who are most aggrieved while simultaneously effectively giving sanction to the very heavy handed police tactics that some have claimed to be the "root cause" of the riots. The rioters need to be charged and prosecuted to the fullest extent of the law, and it needs to be made clear by the community that what they did is not representative of the people who live there and is not acceptable. At the same time, though, the riots should not be allowed to drown out the legitimate complaints of the protesters or the questions that still remain unanswered regarding the death of Freddie Gray and the many other cases of police abuse that have come to light in this country.