Lech Walesa: Gays Have No Right to Govern
The anti-communist icon is once again in hot water for making idiotic comments.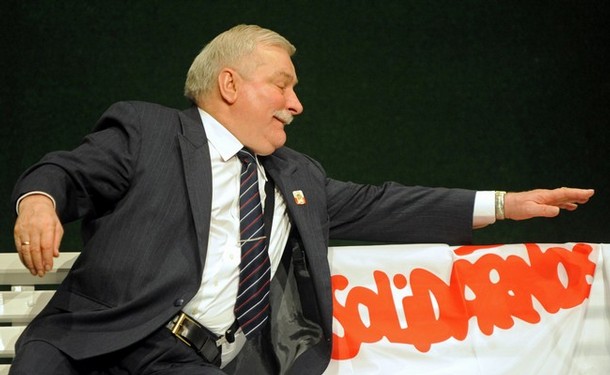 Anti-communist icon Lech Walesa is once again in hot water for making idiotic comments.
AP ("Lech Walesa shocks Poland with anti-gay words"):
Lech Walesa, the Polish democracy icon and Nobel peace prize winner, has sparked outrage in Poland by saying that gays have no right to a prominent role in politics and that as a minority they need to "adjust to smaller things."

Some commentators are now suggesting that Walesa, the leading figure in Poland's successful democracy struggle against communism, has irreparably harmed his legacy.
Walesa said in a television interview on Friday that he believes gays have no right to sit on the front benches in Parliament and, if represented at all, should sit in the back, "and even behind a wall."

"They have to know that they are a minority and must adjust to smaller things. And not rise to the greatest heights, the greatest hours, the greatest provocations, spoiling things for the others and taking (what they want) from the majority," he told the private broadcaster TVN during a discussion of gay rights. "I don't agree to this and I will never agree to it."

"A minority should not impose itself on the majority," Walesa said.

The words have enraged many.

"From a human point of view his language was appalling. It was the statement of a troglodyte," said Jerzy Wenderlich, a deputy speaker of Parliament with the Democratic Left Alliance.
Why any are surprised by this is a mystery. Walesa sounds like a troglodyte because he is one.  Walesa is a 69-year-old devout Roman Catholic with a trade school education. I'd wager that most working class men of his age—especially in Poland, a very traditional society—feel much the same way. And, goodness, these latest statements are by no means the most ignorant thing he's ever said about gays. Back in 2000, he declared "those people need medical treatment," adding,  "Imagine if all people were like that. We wouldn't have any descendants." In 1990, he pledged to "eliminate" homosexuals and drug users from society if elected president.
Walesa is rightly revered for the leadership and courage he displayed as a labor leader fighting against a repressive Communist regime going back to his youth. He became internationally famous more than three decades ago, winning the Nobel Price Prize as a symbol of that fight in 1983. But being a brave and charismatic leader doesn't necessarily translate into wisdom. That's been demonstrated time and again in Walesa's case since Walesa entered national politics. Elected as Poland's first democratic president in 1990, he soon developed a reputation as a lout. The transition from electrician and labor leader to governing a state was a huge leap for which he was simply unprepared.
Walesa came to prominence as a revolutionary. He was a great one whose role in the fall of Communism has gone down in history. But few revolutionaries go on to be great statesmen. Nelson Mandela did so in South Africa. I'm hard pressed to think of another modern example, much less one who emerged from the working classes.
The fact that Walesa has retrograde views shouldn't tarnish his historical legacy. It just means we ought quit taking him seriously on social policy.