Less Than Zero
The Social Security "trust fund" may actually be worse than worthless.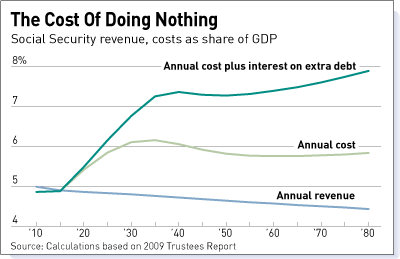 Investor's Business Daily warns us that the Social Security "trust fund" may actually be worse than worthless:
[A]n analysis done by the Congressional Budget Office last year on the effect of high government debt levels suggests that unless the government gets its fiscal act together, the value of the trust fund is less than zero.

Under the Alternative Fiscal Scenario, which approximates current policy, CBO finds that elevated debt levels would crowd out private investment and restrain economic growth to a significant degree. Specifically, GDP would be 15% smaller in 2035 under the current policy trajectory than it would be if debt stabilizes around current levels, as it would under the baseline scenario.

While CBO assumes the current-law trajectory for Social Security under both the alternative and baseline scenarios, what matters for its crowding-out analysis is suffocating debt levels, not what contributes to the debt.

Debt would be 185% of GDP in 2035 under current policy — vs. 79% under the baseline scenario. By that point, using assumptions from Social Security's 2010 annual report, redemptions of trust fund bonds would have raised debt levels by about 18.5% of GDP, or $4.5 trillion in 2010 dollars.

In other words, debt incurred by paying unfunded Social Security benefits would account for nearly 1/6th of the crowding-out effect, curbing GDP by about 2.6%.
In short, if we don't rein in the federal government's profligacy, Social Security (which is already a lousy deal for workers) will slowly strangle the country to death. Right before the so-called trust fund runs out entirely.