Mainstreaming Brutality
In just over a decade, America has gone from a bipartisan consensus that torture and brutality are bad to a bipartisan consensus that they're necessary.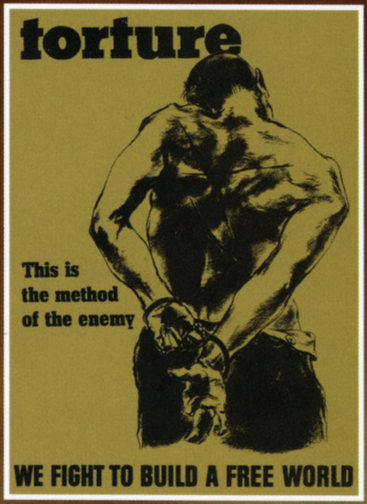 I've been trying for the past couple weeks to write about Bradley Manning, but I can't. It makes me sick to my stomach. The whole trend of brutality and betrayal of American ideals over the past decade makes me sick to my stomach.
We have gone from being the first country that established the principle that prisoners of war should be treated respectfully to a country that operates black sites and sends prisoners to other countries to be tortured–when we don't torture them ourselves.
In the American Revolution, the number one cause of death for American soldiers was maltreatment and disease in British POW camps. In the Civil War, Andersonville was a cause of national outrage. In the early 20th century, the United States emphatically supported the adoption of the Geneva Conventions. In World War II, German soldiers happily surrendered to Americans in the West, knowing they'd be well treated. But in the East, they fought the Russians to the last man because they knew they wouldn't be.
Now, in the 21st century, we send robot planes to bomb civilians in a country that's ostensibly an ally. We have prisons where people are routinely denied basic essentials, denied due process, are maltreated and tortured. We reverse decades of tradition and not only have legalized assassination, but have legalized assassination of United States citizens.
And there's no outrage on Main Street. There's no outrage in Washington. There's only outrage on the internet. And half the internet rage is coming not from the acts themselves but rather partisan bullshit surrounding them. ("You only hate torture when Bush does it!" "You only hate it when we do it to white people!" "Nuh-uh!" "Uh-huh!")
The first time I voted in a Presidential election, in 2000 (for Harry Browne), no part of my consideration of any of the candidates had to do with whether they wished to torture people or assassinate American citizens. It didn't have to be, because it wouldn't cross anybody's mind to have a position on it. Americans don't torture. That was our position. We were a shining city on a hill. You can't torture people in the basement if you're trying to set an example of decency to the world.
In 2004, this became a partial voting issue, as John Kerry oh so politely pointed out that maybe throwing people into a prison might be a little wrong? Maybe? But since at the time Kerry seemed to be supporting whichever way the wind was blowing, it didn't seem to matter as much. (In the end, I voted for "None of the Above.")
Then in 2008, one major reason why I voted for Barack Obama was because he forcefully claimed to be opposed to such policies. And I was mad that that was actually a voting issue for me, because you'd think that not torturing people is a moral no-brainer.
But, as it turned out, Obama lied.
Now, as I look to vote in 2012, I realize that just like in 2000, no part of my consideration for any of the candidates will involve their positions on torture, war crimes, secret prisons, renditions, etc.
Because both candidates will be in favor. Without apology.