Mitch McConnell's Health Woes Continue
The Senate Republican Leader had another concerning incident.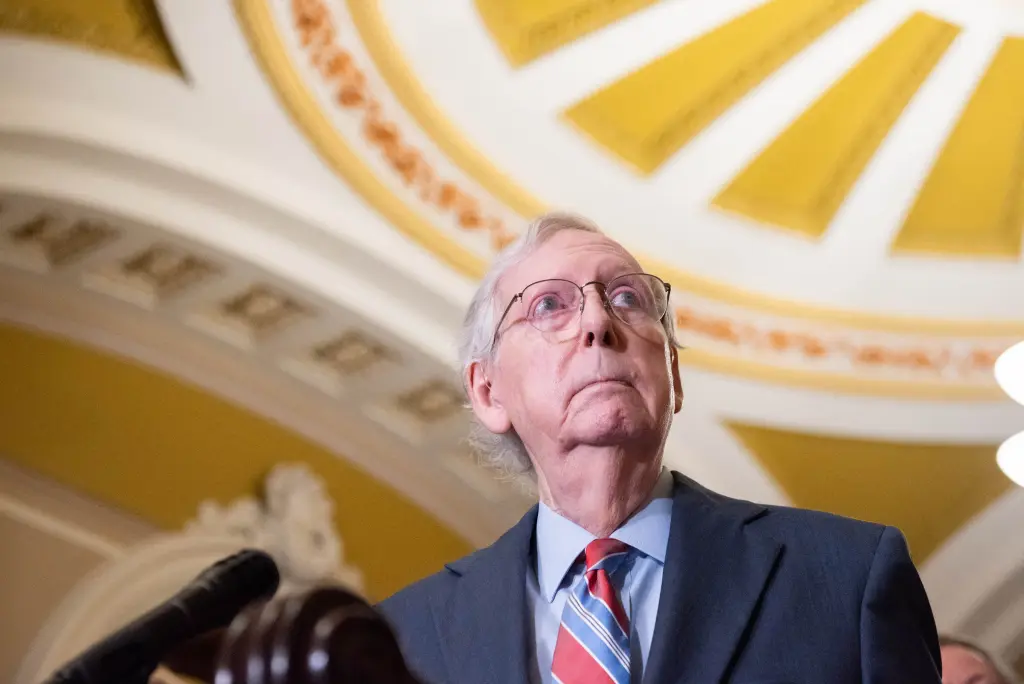 WaPo ("Mitch McConnell appears to freeze again while talking with reporters"):
Senate Minority Leader Mitch McConnell (R-Ky.) appeared to freeze for more than 20 seconds Wednesday while taking questions from journalists in an incident that mirrored another occasion when he abruptly stopped speaking in late July.

McConnell took questions from reporters in Covington, Ky., after talking with a local group. A reporter asked him about running for reelection in 2026, then repeated the query twice when McConnell said he couldn't hear, according to video of the incident.

McConnell, 81, chuckled and said, "Oh, that's, uhh —" and stopped speaking. After about seven seconds, an aide approached and asked the senator if he had heard the question.

McConnell stared straight ahead, and the aide asked reporters to give them a minute.

Another aide then walked over and spoke to McConnell, who signaled that he was fine. McConnell then cleared his throat, said "Okay," and continued to take questions. His answers were stilted.

In total, the minority leader was silent for more than 20 seconds.

"Leader McConnell felt momentarily lightheaded and paused during his press conference today," a spokesman for McConnell said in a statement afterward.

An aide to the senator, who spoke on the condition of anonymity to discuss private details, said McConnell would consult a doctor before his next event "as a prudential measure."

McConnell spoke to several senators on his leadership team after the Wednesday afternoon incident. Sen. John Thune (R-S.D.), the No. 2 in GOP leadership, said that McConnell seemed like his usual self and in "good spirits," according to a Thune aide who spoke on the condition of anonymity to discuss private conversations.
President Biden was, once again, kind when asked for comment:
On Wednesday, as President Biden talked about the wildfires in Maui and the hurricane pounding Florida and other parts of the Southeast, he said he had just heard about the McConnell incident.

"Mitch is a friend, as you know, not a joke," Biden said. "We have disagreements politically. But he's a good friend, and so I'm going to try to get in touch with him later this afternoon."
POLITICO ("McConnell quickly convenes with allies after second public freeze") adds:
Mitch McConnell's latest health scare guarantees Republican senators will return from recess next week just as they left — publicly and privately discussing the future of their 81-year-old leader.

[…]

While worries about McConnell's first freeze had faded somewhat during August recess, with even some critics publicly defending his abilities, the second incident is sure to trigger increased scrutiny of McConnell's hold on the conference, as well as who might succeed him.

Senators quickly sought more information about McConnell's health after the incident, according to one person familiar with the dynamics. Shortly after the Wednesday incident, McConnell held calls with his closest allies including Minority Whip John Thune (R-S.D.), Conference Chair John Barrasso (R-Wyo.) and Sen. John Cornyn (R-Texas), according to people familiar with the calls. All of them are potential successors to McConnell.

[…]

Internally, McConnell is facing dual dynamics: His potential successors — Cornyn, Thune and Barrasso — are backing his leadership, staying supportive and say he's sharp. There's no mechanism to force another leadership race until the end of next year, though a group of five senators can call a special conference meeting to discuss the matter.

There's no sign of that yet, though some Republican senators privately say his grip on the caucus and his engagement in meetings has waned since March. The dynamics are complicated by McConnell's 2022 leadership race, in which he both won handily and faced his first opposition ever. He beat Sen. Rick Scott (R-Fla.), a former chair of the National Republican Senatorial Committee, 37-10. That means he has a built-in group of detractors amid the latest health queries.

McConnell has led the conference since 2007, the longest run for a Senate party leader in history. He will be up for reelection in 2026, and his pause on Wednesday occurred after a question about whether he will run again.

The GOP leader still has unfinished business. He's trying to facilitate more aid to Ukraine and offer an alternate vision to former President Donald Trump. Trump and McConnell haven't spoken since December 2020, and Trump continues to advocate for Republicans to replace McConnell. The Kentucky Republican refuses to speak about Trump even as the presidential candidate cruises toward the GOP nomination.
The WaPo report also notes this:
Kentucky law would require Gov. Andy Beshear, a Democrat, to appoint a Republican successor if McConnell were to leave office. But Beshear declined to answer a question this month about whether he would do so, saying there was no indication McConnell would step down.

"There's not going to be a vacancy," he told Politico. "That would be total speculation."
The link is to a POLITICO Magazine story from August 14, so not a response to the latest incident.
Given how much focus has been placed on Biden's age and mental health, it's reasonable to note that McConnell is eight months older and has now had multiple concerning episodes. Granting that he's not in charge of the nuclear codes, he has a lot of responsibility.
One hopes that this is just a slow recovery from the fall and that he'll regain full mental health. Given the balance of power in the Senate, it would be unthinkable for him to resign his seat and allow a Democrat to replace him.* But it's certainly worth considering stepping aside as Republican leader. And, frankly, running for another six-year term that would take him to a couple of weeks shy of his 89th birthday would be unconscionable.
_______________
*Charon points out in the comments below that Beshear is required under Kentucky law to appoint a Republican and, indeed, one from a short list provided by the state GOP. The excerpt I posted in the OP intimates that but I missed it.