Navy Bans Early Morning Alcohol Sales
Sailors will now be required to wait until 9 am to buy booze.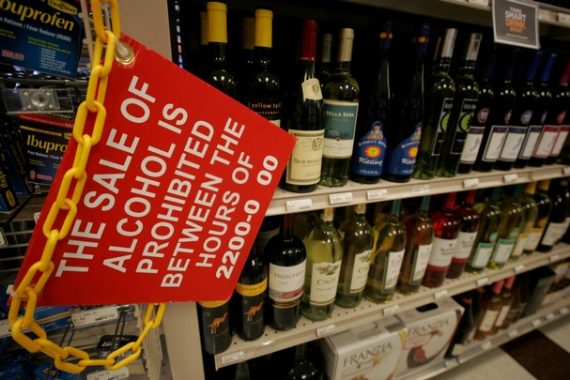 Sailors will now be required to wait until 9 am to buy booze.
AP ("Navy Changes How Alcohol Is Sold On-Base"):
The Navy's top admiral has ordered a series of changes to the way the Navy sells booze. Chief among them, the Navy will stop selling liquor at its mini marts and prohibit the sale of alcohol at any of its stores from 10 p.m. to 6 a.m.

[…]

The changes are the latest addition to a broader, long-standing alcohol education and awareness program that appears to have had some success. Throughout the Navy, the number of alcohol-related criminal offenses dropped from 5,950 in the 2007 fiscal year to 4,216 in the 2012 fiscal year. The number of DUI offenses dropped from 2,025 to 1,218 during that same period, according to Navy Personnel Command.

Liquor will still be sold on U.S. bases at a discount of up to 10 percent for what it can be bought at in a civilian store, but sales will be limited to dedicated package stores or exchanges that sell a wide variety of items.

At Naval Station Norfolk, the main exchange is comparable to a small shopping mall that sells clothing, electronics and jewelry, among other things, at a discount. At smaller naval bases, the exchanges aren't as sprawling but still often have the feel of big-box retail. While hours at those stores vary, most open at 9 a.m. close by 9 p.m.

The Navy's minimarts at the Norfolk base currently start selling liquor as early as 6 a.m. That's four hours earlier than people can buy at Virginia's state-run ABC stores off-base that are typically open from from 10 a.m. to 9 p.m. on weekdays.
While limiting overnight liquor sales hardly seems like a major impediment to bad behavior, it does make binge drinking somewhat more difficult. (Amusingly, I actually find the 10 am opening of the Virginia ABC stores a mild nuisance, in that I tend to make shopping runs early in the morning to beat the crowds. But, even at 10 am, I'm generally the only customer in the store buying for deferred use. While I'm looking for interesting new bourbons to try, the others are mostly buying single serving bottles such as one finds aboard airplanes.)
Given that most sailors are very young, it's a smart move, especially against this backdrop:
The effort follows a Pentagon report, released in May, that estimates as many as 26,000 service members may have been sexually assaulted last year.

Alcohol is often involved. In a survey, 55 percent of Navy women said they or the offender had consumed alcohol before unwanted sexual contact.
I would not have guessed this, either:
In the 2012 fiscal year, the Navy reported $91.9 million in distilled spirits sales, compared with $39.3 million in wine and $62.3 million in beer. The Navy uses 70 percent of the profits from its sales of alcoholic and non-alcoholic products to support morale, welfare and recreation programs.
Given that spirits tend to be much cheaper on a per drink basis than wine or even beer, that's a lot of booze.