North Korea's Gulags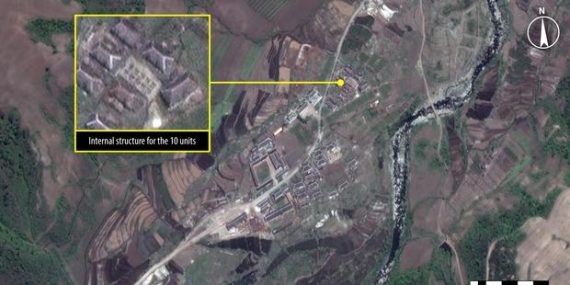 Amnesty International has just released a new report titled "NORTH KOREA: NEW SATELLITE IMAGES SHOW CONTINUED INVESTMENT IN THE INFRASTRUCTURE OF REPRESSION." It's available in both HTML and PDF formats at the link.
Their press release provides a good synopsis.
A former security official at kwanliso 16 – the largest political prison camp in North Korea – has never spoken publicly before. He describes detainees being forced to dig their own graves and women being raped and then disappearing.

"The gruesome reality of North Korea's continued investment in this vast network of repression has been exposed. We urge the authorities to immediately and unconditionally release all those prisoners of conscience held in political prison camps and close the camps immediately," said Rajiv Narayan, Amnesty International's East Asia Researcher.

Amnesty International has shared the latest evidence with the UN Commission of Inquiry investigating human rights abuses in North Korea.

Hundreds of thousands of people – including children – are detained in political prison camps and other detention facilities in North Korea.

Many of those have not committed any crime but are merely family members of those deemed guilty of serious political crimes. They are detained as a form of collective punishment, "guilt-by-association".

Kwanliso 16, near Hwaseong in North Hamgyong province, is approximately 560 km2, three times the size of the US capital Washington DC. It is one of the least investigated areas in the vast political prison camp system. In 2011, an estimated 20,000 people were believed be imprisoned at kwanliso 16.

[…]

Mr Lee, a former security official at Camp 16 in the 1980s until the mid 1990s, told Amnesty International in an interview in November 2013 of the methods used to execute prisoners. Detainees were forced to dig their own graves and were then killed with hammer blows to their necks. He also witnessed prison officers strangling detainees and then beating them to death with wooden sticks.

According to Mr Lee women were disappeared after being raped: "After a night of 'servicing' the officials, the women had to die because the secret could not get out. This happens at most of the political prison camps."

Kim Young-soon, a former detainee in Camp 15 between 1980 and 1989, described a public execution she witnessed of two detainees who were caught attempting to escape: "They were brought to a stage after they were badly beaten. The prisoners were tied to wooden stakes and shot three times in their head, chest and feet."
President Bush was rightly criticized for including the DPRK in his "Axis of Evil." It was a foolish formulation, making an already difficult diplomatic standoff impossible. But it was not wrong in its substance. A regime that commits this sort of systemic violence against its own people to retain power is the epitome of evil.