Race and Politics: An Inappropriate Response to a Metaphor
A poster at RedState demonstrates how not to approach the issue of race in politics.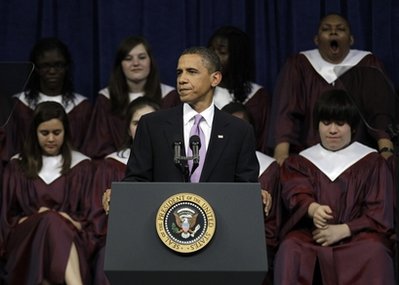 The headline of Dave Poff's RedState post says a lot:  And Even STILL I Am Not Allowed To Make A Racial Slur About Our President? After THIS? AYFKM!?!?!?
Specifically, Poff is offended by the following:
He said Republicans had driven the economy into a ditch and then stood by and criticized while Democrats pulled it out. Now that progress has been made, he said, "we can't have special interests sitting shotgun. We gotta have middle class families up in front. We don't mind the Republicans joining us. They can come for the ride, but they gotta sit in back."
Poff is upset, one figures, because in Obama's extended metaphor about driving a car into a ditch that he indicates that Republicans have to ride in back while middle class families ride up front.  On the one hand, references to riding in the back are associated with mistreatment of blacks in the pre-Civil Rights era, on the other if one is talking about a metaphorical car (not, btw, a bus) one reckons someone has to occupy the backseat (as opposed to "riding shotgun").  On one level it is perhaps an ill-advised image for a politician to deploy.  On another, the meaning of the metaphor is both pretty obvious and it clearly has no racial elements.
At a minimum, getting self-righteously offended by this strikes me as a stretch, although I can understand how a political attack on Republicans would rankle a Republican.  The thing, however, that is remarkably striking is the headline and the sentiment it conveys: "And Even STILL I am not Allowed to Make a Racial Slur About Our President?"  The suggestion seems to be that a)  Poff really, really has wanted to use racial slurs in the past, but simply hasn't been "allowed" to deploy such, and b) that it is possible for a racial slur to be an appropriate response if, in fact, the President says something that really upsets Poff.
This is not the way to demonstrate that opposition to Obama doesn't contain an undercurrent of racism.  Indeed, the post itself, while less blatant than the headline, doesn't exactly disabuse one of such notion.  I can understand not liking what Obama is saying about Republicans vis-a-vis public policy, but if that is the situation, make your case—don't launch forth about your resentment that you think Obama is getting some sort of pass because he is black.  Indeed, if one's goal is to criticize Obama in regards to race relations, I think that admitting to a desire to deploy a racial slur rather undercuts one's moral standing (to put it mildly).
I would note that if Bill Clinton made the exact same analogy it may have still upset Poff, but I don't think it would have inspired a desire to use a racial slur against him.
Let me conclude by noting that on the one hand, this is just some dude writing on a blog and isn't that big of a deal–although it is a blog that seeks to be a major voice for conservativism/Republicans and whose main writer was given a gig on CNN as a result.  However, it seems to me that things like this very much deserve to be called out.
Update:  Jonathan Bernstein rather succinctly explains the metaphor in question:
Back of the bus is about Jim Crow, and race.  Back of the car is where the kids sit while the grownups are up front.  It has no racial or ethnic overtones.