Renting Tires? Really?
The economy is so bad there's a thriving business in tire rental.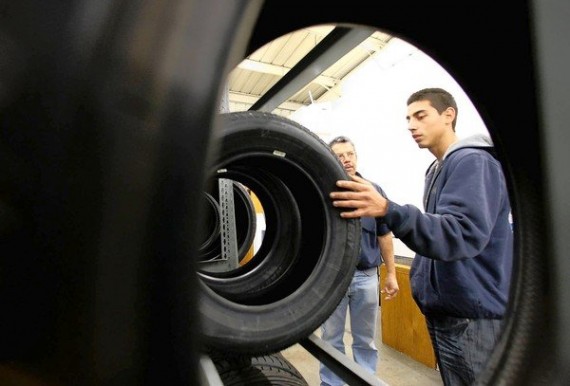 The economy is so bad there's a thriving business in tire rental.
LA Times ("High prices are driving more motorists to rent tires"):
When the tires on their Dodge Caravan had worn so thin that the steel belts were showing through, Don and Florence Cherry couldn't afford to buy a new set.
So they decided to rent instead.

The Rich Square, N.C., couple last September agreed to pay Rent-N-Roll $54.60 a month for 18 months in exchange for four basic Hankook tires. Over the life of the deal, that works out to $982, almost triple what the radials would have cost at Wal-Mart.

"I know you have to pay a lot more this way," said Florence Cherry, a 57-year-old nurse who drives the 15-year-old van when her husband, a Vietnam veteran, isn't using it to get to his job as a prison guard. "But we didn't really have a choice."
Now, I realize that there has long been a huge market in rent-to-own stuff, targeted at poor people who either won't or can't defer gratification. Such businesses are giant scams but fill a niche.
But tire rental simply makes no sense, especially at the prices mentioned in the article. The Cherrys needed new tires for their Dodge Caravan, couldn't afford to buy them, so rented them for $54.60 a month.
A simple search at Tire Rack, where I've bought my last couple sets of tires, shows that Sumitomo Touring LS T 215/65R16 tires are the cheapest that fit a 2007 Dodge Caravan SE (I don't know what model the have, so took a stab at it; the Caravan hasn't been produced since the 2007 model year. They go for $71 apiece, or $284 for a set of four.  Let's call it $350 with installation. Now, that's more than $54.60. But they'd have it paid off in six months rather than eighteen at that rate.
Don't the Cherrys have a credit card? Even with the exorbitant interest rates charged on a credit card, they'd come out way, way ahead.
And, for that matter, why not just buy used tires if you're that strapped for cash.