Second Guessing Biden's First Year
Did the President exceed his mandate? Does it matter?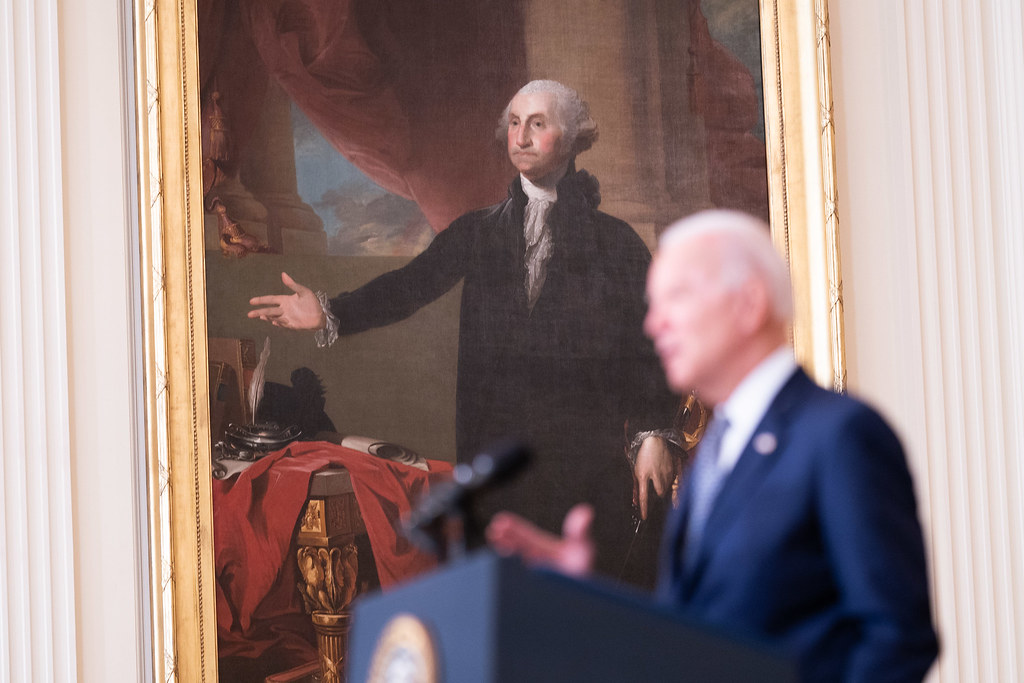 In response to complaints by Republicans that the 46th President has misread his mandate and governed too far from the left, veteran political analyst Stuart Rothenberg asks, "What was Joe Biden supposed to do in his first year?"
Those criticisms have some merit. With a 50-50 Senate and a very narrow House advantage, Biden was always going to be limited in what he could do. He needed to explain that to his supporters, and he needed to build legislative coalitions around key members, getting as much as he could even though that would fall short of what many in his party had hoped for.

[…]

But winners invariably exaggerate the mandate they are given by the voters, and the Republican critics of Biden assume that he needs to please only swing voters during his tenure in office.

Just let Biden sit in the Oval Office, make nice with Republicans in Congress and stay away from anything ideological or controversial, they seem to be arguing. That would give him the best chance of holding the House and Senate during the midterms.

Sorry, but that dog won't hunt. No, Biden was not elected to be Franklin Roosevelt, but he also wasn't elected to be Herbert Hoover or Calvin Coolidge.

Biden won by some 7 million votes and ousted an incumbent president of the United States, but he should avoid "ideological" issues?

Is that what George W. Bush did? Or Trump? Hardly.
I agree that the "mandate" concept has relatively little value. While it's perhaps wise for Presidents who win by narrow margins to govern with some humility, the fact of the matter is that one is either President or not. Ultimately, what matters is whether one has the votes in Congress to enact one's agenda. Despite a narrow and controversial Electoral College win coupled with a modest popular vote loss and modest gains by the opposition party in the House and Senate, Bush had a Republican Congress, albeit briefly, when he took office. The same happened with Trump in 2016: he lost the popular vote and Republicans lost seats in both Houses—yet he was able to govern with narrow majorities in both. It's perfectly reasonable that, having won the popular vote and held both Houses (albeit, again, with Republican gains in both) Biden would attempt to enact his agenda while he still can.
Here's the difference: Bush and Trump ran as change candidates with bold agendas to change the direction of the country; Biden ran as a restoration candidate, pledging a return to normalcy. Indeed, he won the Democratic nomination over more dynamic candidates because the party establishment—and, crucially, powerful Black leaders—thought a calm, moderate candidate was the best chance of beating Trump. Governing as though Bernie Sanders or Elizabeth Warren had won is simply misreading the room.
Biden would have looked weak and risked splitting the Democratic Party apart if he hadn't tried to do something about climate change, child care, Medicare expansion, income inequality (through taxes) and other core party goals.

If you think Democratic voters are lukewarm about Biden now because they believe he didn't push hard enough on voting rights (which Republicans are blocking), imagine how they would feel if he shied away from even promoting more money for universal pre-K, home care, prescription drug costs and the other items in the Build Back Better plan.

In a sense, Biden was damned if he did and damned if he didn't.
But, again, this isn't the agenda that he stressed in his campaign. As the primaries demonstrated, many of those issues divide even Democrats. And, regardless, trying to do them all at once was simply a non-starter: he didn't have the votes even in his own coalition.
Biden's biggest problem is that he made lots of promises — promises that he couldn't keep without the cooperation of Capitol Hill. Given the makeup of the House and Senate and the refusal of a couple of Democrats to change Senate rules, that was never in the cards.
Precisely.
Biden is now stuck in a nearly impossible position. Swing voters and moderates think he is too liberal and that he is responsible for inflation, hasn't handled the coronavirus well and hasn't dealt effectively with a range of other issues. Democrats and progressives, on the other hand, are frustrated that many of his promises are unfulfilled.
Which is, well, not a great position to be in.
The president now needs some luck, especially on inflation and COVID-19, and an opportunity to change the public's focus. He may not get either, which could well result in a bloodbath for Democrats in November. But governing like a Republican or a political eunuch was not a serious option for Biden.
But those aren't the only alternatives!
While he was laser-focused on drawing a contrast with Trump's erratic leadership, Biden wasn't without an agenda. Clearly, the pandemic was Priority 1, as it should have been. He was clearly committed to fighting climate change, including rejoining the Paris Accords—but rejected the Green New Deal and a total ban on fracking. He vowed to restore the mandate to buy health insurance and expand the public option—but rejected Medicare for All. He vowed to work toward racial justice and police reform—but rejected calls to Defund the Police.
Nobody expected him to govern like a Republican; he's a moderate Democrat. And why would a normal Presidency that focused on good governance, eradicating COVID at home, and restoring good relations with our allies and partners abroad have made him "a political eunuch"?