Sequestration Cynicism
Just when you thought the sequestration process couldn't get more cynical.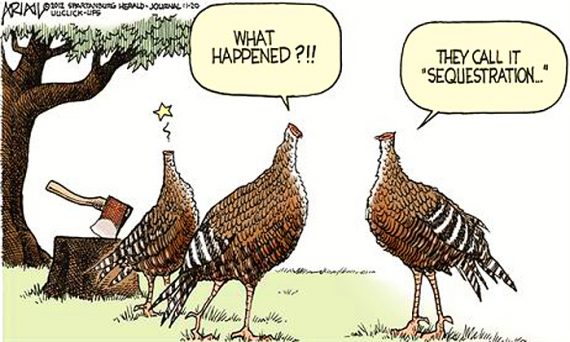 Just when you thought the sequestration process couldn't get more cynical.
POLITICO ("Sequester sparks laid-off workers' suit"):
Defense contractor L-3 Communications faces a class action lawsuit over its handling of layoffs at an Army airfield in Georgia, sparking renewed anger in Congress over an issue that first flared up during last year's presidential campaign.

Three former L-3 employees are suing the company, charging they were laid off without the 60 days of notice required under the federal WARN Act. It's a first test for the 1988 law since the Obama administration alerted contractors last year the federal government would pick up their legal costs if they were sued for WARN Act violations as a result of contracts modified or canceled under sequestration.
I'd actually forgotten that this was the law. But L-3 had well over a year's notice that the sequestration cuts might be forthcoming, so why didn't they warn their employees? Well, it seems the White House told them not to:
Already, the case is drawing the ire of the powerful Republican chairman of the House Armed Services Committee, who's still seething after being outmaneuvered on the issue last year. "During the presidential campaign, the Obama White House foresaw sequestration triggering massive layoffs across the country," Rep. Buck McKeon said in a statement to POLITICO.

"Affected industries were bound by law to notify their workers ahead of sequestration layoffs," McKeon continued. "Instead, in the most cynical of moves, the White House offered taxpayer money to companies to stop them from issuing layoff notices, warnings due days before the election."

The California congressman, of course, had political motivations of his own: At the time, Lockheed Martin and other defense contractors were threatening to send pre-election WARN notices to tens of thousands of workers across the country — putting their entire workforces on alert even though only a fraction were ultimately at risk of being laid off.

The problem, they said, was that they didn't know which fraction.
Alas, it wasn't just the Democrats playing political games with peoples' lives here.
On Capitol Hill, Republicans were counting on the blanket notices to reinforce the GOP narrative that the economy was sputtering under Obama in the final weeks before Election Day.

But contractors backed off after the White House Office of Management and Budget issued its memo, saying legal costs associated with the WARN Act could be passed on to the government — as long as the layoffs were the result of sequestration and companies followed other aspects of the law.

Throughout the squabbling, New York-headquartered L-3 stayed quiet — and had little to say about the lawsuit filed against it last week. "We haven't yet seen the suit and do not comment on matters of litigation," said spokeswoman Jennifer Barton.
This is just . . . bizarre. Sequestration is a horrible enough way to cut costs as it is. Indeed, being horrible was the point: It was supposed to be so painful as to force Republicans and Democrats alike to compromise on cherished programs. It was a game of political chicken but, alas, neither party swerved and the full-on collision came.
Granted, the L-3 employees surely knew they were at risk of layoff and few of them likely had better options. And, since they were given two weeks' notice, they're only out six weeks' notice and pay. Still, a crummy way to handle a crummy situation.