UC Davis Launches Investigation into Pepper Spray Incident
Further, there was another example of police violence at UCD earlier this week.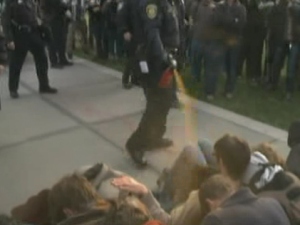 Via the AP:  UC Davis launches probe after pepper spray video
The chancellor of the University of California, Davis described the video images as "chilling" and said she was forming a task force to investigate even as a faculty group called for her resignation because of the incident Friday.

"The use of the pepper spray as shown on the video is chilling to us all and raises many questions about how best to handle situations like this," Chancellor Linda Katehi said in a message posted on the school's web site on Saturday.
Katehi's words come across as rather hollow, given that she was the one that ordered the clearing of the students in the first place.   Further, she sent an e-mail (see here) to the university community that appears to express support for the action.
While Katehi may be launching an investigation, the Davis Faculty Association is calling for her resignation:
"The Chancellor's role is to enable open and free inquiry, not to suppress it," the faculty association said in its letter.

It called Katehi's authorization of police force a "gross failure of leadership."

At a news conference later on Saturday, Katehi said what the video shows is "sad and really very inappropriate." The events surrounding the protest have been hard on her personally, but she had no plans to resign, she said.

"I do not think that I have violated the policies of the institution. I have worked personally very hard to make this campus a safe campus for all," she said.
I am unaware of the relative power of the Davis faculty or its Faculty Association, but a a sufficiently motivated faction of a given faculty can very much be in a position to force a chancellor's resignation.  The force of public opinion will certainly aid such a move. 
Beyond the pepper spray incident, there was another confrontation between the UCD police and occupy protestors earlier in the week.   The link noted above is to a blog post from a UCD grad student that contains a thorough round up of the situation, including the text of an open letter to Chancellor Katehi from Nathan Brown, a UC Davis assistant professor of english.
In that letter Brown notes:
Today you ordered police onto our campus to clear student protesters from the quad. These were protesters who participated in a rally speaking out against tuition increases and police brutality on UC campuses on Tuesday—a rally that I organized, and which was endorsed by the Davis Faculty Association. These students attended that rally in response to a call for solidarity from students and faculty who were bludgeoned with batons,hospitalized, and arrested at UC Berkeley last week. In the highest tradition of non-violent civil disobedience, those protesters had linked arms and held their ground in defense of tents they set up beside Sproul Hall. In a gesture of solidarity with those students and faculty, and in solidarity with the national Occupy movement, students at UC Davis set up tents on the main quad. When you ordered police outfitted with riot helmets, brandishing batons and teargas guns to remove their tents today, those students sat down on the ground in a circle and linked arms to protect them.
So the events of yesterday are a follow on from the events of Tuesday.  The events from Tuesday underscore that Katehi clearly endorses the campus police reacting with violence towards the protestors.  Knowing what happened on Tuesday without changing policy and then sending out the police in a similar fashion yesterday is a tacit endorsement of Tuesday's action and therefore she can't pretend like what happened yesterday was a surprise.
The video from Tuesday is here:
What in the world are the police even trying to accomplish here?
To repeat the words of the Faculty Association: "The Chancellor's role is to enable open and free inquiry, not to suppress it."
Indeed, and Katehi should lose her job over these incidences.
Brown's letter, by the way, should be read in full.
Update: More video, including a female faculty member being yanked by the hair by the police when she is not offering resistance (indeed, appears to be holding out her wrists to submit to arrest)"

The police reaction is wholly unjustified. Yes, the protesters are not obeying orders, but they are certainly not responding with violence.