Unemployment Rate Drops Below 8% Amid Weak Jobs Growth
September's BLS Report will likely be significant but, behind the numbers, things don't look all that great.
The last time U-3, the unemployment number reported by the Bureau of Labor Statistics that gets the most attention when jobs numbers are reported each month, was below 8% a guy named George W. Bush was President and the world was in the middle of the most serious economic downturn since the Great Depression. For the next 40 odd months, the economy continued to shed jobs and the unemployment rate skyrocketed to near 10%. Even in the several years that the economy has been in "recovery" jobs growth has been incredibly weak, with an average of just 153,000 jobs created per month in 2011, and a current average of about 142,000 per month for 2012 to date. Both of those numbers are far below the numbers we'd expect to see from a health economy and, as we've seen for several months, the U-3 rate was falling largely because there were large drops in the Labor Force Participation Rate representing people who were essentially giving up on looking for work.
With July and August both being relatively weak, the September report was looked at as a sign of exactly where the economy was headed. On balance, it was a mixed bag:
The unemployment rate declined by 0.3 percentage point to 7.8 percent in September. For the first 8 months of the year, the rate held within a narrow range of 8.1
and 8.3 percent. The number of unemployed persons, at 12.1 million, decreased by 456,000 in September. (See table A-1.)

Among the major worker groups, the unemployment rates for adult men (7.3 percent), adult women (7.0 percent), and whites (7.0 percent) declined over the month. The unemployment rates for teenagers (23.7 percent), blacks (13.4 percent), and Hispanics (9.9 percent) were little changed. The jobless rate for Asians, at 4.8 percent (not seasonally adjusted), fell over the year. (See tables A-1, A-2, and A-3.)

In September, the number of job losers and persons who completed temporary jobs decreased by 468,000 to 6.5 million. (See table A-11.)

The number of persons unemployed for less than 5 weeks declined by 302,000 over the month to 2.5 million. The number of long-term unemployed (those jobless for
27 weeks or more) was little changed at 4.8 million and accounted for 40.1 percent of the unemployed. (See table A-12.)

Total employment rose by 873,000 in September, following 3 months of little change. The employment-population ratio increased by 0.4 percentage point to
58.7 percent, after edging down in the prior 2 months. The overall trend in the employment-population ratio for this year has been flat. The civilian labor
force rose by 418,000 to 155.1 million in September, while the labor force participation rate was little changed at 63.6 percent. (See table A-1.)

The number of persons employed part time for economic reasons (sometimes referred to as involuntary part-time workers) rose from 8.0 million in August to 8.6 million in September. These individuals were working part time because their hours had been cut back or because they were unable to find a full-time job.
On the job creation side, things were a little less positive:
Total nonfarm payroll employment increased by 114,000 in September. In 2012, employment growth has averaged 146,000 per month, compared with an average monthly gain of 153,000 in 2011. In September, employment rose in health care and in transportation and warehousing. (See table B-1.)

Health care added 44,000 jobs in September. Job gains continued in ambulatory health care services (+30,000) and hospitals (+8,000). Over the past year, employment in health care has risen by 295,000.

In September, employment increased by 17,000 in transportation and warehousing. Within the industry, there were job gains in transit and ground passenger transportation (+9,000) and in warehousing and storage (+4,000).

Employment in financial activities edged up in September (+13,000), reflecting modest job growth in credit intermediation (+6,000) and real estate (+7,000).

Manufacturing employment edged down in September (-16,000). On net, manufacturing employment has been unchanged since April. In September, job losses occurred
in computer and electronic products (-6,000) and in printing and related activities (-3,000).
As CNBC notes, there are some seeming contradictions in these numbers:
Job growth remained tame in September, with the economy creating just 114,000 net new positions though the unemployment rate fell to 7.8 percent.

The report presented a slew of contradictory data points, with the total employment level soaring despite the low net number.

The falling jobless rate had been a function as much of the continued shrinking in the labor force as it was an increase in new positions.

But the government said the total number of jobs employed surged by 873,000, the highest one-month jump in 29 years. The total of unemployed people tumbled by 456,000.

The labor force participation rate, which reflects those working as well as looking for work, edged higher to 63.6 percent but remained around 30-year lows. The total labor force grew by 418,000, possibly accounting for the relatively modest net level of job growth.

Economists were expecting 113,000 more jobs and the rate to rise to 8.2 percent.
One explanation for this is likely the  revisions to the jobs reports for the previous two months. July's number was revised upward from 141,000 net jobs created to 181,000 net jobs created. August, meanwhile, was revised upward from 96,000 net jobs created to 142,000 net jobs created. That's a net increase for those to months of  86,000. This number is likely what accounts for the large part of the reason that the unemployment rate itself dropped given the fact that job growth in September was pretty weak and the labor force participation rate was relatively unchanged from where it was a month ago, putting it at a rate nearly as low as it was 30 years ago. Incidentally, if the Labor Force Participation Rate were at the same rate it was when Barack Obama took office, the unemployment rate would be 10.7%. Additionally, U-6, the broadest measure of unemployment is at an unacceptable 14.7%.
As this chart from Ed Morrissey shows, the U-6 report is still far from being in recovery mode: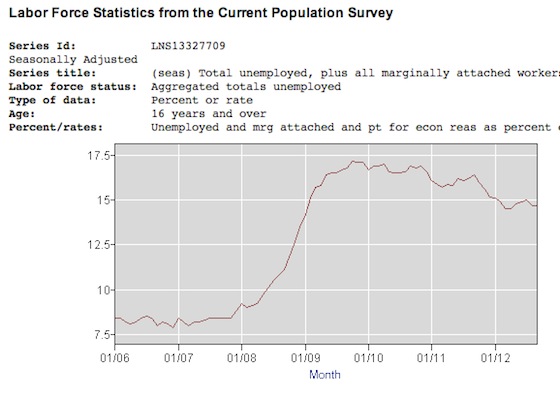 Another factor that appears to be playing a large role in the drop in U-3 is the fact that there was a fairly large increase in the number of people employed part-time:
The household survey showed an 873,000 increase in employment, the biggest since June 1983, excluding the annual Census population adjustments. Some 582,000 Americans took part- time positions because of slack business conditions or those jobs were the only work they could find.
So, when you look at the numbers in detail, there's not a whole lot of really good news here. Job creation is still far behind where it needs to be for the labor market to even be said to have started to recover from the impact of the Great Recession, the fact that we've seen manufacturing job creation go negative for two straight months now is something that should be a of great concern, and the fact that such a large segment of the eligible work force remains on the sidelines tells us that we're still far away from the end of the jobs crisis. At the same time, though, there's no denying that this report takes the jobs numbers below the psychologically important 8.0% level, and it robs the GOP of a talking point that they've been able to use for years now.
The political implications of all of this are rather clear. Slow jobs growth and people giving up looking for work are not good news for an incumbent President, and a pretty ripe opening for the Romney campaign. This month's jobs report was deemed to be among the most important pieces of data between now and the election. With many states already beginning early voting, it may even be more important than the one that will be released on November 2nd, just four days before the election. If the numbers had come back bad, then it would have been bad news for the President on top of what was universally deemed to be a disastrous debate performance. Instead, much like Mitt Romney at the debate, the President has gotten a reprieve. Despite the fact that the actual numbers aren't very strong at all, these numbers are likely to inure to the benefit of the President and may even help to undercut some of the negative reactions to Wednesday's debate. What they mean for the future of the American economy regardless of who becomes President is, of course, another question.