July Jobs Report Mildly Positive, But Far From Good News
July's Jobs Report was better than what we've seen the last few months, but it's still not very good.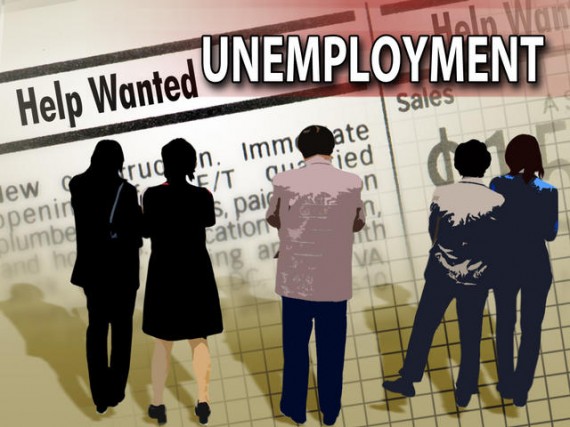 Going into this morning's 8:30am reading of the Bureau Of Labor Statistics' July jobs report, most analysts were expecting a relatively weak net jobs numbers somewhere between 50,000 and 100,000. Given the number's we'd seen in April, May, and June, and the GDP report that showed just how weak the economy was going in to the third quarter, that certainly seemed to be the best guess. Instead, we got one of the best jobs reports we've seen since February, albeit one that still has it's own share of weaknesses:
Total nonfarm payroll employment rose by 163,000 in July, and the unemployment ratewas essentially unchanged at 8.3 percent, the U.S. Bureau of Labor Statistics reported today. Employment rose in professional and business services, food services and drinking places, and manufacturing.

Among the major worker groups, the unemployment rate for Hispanics (10.3 percent) edged down in July, while the rates for adult men (7.7 percent), adult women (7.5 percent), teenagers (23.8 percent), whites (7.4 percent), and blacks (14.1 percent) showed little or no change. The jobless rate for Asians was 6.2 percent in July (not seasonally adjusted), little changed from a year earlier. (See tables A-1, A-2, and A-3.)

In July, the number of long-term unemployed (those jobless for 27 weeks and over) was little changed at 5.2 million. These individuals accounted for 40.7 percent of the unemployed. (See table A-12.)

Both the civilian labor force participation rate, at 63.7 percent, and the employment-population ratio, at 58.4 percent, changed little in July.
Well, they were little changed but they did go down in both cases, and it's worth noting that if labor force participation was at the level it was when Barack Obama became President, the Unemployment Rate would be 11%.  Furthermore, these numbers mean that the workforce lost 150,000 people in July, almost as many as the net jobs number. Additionally, that civilian labor force participation rate number is now back at the 30 year low that it hit back in April. Finally, the number of people who are not in the workforce, for whatever reason, went up by 384,000, more than double the net jobs number. Had those people stayed in the labor force, the primary Unemployment Rate likely would've risen by more than just a tenth of a percentage point.
Additionally, 163,000 jobs isn't enough to keep up with population grown and hardly enough to signal a real recovery. For the second, we'd need to be seeing job growth averaging at 250,000 per month. Instead, so far in 2012 we've averaged 151,000 new jobs per month which slightly worse than the 153,000 new  jobs per month. It's also worth noting that June's net jobs number was revised downward from 80,000 to 64,000 while the May number was adjusted upward by 10,ooo to 87,000o. So while it's a good thing that the number has picked up from the crappy numbers we were getting for the previous four months, it's still not very good and there appear to be few signs that things will pick up sufficiently to get the jobs market on the right track any time soon.
What we do know, though, is that the worst jobs recession since World War II is continuing, and that it's going to take some vastly accelerated growth to get us back to where we were when it started. This chart from Calculated Risk tells the tale:
Matthew Yglesias agrees:
We didn't start July with a health labor market, we didn't start 2012 with a healthy labor market, and we didn't start 2011 with a healthy labor market. To re-obtain full employment, we'd want to be adding jobs twice as fast as this. But 18 months worth of steady-state employment gains is much too long a run to just be a coincidence.
Politically, it's pretty easy to see how this will play out. The White House and the Obama campaign will concentrate on the jobs created number which is, as I said, better than we've seen in several months. Republicans will concentrate on the fact that the Unemployment Rate ticked up this month and that we're now in our 42nd consecutive month about about 8% unemployment. Since it's fairly clear that the UE number is the one that most lay people pay attention to, and the one that gets the headline coverage in the press, the GOP likely has the stronger argument this month. Moreover, as I said, there really isn't anything impressive about the job growth this month, and there are plenty of reasons to believe that this may just be a temporary blip and that the months between now and the election may not be quite so rosy. Check back again on September 7th and we'll see where we are. For now, though, this is nothing to write home about and something that the President ought to still be very worried about.
Update: In the comment thread, Pete passes along a link to Zerohedge that makes this jobs look a lot weaker than it appears from the topline number:
In July the number of part-time jobs added was 31K, bringing the total to 27,925, just shy of the all time record of 28,038. Full time jobs? Down 228,000 to 114,345, lower than the February full-time jobs print of 114,408. Once again, more and more Americans are relinquishing any and all benefits associated with Full Time Jobs benefits, and instead are agreeing on a job. Any job. Even if it means working just 1 hour a week. For the BLS it doesn't matter – 1 hour of work a week still qualifies you as a Part-Time worker.
Indeed, this continues a trend that began in the midst of the Great Recession: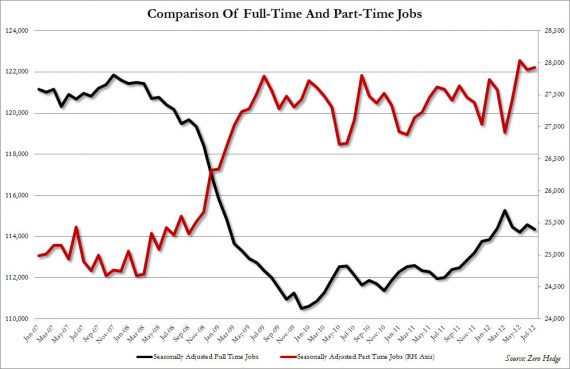 People are working, but it's not the kind of work they used to have. And that has important ramifications for the economy.