Presidential Race Tightening?
For no apparent reason, the presidential race is tightening ahead of tonight's first debate, according to two reputable national polls.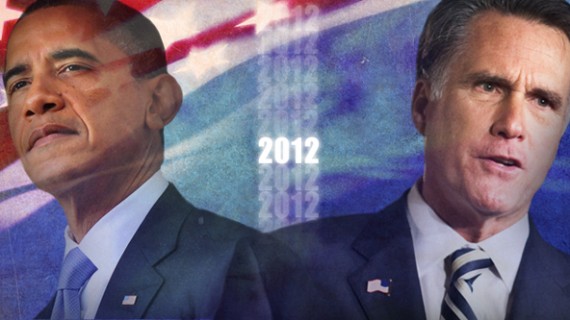 For no apparent reason, the presidential race is tightening ahead of tonight's first debate, according to two reputable national polls.
National Journal ("Obama, Romney Tied Among Likely Voters"):
President Obama and Mitt Romney are deadlocked among likely voters as they prepare to square off in their first presidential debate, according to the latest United Technologies/National JournalCongressional Connection Poll.

The survey showed that voters remain resistant to either Obama or Romney holding full control of the federal government.

Obama and Romney each pulled in 47 percent support in the poll among likely voters. It is among the narrowest margins of several presidential surveys published ahead of the debate this week. Other polls have shown the president with a slim lead. In this survey, while the race is tied among likely voters, Obama has a 5-point lead, 49 percent to 44 percent, among registered voters.

The survey was conducted Sept. 27-30 and has a margin of error of plus or minus 3.7 percentage points.

Romney led in the poll among independents, 49 percent to 41 percent, with both candidates winning more than 90 percent support from their respective parties. The survey had Obama winning 81 percent of the nonwhite vote and Romney carrying 55 percent of white voters.

In estimating the turnout on Nov. 6, the poll projects an electorate that is 74 percent white, 11 percent African-American, and 8 percent Latino. The likely-voter party splits are 36 percent Democratic, 29 percent Republican, and 30 percent independent.

The estimates are similar to the 2008 turnout, when, according to CNN exit polling, 74 percent of voters were white, 13 percent black, and 9 percent Latino, with Democratic turnout at 39 percent, Republicans at 32 percent, and independents at 29 percent.
NBC ("NBC/WSJ poll: Obama holds lead in Ohio; statistical tie in Va., Fla."):
President Barack Obama and Republican presidential nominee Mitt Romney prepare to square off for their first debate Wednesday night, the Democratic incumbent maintains a significant lead in one key battleground state while the contests in two others have tightened, according to a new round of NBC News/Marist/Wall Street Journal polls.

In Ohio, Obama holds a 51 percent to 43 percent lead among likely voters, which is relatively unchanged from his 50 percent to 43 percent lead three weeks ago.

In Florida and Virginia, Obama and Romney are statistically tied, with the Democrat clinging to a slight edge. In Florida, Obama leads 47 percent to 46 percent, down from 49 percent to 45 percent in mid-September. And in Virginia, Obama is up 48 percent to 46 percent. Last month, Obama led 49 percent to 45 percent in the Old Dominion state.

"The polling in September was right after the conventions," said Lee Miringoff, director of the Marist Institute for Public Opinion, which conducted the poll. He added, "We may be seeing a dissipation in some of that post-convention bounce that [Obama] enjoyed."

Miringoff also noted, "Things have returned in Florida and Virginia to the kind of closeness we've been seeing earlier in the campaign. Not so in Ohio."

[…]

The polls were conducted from Sept. 30 to Oct. 1. The Ohio poll has a margin of error of plus or minus 3.2 percent. The Virginia poll is plus-or-minus 3.1 percent. The Florida poll is plus or minus 3.3 percent.
It's noteworthy that the National Journal poll is the only one showing a tie nationally; all the other major polls in the RealClearPolitics aggregate show an Obama lead. These includes a separate NBC-WSJ poll conducted at the same time by Peter Hart and Bill McInturff. On the other hand, if Romney is gaining momentum in Florida and Virginia, it's certainly reason for hope.
The notion that the convention bounce is wearing off makes some sense, although it certainly held for quite some time. And Romney has had an awful couple of weeks since then, committing several unforced errors and just generally not performing well.
Then again, it almost doesn't matter. It's virtually impossible for Romney to get to the magic 270 Electoral vote threshold without winning Ohio; all the polling in recent weeks has shown him way behind in that key state.