Vaccine Insanity
A series of reports show just how extreme the vaccination issue has become.
This montage of stories at the memeorandum aggregator is really something: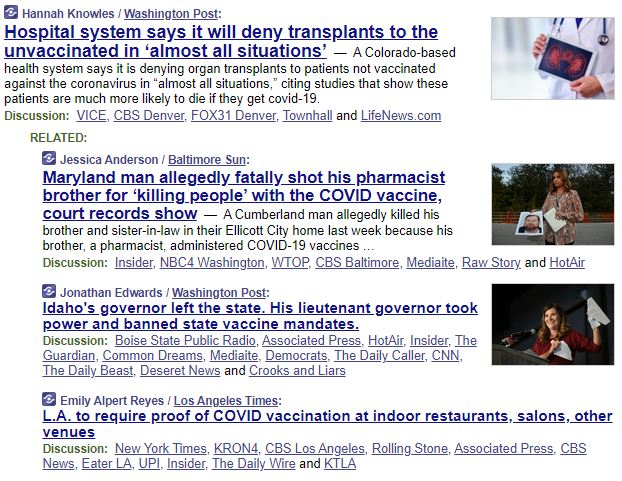 The first is the most interesting, as it raises legitimate ethical issues. I'll address those in a separate post.
The second and third stories are the most outrageous.
We've been railing at the politicization of this virus by Trump and his followers since last February, so I'm not shocked that large numbers of people believe wild conspiracies about the vaccines. But I didn't think we'd come to the point where people are getting killed for administering them. Although granted, if a man killed not only the pharmacist brother but also the presumably-not-pharmacist sister-in-law, maybe something else is going on.
Idaho's lieutenant governor, Janice McGeachin, seems to be a lunatic and repeat offender at abusing her acting powers. The Republican governor, Brad Little, has already promised to rescind this order as soon as he returns from his out-of-state business. But this isn't the first report we've seen of these sort of shenanigans. States are going to have to rewrite their laws and/or constitutions to preclude those in a short-term acting capacity from issuing major executive orders—which will almost surely bite them in the ass come a real emergency.
The least shocking of the stories is the last one: Los Angeles was part of the first wave of COVID in the United States and has been very aggressive in responding to it.