And Reality Rears its Head in Korea
It was never going to be as easy as the administration thought.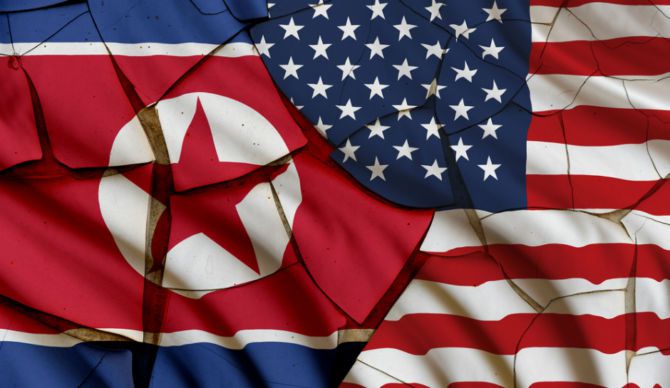 Via the NYT:  North Korea Threatens to Call Off Summit Meeting With Trump
North Korea threw President Trump's planned summit meeting with its leader, Kim Jong-un, into doubt on Wednesday, threatening to call off the landmark encounter if the United States insisted on "unilateral nuclear abandonment."

The statement, made by the North's disarmament negotiator, came hours after state media warned that the summit meeting might be canceled to protest a joint military exercise between the United States and South Korea that began this week.

The warnings caught Trump administration officials off guard and set off an internal debate over whether Mr. Kim was merely posturing in advance of the meeting in Singapore next month or was erecting a serious new hurdle.
If this really did catch the administration off guard, then that just underscores their amateurism on this topic.
As I noted a couple of weeks ago (On Denuclearization and North Korea), what Trump means by "denuclearization" (and what a lot of casual observers seem to think it means) is not what Kim means.
In a statement Wednesday, Kim Kye-kwan, a vice foreign minister, rejected the administration's demand that it quickly dismantle its nuclear program as Libya did 15 years ago, singling out John Bolton, Mr. Trump's new national security adviser, for condemnation.

"If the United States is trying to drive us into a corner to force our unilateral nuclear abandonment, we will no longer be interested in such dialogue and cannot but reconsider our proceeding to the D.P.R.K.-U.S. summit," the statement said, using the abbreviation for the North's formal name, the Democratic People's Republic of Korea.

Mr. Kim said his country would never follow the path of Libya and Iraq, which he said met a "miserable fate" at the hands of "big powers."
On the Libya count, I mentioned that in my post over the weekend:  Return to the Axis of Evil: The Legend of Curly's Gold.
It seems likely that the meeting will still happen (both Kim and Trump want the meeting for the sake of the meeting), but this does underscore that peace in our time on the peninsula is not as easy to achieve as the administration and its boosters seem to think.