Antonin Scalia: The Constitution Does Not Bar Discrimination Against Women
In a new interview, Justice Antonin Scalia says that the 14th Amendment does not bar discrimination against women, whether it's done by public or private entities. He couldn't be more wrong.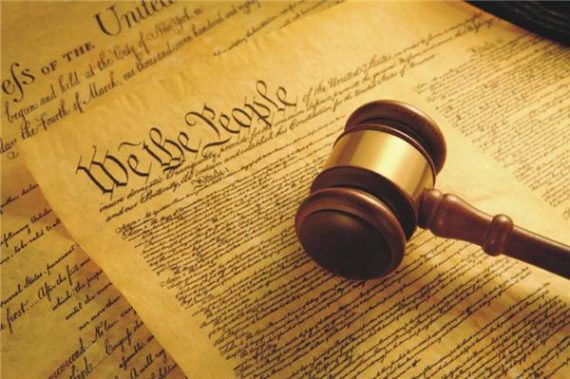 Supreme Court Justice Antonin Scalia is once again  stirring up controversy with an interview that he gave to California Lawyer the magazine of the California Bar Association in which he said that there is no Constitutional bar against government discrimination against women, or anyone other than African Americans for that matter:
In 1868, when the 39th Congress was debating and ultimately proposing the 14th Amendment, I don't think anybody would have thought that equal protection applied to sex discrimination, or certainly not to sexual orientation. So does that mean that we've gone off in error by applying the 14th Amendment to both?

Yes, yes. Sorry, to tell you that. … But, you know, if indeed the current society has come to different views, that's fine. You do not need the Constitution to reflect the wishes of the current society. Certainly the Constitution does not require discrimination on the basis of sex. The only issue is whether it prohibits it. It doesn't. Nobody ever thought that that's what it meant. Nobody ever voted for that. If the current society wants to outlaw discrimination by sex, hey we have things called legislatures, and they enact things called laws. You don't need a constitution to keep things up-to-date. All you need is a legislature and a ballot box. You don't like the death penalty anymore, that's fine. You want a right to abortion? There's nothing in the Constitution about that. But that doesn't mean you cannot prohibit it. Persuade your fellow citizens it's a good idea and pass a law. That's what democracy is all about. It's not about nine superannuated judges who have been there too long, imposing these demands on society.
As Amanda Terkel notes at HuffPo, Justice Scalia's comments have already started stirring controversy:

Marcia Greenberger, founder and co-president of the National Women's Law Center, called the justice's comments "shocking" and said he was essentially saying that if the government sanctions discrimination against women, the judiciary offers no recourse.

"In these comments, Justice Scalia says if Congress wants to protect laws that prohibit sex discrimination, that's up to them," she said. "But what if they want to pass laws that discriminate? Then he says that there's nothing the court will do to protect women from government-sanctioned discrimination against them. And that's a pretty shocking position to take in 2011. It's especially shocking in light of the decades of precedents and the numbers of justices who have agreed that there is protection in the 14th Amendment against sex discrimination, and struck down many, many laws in many, many areas on the basis of that protection."

Greenberger added that under Scalia's doctrine, women could be legally barred from juries, paid less by the government, receive fewer benefits in the armed forces, and be excluded from state-run schools — all things that have happened in the past, before their rights to equal protection were enforced.
Actually, Scalia's position is worse than that, I think. Without the enforcement provisions of the 14th Amendment it's unclear that Congress would have any legal basis upon which to make discrimination against women, whether it be public or private, illegal. Moreover, taking Scalia's position to its logical end, one would have to conclude that the 14th Amendment also doesn't apply to discrimination on the basis of national origin or original, and that it doesn't necessarily protect whites against "reverse discrimination" since it was drafted and ratified in the wake of the Civil War in an effort to ensure that newly freed slaves would be treated equally.
The problem is that Scalia's narrow view of the 14th Amendment doesn't seem to be supported by its language:
All persons born or naturalized in the United States, and subject to the jurisdiction thereof, are citizens of the United States and of the State wherein they reside. No State shall make or enforce any law which shall abridge the privileges or immunities of citizens of the United States; nor shall any State deprive any person of life, liberty, or property, without due process of law; nor deny to any person within its jurisdiction the equal protection of the laws.
There's nothing in the language of this provision of the 14th Amendment that limits its application to just matters of race, or just to men as one blogger suggests. If the drafters had wished to limit the  applicability of the Due Process and Equal Protection Clauses in such a manner, they could have easily done so, as their specific reference only to race in the 15th Amendment makes clear.  The whole point of the 14th Amendment was to make it clear that everyone born in the United States, or naturalized as a citizen, was a citizen entitled to equal treatment under the law. This means men and women, black and white, European and Chinese, and, yes, gay and straight.
The problem with Scalia's overly specific form of originalism is that it seems to concentrate too much on the words of the Founders (or drafters in the case of the 14th Amendment). As libertarian legal scholars like Randy Barnett have argued, it's also important to recognize the principles that the specific provision of the Constitution was meant to enshrine into law and, in the case of the 14th Amendment, that is a principle of  equality. It's not an equality has been implemented easily, and it doesn't always mean perfect equality (the Supreme Court's case law on gender and age discrimination, for example, recognizes that there may be situations where differentiating between men and women, or based on age,  serves a rational purpose whereas differentiating based on race or ethnicity does not), but 14th Amendment case law still recognizes the basic principle of equality that was placed in the Constitution for the first time ever in 1867.
So yes, in this case, Justice Scalia is wrong.
UPDATE (James Joyner):   I'd argue that Scalia is only partly wrong.
A plain reading of the 14th Amendment tells us that both women, as well as men, are citizens and entitled to all the protections of the Bill of Rights.  There's no plausible reading of "persons" that would negate female citizenship.   Nor do I think Scalia would disagree.
But he's right that the 14th Amendment was not intended to give women equal status to men in political and economic matters.  Otherwise, why would it have been necessary to pass the 19th Amendment in 1920 to give women suffrage?  And why was the proposed-but-never-ratified Equal Rights Amendment still being debated during the Reagan Administration?
More-or-less full legal and economic equality for women has come about within my memory, which is to say the last 35 years or so.   Even so, gender discrimination is far more socially acceptable now — a century and a half after the passage of the 14th Amendment — that racial discrimination.  Women weren't allowed into most law and medical schools half a century ago, on the argument that they'd "waste" the slots by suspending their careers upon marriage and motherhood. We still discriminate against women in the Armed Forces, although much less than we did in the recent past, excluding them from various occupational specialties deemed too dangerous.  Most states define marriage on the basis of sex, denying the right of same-sex couples to wed.