Army Waives Uniform Regs for Sikhs
The United States Army has granted case-by-case exceptions to three Sikh soldiers, allowing them to serve while wearing beards and turbans.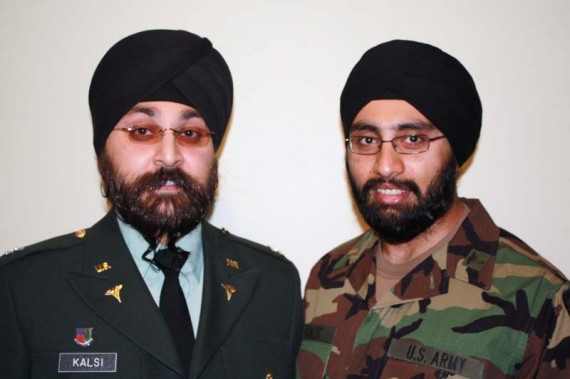 John Burgess forwards Marcia Coyle's piece at Legal Times on the U.S. Army's waiving uniform regulations to allow Sikhs to serve while wearing beards and turbans.
For the first time in more than 30 years, the U.S. military has allowed an enlisted Sikh soldier to maintain his religiously-mandated turban, beard and hair while serving in the Army.

A team of lawyers in the Washington office of McDermott Will & Emery, and attorneys at the Sikh Coalition, a community-based organization, on Wednesday successfully secured the religious right for Simran Preet Singh Lamba.

Lamba was recruited by the Army in 2009 through the Military Accessions Vital to the National Interest program for his language skills in Punjabi and Hindi. He was initially advised by an Army recruiter that his Sikh articles of faith would likely be accommodated. But the Army's current regulations do not permit a new recruit to request a religious accommodation.

The McDermott team worked with the office of the Deputy Chief of Staff of the Army G-1 to develop a procedure through which Lamba requested an accommodation through the Army's Human Resources Command, explained a firm spokesman. But in March, his formal request was denied.

McDermott and the Sikh Coalition then appealed to the G-1, which granted the accommodation request, after close consultation with Secretary of Defense Robert Gates and Army Secretary John McHugh.

"We have been unwavering in our assertions that Mr. Lamba's religious requirements in no way hinder his ability to effectively serve the United States," said Amandeep Sidhu, McDermott's lead counsel on the case in a statement. "We remain deeply impressed with the Army's forward-thinking approach in allowing Mr. Lamba to serve with his turban and beard, and reaffirm our call for the Army to consider amendments to its uniform policy that continues to close the door to other Sikh Americans wanting to serve in the U.S. Army."

The two legal teams won one-time exceptions last year for two Sikh Army officers—a medical doctor and a dentist. Lamba is the first enlisted man to win the accommodation.

"This is historic, absolutely, in terms of what this means for Sikhs," Sidhu told The National Law Journal. "The officer accommodation was clearly a big step in the right direction. The accommodation of an enlisted soldier is an even bigger step and brings us one step closer to the average Sikh being able to serve his country."
This is an exceedingly rational decision but one that's hard to square with the military's impulse toward uniformity.  While grooming and appearance standards are ostensibly about health, safety, and discipline they're mostly about "looking like a soldier."  And beards have been verboten since at least WWI.
I vaguely recall soldiers wearing turbans and beards when I was a kid living on bases in the United States and Germany back in the 1970s.   But the practice of granting waivers on religious grounds was ended in 1986 for a variety of reasons, with the need to get a proper seal on the protective masks that allows service members to breathe in an atmosphere contaminated with chemical and biological agents the most cited.  (Oddly, however, soldiers with severe razor bumps — mostly African Americans — are routinely granted "profiles" which allow them to wear very closely trimmed beards.)  Even the Navy and Coast Guard, which had a much longer tradition of sporting beards, banned them in 1985 and 1986, respectively.
But Captain Kamaljit Singh Kalsi and Second Lieutenant Tejdeep Sing Rattan, a physician and dentist, respectively, were granted waivers over the last couple of years. And, it turns out, they can get a seal on their masks just fine.
The ultimate objection, really, is cultural.   As Nick Tankersley puts it, "Turbans and beards? Not in my military."  I was part of that culture long enough to share that visceral reaction.  But my rationality allows me to see it for what it is and understand that it makes no sense to deny highly qualified individuals the right to serve in uniform while practicing their faith without more serious conflicts than the uniform regs.  And, goodness knows, we need more soldiers with South Asian language proficiency.
The Army wants everyone to look the same — hence the uniforms — and conform to an image.   Men in beards, long hair, and turbans don't fit that image.    Then again, neither do women.   Yet, while they wear essentially the same uniforms, they're allowed to wear their hair at a reasonable length — far longer than the tight taper mandated for male soldiers.  And, frankly, long hair looks  funny under a beret.  Somehow, we've managed to adapt.
Also, amusingly, the Army Times photo atop the page of CPT Kalsi and 2LT T Rattan both show them in uniforms that have now been superseded in the inventory. Oddly, uniforms evolve over time.  So, too, have grooming standards.  If you don't believe me, take a look at pictures of Generals George Washington, Robert E. Lee, and Ulysses Grant.