Nidal Hassan Ordered to Shave or Be Shaved
The Fort Hood shooter is being ordered to shave his beard or have it forcibly removed. It's rather silly.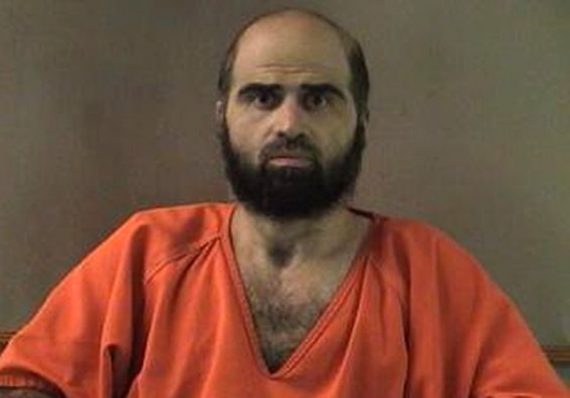 Army Major Nidal Hassan, who killed 13 people at Fort Hood two years ago, is being ordered to shave his beard or have it forcibly removed.
Army Times/AP ("Judge: Fort Hood suspect could be shaved"):
The Army psychiatrist charged with killing 13 people in a shooting rampage at Fort Hood will be forcibly shaved if he doesn't remove his beard himself, a judge said Wednesday.

Maj. Nidal Hasan appeared in court Wednesday sporting a beard as he did during a court appearance last month. The beard violates Army regulations, but Hasan said it is an expression of his Muslim faith.

The judge, Col. Gregory Gross, held Hasan in contempt of court for keeping the beard and fined him $1,000. Fort Hood spokesman Chris Haug said Gross gave Hasan the choice to shave on his own or be forcibly shaved sometime before his court-martial begins Aug. 20.

Hasan again refused to shave and watched the rest of the day's hearing outside the courtroom.

[…]

Until last month, he had been clean-shaven every time he attended court.

But since Hasan grew a beard, he and one of his attorneys have watched the pretrial hearings on closed-circuit television in a trailer near the courthouse. He refuses to shave, and Gross has indicated that Hasan might have to watch the court-martial from the trailer as well.

But on Wednesday, Gross said he wanted Hasan in the courtroom to prevent a possible appeal on the issue if Hasan is convicted.

Hasan's defense attorneys argued that he had not shaved in observance of the holy Islamic month of Ramadan. Ramadan is expected to end just before the court-martial starts.
While I have little sympathy, indeed, for Hasan I'm a little perplexed as to what the fuss is about here. For much of its history, the Army allowed officers to wear beards. And, even when it has not, it has usually—and currently—granted exceptions on religious grounds. In March 2010, the Army reversed a 1983 decision making Sikhs and others whose religions required men to grow beards shave.
For the first time in 23 years, the U.S. Army is allowing a pair of Sikh Soldiers to keep their hair and beard intact and wear a turban.

More than 60 years ago, President Harry Truman desegregated the U.S. armed forces, declaring "there shall be equality of treatment and opportunity for all persons in the armed forces without regard to race, color, religion or national origin."

But during those same six decades, the Army's policy and how it was implemented changed from time to time.

From 1948 to 1984, men of the Sikh religion were permitted to serve while maintaining their articles of faith. In 1984, Gen. John A. Wickham Jr., then Chief of Staff of the Army, eliminated the exception for Sikhs and others who wore "conspicuous" items of faith.

[…]

It took action by several Sikh organizations and a letter to Defense Secretary Robert Gates, signed by 43 members of the House of Representatives and six U.S. senators, to change the Army's mind. A pair of special exceptions to Army Regulation 600-20 were allowed so Rattan and Kalsi could wear their dastaars (turbans) and keep their unshorn hair and beards as part of their uniform, and also retain their other articles of faith.
The above is from the Army's own website, incidentally. Subsequently, there have been similar accommodations made for a handful of other religious observers, including a Jewish rabbi.
As I noted a couple years back, making these accomodatations is both perfectly rational and hard to square with the military's culture. Apparently, Colonels at the Army War College are so upset that they're writing their theses on the matter.
Regardless, if Jewish rabbis and Sikh doctors can wear beards with their uniform, why can't Hassan? It's not as if he's going to be in command of troops any time soon.