Fort Hood vs Benghazi?
James Oliphant asks, "Why Hasn't the GOP Treated Fort Hood Like Benghazi?"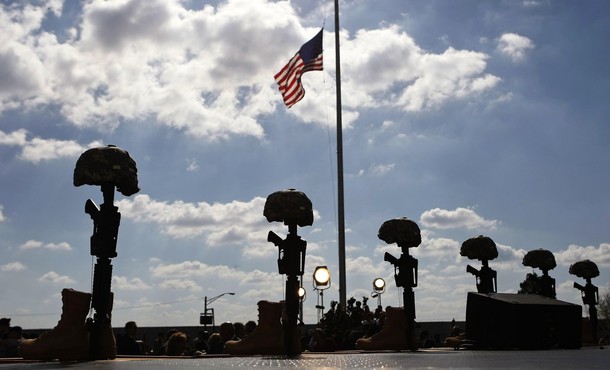 James Oliphant asks, "Why Hasn't the GOP Treated Fort Hood Like Benghazi?"
In November 2009, Army Maj. Nidal Malik Hasan killed 13 people and injured 30 more on the sprawling East Texas military base. Since then, a debate has raged about whether Hasan, who some believe was influenced by a radical Islamic cleric, committed an act of domestic terrorism or whether the incident was an episode of "workplace violence."

The Obama administration has long maintained the latter—that there wasn't enough evidence to show that Hasan acted with a political motive. Plenty of Republicans have disagreed.
Yet, unlike Benghazi, there's never been a concerted push in the House to probe more deeply into the possible intelligence and investigative failures that might have led to the tragedy despite the still-unanswered questions about the nature of the threat Hasan posed.
This is an interesting question. Because Hasan was both loosely connected to al Qaeda and an American military officer, his crimes have been in a murky gray area. I've written at least three posts on the matter, going back to days after the attack: "Was Fort Hood Massacre 'Terrorism'?" "Purple Heart for Fort Hood Victims?" and "Army Denies Purple Heart to Fort Hood Victims (For Now)." To both summarize and bring up to date my thoughts, there was insufficient evidence in the days after the shootings that Hasan was a terrorist rather than a psychopath; it's now clear that he was, at very least, an al Qaeda wannabe if not more connected than that. The Army rightly denied the Purple Heart to his victims prior to his conviction for complicated reasons having to do with the unique nature of the military justice system but should have moved quickly to award the medal afterwards given both the regulations governing its award and precedents set after other attacks.
So, why is the government still dragging its feet here and, as Oliphant's title question has it, why aren't congressional Republicans treating this matter with a fraction of the zeal they've invested in the Benghazi tragedy?
Before the select committee, the House had already launched eight separate probes of the attack on the diplomatic outpost in Libya. The number of GOP deep-dive inquests into Fort Hood? Zero. Moreover, legislation seeking to reclassify the incident as a terrorist act and to award combat-related Purple Heart benefits to the victims has been stalled for years.

There is one clear difference between the two incidents: Benghazi affords the GOP a chance to make life more difficult not only for President Obama but perhaps also for the Democrats' future presidential nominee, Hillary Clinton. The chain of fault with respect to Fort Hood is muddier, reaching back into the George W. Bush administration.
That strikes me as a thin reed. The massacre took place under Obama's watch and nothing about Hasan's prior conduct, which should indeed have raised giant red flags, would have been expected to reach the political appointee, much less presidential, level under Bush. And, while I have no doubt that the visceral disdain for Hillary Clinton is helping fuel the flames, there's just a fevered swamps feeling to Benghazi that defies political calculation.
Plus, drilling deeper into that affair would force Republican leaders to openly take on the Pentagon, which opposes any legislative attempt to compensate the Fort Hood wounded as victims of a terrorist attack or to paint Hasan as a terrorist who was hiding in plain sight. "They've fought this every step of the way," said Rep. Frank Wolf, R-Va.
This is a much more likely explanation: Benghazi implicates not only the highest levels of the Obama administration but the State Department, whereas the first Fort Hood massacre (one sadly needs to qualify given recent events) implicates the military. The former are held in very low esteem by the GOP while the latter is revered. To be sure, Republicans were fine with going after the political correctness angle of the military ignoring Hasan's various Islamist rants; but they're loathe to risk alienating the brass.
With Republican leaders unwilling to push the issue, fighting for Fort Hood has been a lonely struggle, involving just a handful of members mostly from Texas, including Rep. John Carter, whose district includes Fort Hood, and Homeland Security Committee Chairman Michael McCaul, as well as Wolf, Tom Rooney of Florida, and a single Democrat, Chaka Fattah of Pennsylvania. Democrats, standing by the administration, have also shown little interest in the issue.
That's really a shame. But it's pure politics: both Republicans and Democrats have different vested interests in just ignoring the issue.
Last week, Carter, with the help of Reps. Mike Conaway and Mac Thornberry, both also of Texas, was able to insert some Purple Heart language into this year's National Defense Authorization Act. A similar push last year was first watered down in order to pass the House and then stripped out during a conference committee. In the other chamber, Sen. John Cornyn's bid to include a related amendment in the NDAA was blocked.

Last year's effort failed, Virginia's Wolf told National Journal, because of pressure from the military and the administration. In a letter leaked to ABC News, the Pentagon warned members of Congress that approving the legislation would "fundamentally alter the fundamental character" of the Purple Heart award and would "undermine" Hasan's prosecution.

More than 100 victims of the shootings and family members filed suit in 2011, asserting that the Defense Department's refusal to classify the injuries as combat-related cost them thousands of dollars in benefits. But the suit was stayed, pending Hasan's court-martial. Hasan last year was convicted on premeditated murder charges, yet the lawsuit still hasn't moved forward. Nor has the military backed off in its opposition to reclassifying the event.
As I've noted in the past, I'm torn on the matter of issuing the Purple Heart to people who are essentially crime victims. Historically, it had been reserved for those who were actively engaged in combat with the enemy, knowingly risking life and limb. But we changed the rules after the 1983 Hezbollah attack on the Marine barracks in Lebanon and the award of the medal to those killed in an Arlington, Virginia office building in the 9/11 attacks has opened the floodgates. It would be churlish to deny that small comfort to the victims' families given the precedent. But, while it has gotten a lot of attention, the Purple Heart is really a side issue.
The fact that we're denying the victims' families the additional compensation and benefits they'd get if the deaths are classified as combat-related  is shameful. There's no obvious distinction between these victims and those who died in the Pentagon on 9/11.
Beyond compensation, the lawsuit would have given the plaintiffs to opportunity to review Defense Department and administration documents—and their lawyer, Reed Rubinstein, says Congress still has a responsibility to provide "honest, open, transparent oversight and accountability" for the events leading up to—and following—the shootings.

"Nobody wants to revisit it," said Rubinstein, who has been lobbying Congress to act on behalf of his clients.

The FBI conducted its own internal probe in the wake of the Fort Hood shootings, as did the Army and the Senate Homeland Security Committee under then-Chairman Joe Lieberman.

The FBI investigation, overseen by former Director William Webster, concluded that the bureau failed to act on a chain of emails between Hasan and radical cleric Anwar al-Awlaki which seemed to indicate that Hasan was sympathetic to the Islamic militant cause.

The Army's report was heavily criticized for not touching on Hasan's possible political and religious motivations.

Neither review sought to establish whether political concerns played into the Obama administration's decision to classify the act as a workplace crime. No investigation ever has—even as the House GOP today is fixated on whether the White House burnished Benghazi talking points in a bid to protect its image.

The only effort to date to hold the administration "accountable"—to use Boehner's word—is the bid by Carter, McCaul, and Wolf to force Attorney General Eric Holder to say whether the Justice Department advised the Pentagon against investigating and prosecuting the Fort Hood shootings as a terrorist incident. But even there, after Holder stonewalled them, there's been no attempt to take him to task, as the House GOP did with the "Fast and Furious" gun-tracking scandal.

But that was another investigation that promised to show only the Obama administration in a poor light. What went wrong at Fort Hood doesn't break down so neatly along party lines. Which means as a political bludgeon, it's just simply not as useful.
My own sense of the matter is that, as with Benghazi and "Fast and Furious," there's little here that reasonably rises to the level of presidential scandal. The Army's handling of Hasan long before the shootings was lamentable but perfectly understandable. In a posting written within a couple days of the attacks titled "Hasan a Muslim First, American Second?" I observed:
In hindsight, it's pretty clear that the Army didn't [take appropriate action] with regard to the signs that Hasan was unfit.  But it's not at all inconceivable that "the Army" had no idea.  The fact that several of his colleagues had heard him say highly inflammatory things doesn't mean that these things were reported up through the chain of command.  Further, it's not entirely clear what his superiors could have done with these reports, aside from confronting and counseling him.

While highly constrained in terms of time, place, and manner, military officers are allowed to disagree with official government policy in casual conversation with one another.  Plenty of officers, including those currently deployed to Iraq and Afghanistan, have no doubt expressed bitterness at missions they don't believe in.  Lord knows, a large number of them did so about the various deployments ordered by Bill Clinton in the 1990s.  And, while it may not have made Hasan a popular guy on base, one doesn't have to be a Muslim or want Americans killed to hold the view that citizens have a right to "rise up" against an invading force.

Beyond that, there's a natural reluctance to be overly aggressive in challenging a Muslim soldier as an enemy sympathizer.  Being accused of racial profiling can be damaging to one's career.  Further, it can feed natural resentments against Muslim soldiers, almost all of whom are just as loyal to the country, the uniform, and their fellow soldiers as the next guy.

I'm of course reminded of Sgt. Hasan Akbar, who went into a religious-inspired rage and murdered two 101st Airborne Division officers in 2003.   But, as Spencer Ackerman reminds us, Sergeant John Russell, who killed five soldiers in a shooting spree at Camp Liberty back in May, was not a Muslim.  So, outlandish claims that "the enemy is infiltrating our military" are unhelpful.

We have a natural desire to want to make sense of tragedy.  Unfortunately, we seem to have lone psychopaths going on shooting sprees and committing mass mayhem every now and again.  And we only see the "obvious" clues in hindsight.
A few months later, in "Army Political Correctness and the Hasan Report," I both side with critics of Big Army like Ralph Peters but make the substantial caveat:
Look, we've got to change a system where someone so blatantly outspoken in his sympathies for his country's enemies can be weeded out.   But let's not pretend that there are hundreds of Hasans out there in the ranks, ready to rise up and commit jihad against their erstwhile comrades-in-arms.

The United States military long had difficulties with intolerance of difference, whether of race, gender, ethnicity, or political outlook.

During the first half of  my dad's career (which spanned from 1962 to 1983) blacks and Hispanics faced hostility from an Army culture that is exceedingly Southern.  That's largely gone; racial minorities likely face greater acceptance in the military than in most workplaces.

When I first went into the military, starting as a cadet in 1984, most of us — and, yes, I include myself — were hostile to the presence of female soldiers, thinking most of them unfit for service and the impact on esprit and unit discipline not worth whatever benefit derived from the handful of good ones.  Why, the military isn't a social experiment; it's a fighting force.  But politicians kept forcing the military to allow women into more and more career fields that the military's leadership thought they couldn't do.   Lo and behold, they've done pretty well for themselves.  There's still some resistance to the role of women in the force — especially in the Navy, for understandable reasons — but the culture has changed.

A primary mechanism for making this work was a system that made it very difficult for officers to get promoted if they were perceived as anything less than wholly enthusiastic of then new policies.  Like anything else that bureaucracies do, it naturally went too far.  For example, when women were first allowed to become fighter pilots, too few of them were selected for candidacy and the people in charge of training were afraid to wash out the ones who weren't hacking it.  People died.  Arguably, the same thing happened in Hasan's case.

But, as Bernard Finel points out, part of the problem is that the Army is having a hard time attracting psychiatrists, Palestinian or otherwise.  And, since the main weeding mechanism is periodic promotions, incompetents are likely to get a free pass.   The system just isn't designed to get rid of people unless they're up from promotion.  So, absent a court martial or some sort of administrative discharge for incompatibility for service, it was going to be extremely difficult to get rid of Hasan.

I'd like to fix that.   Not just for the purposes of getting potential serial killers and terrorists out of uniform — it's hard to design a system around extremely unlikely contingencies — but to ensure that our soldiers have the leadership they need and deserve.  At the same time, we shouldn't overreact to the point that it's open season on Muslims — or people with funny sounding names — in uniform.

The potentially good news is that we happen to have a commander-in-chief named Barack Hussein Obama.   For a variety of reasons, I didn't vote for him and likely won't next time.   But there is a certain "only Nixon can go to China" advantage in having the boss inoculated from criticism for bigotry when the policy goes in the other direction.  And, one would think, a certain interest in making sure we don't overcorrect, too.
In both Fort Hood and Benghazi, people were murdered by terrorists. In both cases, there were clues, easily seen with the advantage of hindsight, that pointed to leadership decisions that could have prevented tragedies. Because of the differing nature of service in the military and an overseas embassy—the former is hierarchical to the extreme whereas the latter requires at least the appearance of welcome openness—it's the former, not the latter, where more reasonably should have been done. But neither are legitimate scandals.
But the aftermath of Fort Hood is quickly rising to the level of shamefulness. It's time for the president to make the right decision with regard to the victims' families. If he doesn't, both parties in Congress should demand to know why.