'Active Shooter' Reported At Fort Hood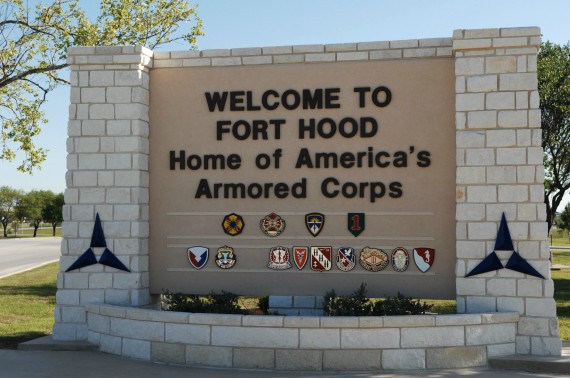 Local and national media are reporting an active shooter situation at Fort Hood, Texas:
(KCEN) — We have reports of an active shooter on Fort Hood.

We are getting reports of at least one person dead along with several injuries from this shooting. There is at least one patient being transported to the hospital.

We are also getting reports of victims in the Battle Simulation Center on 65th and Warehouse.

The suspect is still at large. The shooter was said to be in building 33026 which is the Medical Brigade Building.

Reports have said that he was driving a gray Toyota, described as a white male in an Army Combat Uniform, and carrying a .45 handgun.

Fort Hood has been put on lockdown
A live stream of local coverage is available at the link.
Fort Hood, of course, is the site of the November 2009 attack by Major Nidal Hasan that resulted in the death of 13 soldiers and the injury of 30 others. Hassan was convicted of all the charges against him last year, and sentenced to death. His case continues to make its way through the military justice system.
Further updates as warranted.
Update: From The Washington Post:
The Fort Hood military installation in Texas is locked down after a shooting.

Fort Hood confirmed the statement in a shooting shortly after 5:30 p.m. local time (6:30 p.m. on the East Coast).

"There has been a shooting at Fort Hood and injuries are reported," the statement said.

David Ross, a Fort Hood official, said the site is fully locked down and "completely sealed" as they search every building.

"There is a confirmed shooting that occurred," Ross said. "We're still trying to identify what we have."

Multiple people are injured after the shooting, but it's unclear how many people were injured, said Marcine Folsom, a public service officer with the Bell County Sheriff's Department.

"The person, as far as we know, is still at large," Folsom said.

Fort Hood's Web site is urging people to shelter in place immediately, something followed up by this tweet.
And the Tribune -Herald in nearby Waco:
The base confirmed the shooting in a brief statement posted online Wednesday. The statement also said emergency crews were on the scene and that further details were not yet known.

The Bell's County Sheriff's Office dispatched deputies and troopers from the Texas Department of Public Safety to the nearby post after receiving reports of an "active shooter," sheriff's Lt. Donnie Adams said. FBI spokeswoman Michelle Lee said its agents were also headed to the scene.

The base was the scene of a mass shooting in 2009. Thirteen people were killed and more than 30 wounded in what was the deadliest attack on a domestic military installation in history.

On its Twitter feed and Facebook page, Fort Hood on Wednesday ordered everyone on base to "shelter in place." The 1st Calvary Division, which is based at Fort Hood, sent a Twitter alert telling people on base to close doors and stay away from windows.

White House spokesman Josh Earnest said the president has been informed of the reports of a shooting at Fort Hood and will continue to receive updates as he attends a pair of Democratic Party fundraisers in Chicago.
As is always the case with these types of situations, initial reports are likely to be incomplete, if not entirely incorrect, so we'll have to wait for further details.
Update #2: There are multiple media reports that the shooter is dead and that there are as many as 14 people injured and being treated for injuries at local hospitals.
Update #3: CBS News reports that there is one person dead in addition to the shooter, whom they claim to have identified:
FORT HOOD, Texas - A gunman opened fire at Fort Hood in central Texas, killing at least one person and wounding several others before taking his own life, CBS News has confirmed.

The incident occurred Wednesday afternoon at Fort Hood, the site of a 2009 mass shooting.

CBS affiliate KWTX reported said one death had been confirmed and as many as 15 other people were injured. The gunman died of a self-inflicted wound, law enforcement sources told CBS News.

Sources identified the suspect as 34-year-old soldier Ivan Lopez. A source said the violence apparently stemmed from some sort of soldier dispute.
If that report is true, then this would not appear to be a terrorist incident like Major Hasan's attack.