Republican Tate Reeves Wins Mississippi Governor's Race
In the least surprising news of Election Night, Republican Tate Reeves pulled off a win in overwhelmingly Republican Mississippi.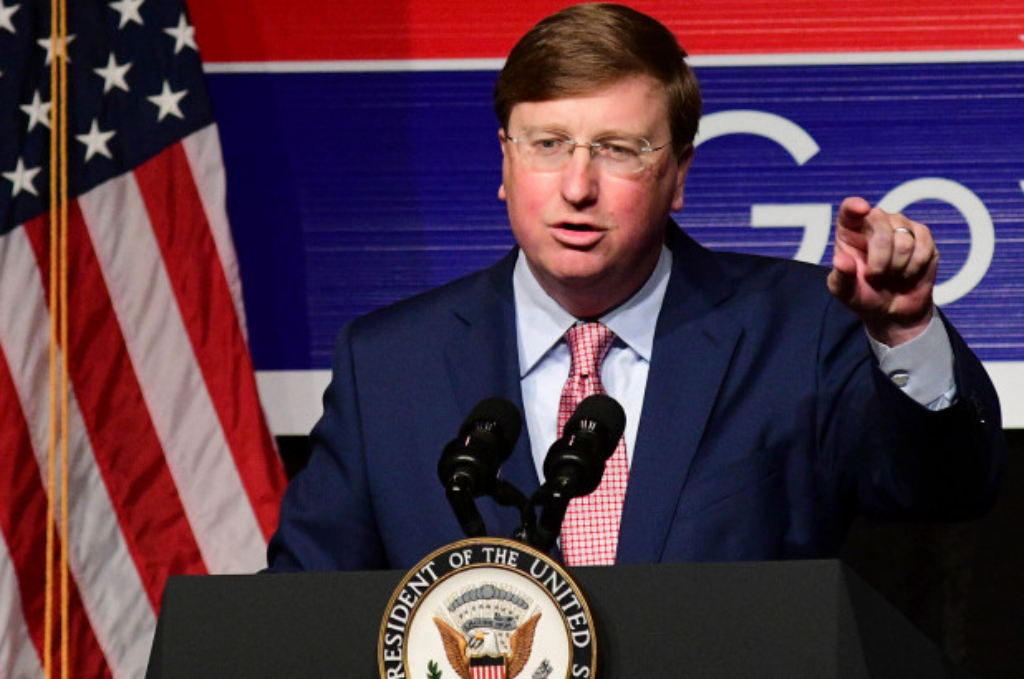 In what is perhaps the least surprising race of the night, Republican nominees Tate Reeves, currently the state's Lt. Governor, has won the race to succeed Phil Bryant as Governor of Mississippi:
Republican Lt. Gov. Tate Reeves won the race for Mississippi governor Tuesday night, defeating Democratic Attorney General Jim Hood.

Republicans were on track Tuesday to control all statewide elected offices in Mississippi and are expected to maintain super-majority control of the Legislature. It will be the first time since Reconstruction that Republicans control all statewide elected offices in Mississippi.

In incomplete and unofficial results, Reeves led Hood on Tuesday night 52% to 47%. After a race filled with attack ads, Reeves took a conciliatory tone in his victory speech in downtown Jackson.

"I will try to do what is right for the future of Mississippi," Reeves said. "And I mean all the people of Mississippi."

After spending months tarring Hood as a liberal beholden to trial lawyers and national Democrats, Reeves downplayed any acrimony, joking that they disagreed on a few issues. He called Hood a dedicated public servant and asked the crowd to applaud Hood.

"We all know that campaigns are necessarily tough. Battles in the Legislature can be tough," Reeves said. "But we only have one governor. And that one governor must serve one people."

In the past Reeves promoted his ability to reject government spending, but he told supporters it is now time to invest in the state's people, particularly teachers and students.

"Our state is in excellent financial shape. We have made tough financial decisions to get us here. Those decisions were not always popular. But the right thing often is not popular," Reeves said. "We will move Mississippi up the charts. We will make investments, and we will get results."

Reeves said his supporters worked hard because they "believe that Mississippi must be different."

"We must resist the leftward drift of our country. We must build a workforce for the jobs of the next 50 years," he said. "We must protect the culture that makes this a great place to raise a family. We must understand that you can govern as a conservative in Mississippi and still get elected."

Hood conceded the race and called Reeves at about 10:30 p.m., telling supporters, "We've run a good race." Hood reiterated a campaign theme, that he ran to try to help "the least among us."

"The good Lord has allowed me to serve the people of Mississippi for 24 years," Hood told a crowd gathered at a downtown Jackson hotel. "It has been a good run. I guess it was not his will that we would continue on as governor. I can tell you, it will be a relief not to have the stress of holding political office."

Reeves outspent Hood two-to-one, but polls leading up to the contest showed a tight race.

Reeves, the second-term lieutenant governor and former state treasurer, was long considered heir apparent to Gov. Phil Bryant. He cast himself as a hard-line conservative and frequently brought national politics into his speeches and ads.

"We're gonna run this state like Donald J. Trump is running America," Reeves told a crowd last month.

Hood was the state's attorney general for 16 years. He shied away from associating with other Democrats and actively courted moderate Republicans upset with the status quo.

In addition to more spending on education and infrastructure, Hood campaigned on expanding Medicaid to lower-income Mississippians under the Affordable Care Act, which would bring billions of dollars of federal money to the state. Hood said this could be done without raising taxes, aligning himself with a plan promoted by some Republicans.
Hood said he was pleased to see the "middle" — including moderates and Republicans — come together to support him. Yet he also lamented the sharp partisan nature of the contest several times, indicating much of it was due to the national political climate.

"All this partisanship is something that hopefully will change," Hood said. "It has gotten to such an extent that people you know, that you go to church with, don't vote for you. There's something wrong with that. We need to get back to a time where we're more cordial to each other, in our political affairs."
Given the fact that it has been twenty years since a Democrat was elected Governor in the Magnolia State, and that Republicans have controlled the state's Senate seats and Congressional delegation for nearly that long, a Republican win here is hardly surprising. The only reason that the race was getting even a small amount of attention was due to the fact that there was some polling that showed Democratic nominee Jim Hood, who has been the state's Attorney General for 16 years, could be the candidate that would break the GOP control on state control. In the end, though, the race was not even close, with preliminary results showing Reeves winning by a comfortable margin of more than 50,000 votes.
Not surprisingly, Donald Trump is taking credit for the win due to the fact that he held a last-minute rally in the state on Friday night:
The truth, of course, is that this is a race that Republicans were long expected to win and that the outcome would have been significant only if Hood had somehow managed to pull off a win. I don't doubt that the President's last-minute appearance may have served as a last-minute 'get out the vote' rally but the margin of victory here makes it unlikely that Trump can claim credit for the win even though he obviously will. In the end, this was a status quo election for a state that is among the most deeply red in the country — President Trump won here by roughly 339,500 votes in 2016 after all. The only thing that would have made this outcome noteworthy is if it had gone the other way.