Arpaio in Context
The problematic nature of Arpaio's tenure goes beyond just his contempt charge.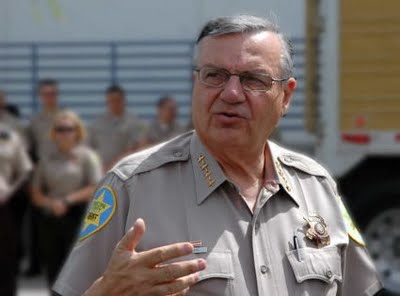 If one is unfamiliar with Joe Arpaio's tenure as Maricopa County Sheriff, I would recommend the following from a 2008 edition of the Goldwater Institute's Policy Report:  Mission Unaccomplished:  The Misplaced Priorities of the Maricopa County Sheriff 's Office.  A clear pattern is indicated in this report:  a man far more focused on immigration enforcement as he saw than on his actual duties.  The misuse of resources, and the lack of attention to actual crimes in Maricopa County should disturb principled conservatives who are concerned with law enforcement and fiscal responsibility.
I would note the enforcing federal immigration laws is not within his actual legal purview as a county sheriff, where his mission was to enforce the laws of the State of Arizona (this is federalism 101 for those keeping score at home).
An illustration of misuse of resources:  a strange obsession with Honduras:
Another diversion of resources away from direct law-enforcement activities is MCSO's repeated and curious deployment of deputies to Honduras.

[…]

In December 2007, MCSO received permission to use $264,450 from the Arizona Department of Homeland Security to expand its facial recognition program. Sheriff Arpaio claims he has received "millions of photos" from Honduras, though Honduras Secretary of Security Jorge Rodas told 12 News they have sent no photos to MCSO. Regardless, it is not clear why those photos are noteworthy, or what the exact nature of the relationship is between Honduras and MCSO.

MCSO also defends the program on grounds that it will help to prevent the spread of a violent gang called MS-13. But the U.S. Department of Justice says that the gang, which originated in California, is mainly associated with El Salvadorans, not Hondurans; and the Arizona Department of Public Safety has seen no evidence of MS-13 activity in Arizona. An ICE official told 12 News that Hondurans do not play a significant role in organized crime in Arizona.
So, not only are significant funds being expended on an activity that one would not expect from a county level law enforcement agency, they were focused on the wrong country.
As a side note, obsession with MS-13 is a staple of the Trump administration as well.
The piece concludes:
The Maricopa County Sheriff 's Office falls seriously short in all three of the core components of its mission as MCSO defines it. Over the past several years, MCSO has lost sight of its most essential priorities. Th e escalating rates of violent crimes in its jurisdiction coupled with diversion of resources to less important priorities, less-effective law-enforcement tactics, or to jurisdictions that have their own police departments, indicates it is not "the leader in establishing the standards for providing professional quality law enforcement." Its failure to assume leadership in reducing the huge backlog of outstanding warrants and its closure of satellite booking centers means that it is not effectively providing essential law-enforcement support services. Its detention of criminal suspects and convicted criminals has been the subject of successful and expensive legal verdicts and settlements, of investigations by the federal government, and of revocation of accreditation. Its records are inadequate and opaque rather than transparent.
On the fiscal front, note the following:
Via the Arizona Republic: Maricopa County infighting, lawsuits cost taxpayers $44.4 million
The costly political warfare began when the Board of Supervisors voted to cut the sheriff's and county attorney's budgets in 2008 amid worsening economic conditions.

Arpaio and Thomas viewed the cuts as politically motivated restrictions on their power as elected officials, and they responded with what they considered government-corruption investigations. They opened investigations and filed criminal charges and federal racketeering lawsuits against county supervisors and administrators, as well as judges involved in some of the cases.

A series of defensive legal battles ensued. For example, the supervisors took civil-litigation duties away from Thomas and created separate civil-division departments. Arpaio filed a suit against the supervisors claiming they took away his authority over the county's criminal-justice computer system.

By March 2010, all the charges and the racketeering suits had been dismissed. Then, 10 of the targets sued Arpaio, Thomas and their deputies, triggering millions of dollars in legal costs as Maricopa County defended itself, its agencies, other elected officials and employees named in those lawsuits.
And:  Taxpayer tab up to $70M in Joe Arpaio racial-profiling case
Former Sheriff Joe Arpaio may soon be pardoned for a criminal-contempt conviction stemming from a long-running racial-profiling case, but county taxpayers are still on the hook, now to the tune of nearly $70 million.

About $24 million has been funneled to case-related expenses this year alone, adding to the $46 million incurred since 2008. Costs will continue to mount for the foreseeable future.
Of course, his mismanagement of his department and the money he continues to cost taxpayers pales in comparison his long string of human rights abuses during his tenure in office.  I would also recommend clicking through to the tweetstorm of stories that start with this tweet:
We've been covering Joe Arpaio for more than 20 years. Here's a couple of things you should know about him… 1/many

— PhoenixNewTimes (@phoenixnewtimes) August 26, 2017
There are simply too many stories to link them all here.
See, also:
The ACLU:  Five Reasons Racist Sheriff Joe Arpaio Should Not Receive a Presidential Pardon
From a profile in Rolling Stone:  The Long, Lawless Ride of Sheriff Joe Arpaio
A host of stories at Reason: click.