Babies "R" Us Sells Defective Cribs, Won't Refund or Exchange
Babies "R" Us sells defective, dangerous products. Do not shop there.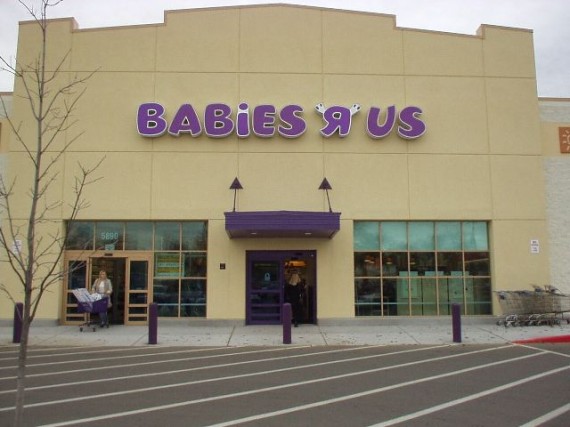 A little over two years ago, we bought a fairly expensive crib from Babies "R" Us, a Jardine Olympia model in black that cost over $400. It fit our decor nicely and we've had no real problems with it, other than some dings in the finish.
With baby number two due in a few weeks, we've moved that crib out of Katie's room and setting up a nursery. It turns out that there was a government-ordered recall on our crib back in April 2009 and warned that "Consumers should stop using recalled products immediately unless otherwise instructed. It is illegal to resell or attempt to resell a recalled consumer product."
Apparently, "CPSC has received 31 incident reports of slats breaking, including two reports of children becoming entrapped in the gap created by the broken slat on the crib models identified below. In 10 of these incidents, consumers reported that their child broke the slat while in the crib. There was one report of minor injuries (bumps and abrasions.)"
The company, whose line of cribs have pretty much all been recalled and is all but out of business, is offering a crib worth half what we paid and that doesn't match the furniture. So, my wife contacted Babies "R" Us, which was the primary retailer of said cribs, asking if we could get an exchange or store credit.
In a word, no:
Thank you for contacting the "R" Us family.

We apologize that you're not receiving a voucher from Jardine for your recalled crib. We regret to inform you that, as the manufacturer has offered a replacement or resolution for the recall, we are unable to assist you further or provide any compensation. Also, as the crib will be coming directly from the manufacturer, and was not purchased at a Babies "R" Us store, we are unable to accept a return or an exchange for the new crib. We recommend contacting Jardine directly, and they may be able to assist you further. We apologize for any inconvenience that this may cause you, and we look forward to serving you in the future.
This, incidentally, would appear to violate Babies "R" Us policy:
5. If I purchased a recalled product at Toys"R"Us or Babies"R"Us, can I return that product to the store and receive a refund or store credit?

Customers who wish to return recalled products to a Toys"R"Us or Babies"R"Us store will be accommodated. If you have a receipt for the recalled product, you will receive an immediate refund in the form of cash, credit or store credit based on the tender used in the original transaction. There are some exceptions to this policy, so be sure to check with your local store for more details.

6. What if I don't have a receipt or proof that I purchased the recalled product at a Toys"R"Us or Babies"R"Us store?We have a "no quibble" policy when it comes to recalls. This means Toys"R"Us and Babies"R"Us will take back recalled products sold at a Toys"R"Us or Babies"R"Us store at any point during the recall period. No receipt or proof of purchase is necessary to return a recalled product to one of our stores. If you do not have a receipt, you will receive a store credit for the lowest sale price of the product within the last 30 days.  There are some exclusions to this policy, so check your local store for more details.
We're apparently not alone.  The Consumerist wrote about the problem ("Jardine Crib Recall Program Tells Customers To Screw Themselves") way back in May 2009. Apparently Phil Villarreal was in the same situation.
Oddly, the CPSC's blog says, of a different crib recall last May, "You do not need a receipt to return a recalled crib to the retailer. The recalled cribs were sold at Walmart, Target, Babies R Us and other stores nationwide. Contact the store where the crib was purchased to receive a refund, replacement crib or store credit."
So, they've made a handsome profit selling defective baby cribs and won't stand behind the product that they sell. Which means thousands of their customers are left with cribs that their kids can't sleep in, which are illegal to sell, and their only remedy is to accept an inferior crib or screw off.
We'll be contacting the CPSC to see if there's further recourse. Regardless, however, we've made our last purchases from Babies "R" Us, Toys "R" Us, or any other store with quotation marks or reversed letters in their name.