Trump's Newest China Tariffs Are Going To Hurt Americans
The new round of tariffs on Chinese made goods that the President announced late last week will have a particularly severe impact on consumers and retailers.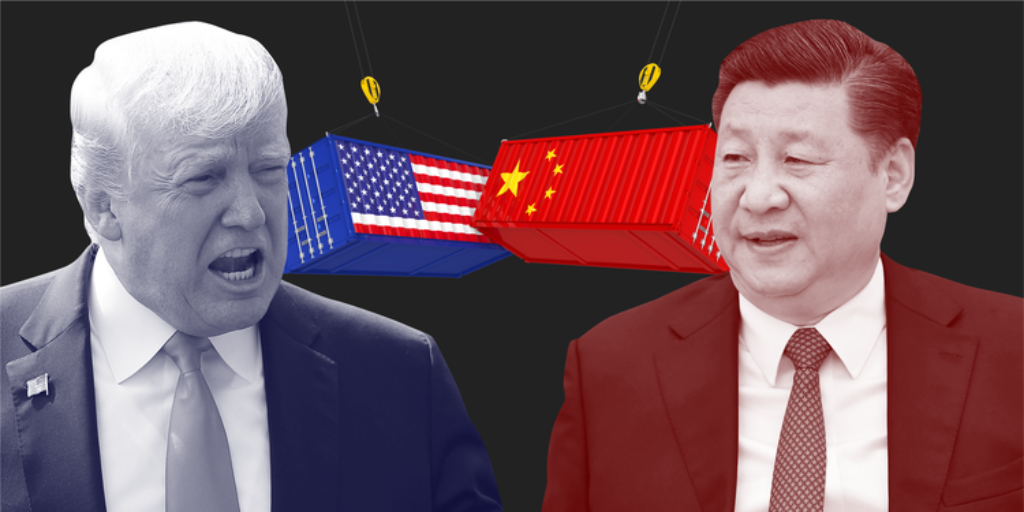 As I noted on Friday, the President announced a new round of tariffs on roughly $300 billion in Chinese goods, this time consisting largely of consumer goods such as iPhones, toys, and consumer electronics. The inevitable result of all of this, of course, will be higher prices for American consumers at a time when consumer spending is an even more important part of the economy than usual:
Earlier rounds of tariffs mostly focused on industrial goods, but the 10 percent levy announced Thursday is directed squarely at consumer items like clothes, toys and footwear.

That is bad news for, among others, shoemakers and the stores that sell their products, said Matt Priest, the chief executive of the Footwear Distributors and Retailers of America. Less than 1 percent of shoes are made domestically, and China is the source of 70 percent of the goods imported into the United States.

"We're very concerned this will be a long-term cost baked into what consumers will pay," Mr. Priest said, adding that he was not expecting exclusions to be made for footwear.

"Nearly every type of shoe is made in China, so there will be impact across the board," he said. The only exceptions are some high-end leather shoes that are made in Europe.

With some consumer products, the supply comes almost entirely from China, said David French, senior vice president of government relations at the National Retail Federation. He cited umbrellas, electric blankets and toys.

"Trump is feeling very muscular right now," Mr. French said. "But the next round of tariffs will hit the president's base particularly hard. The people who voted for him in 2016 felt economically vulnerable. The tariffs will cause job losses and higher prices for everybody but especially his base."

The most prominent American company bracing for the tariffs is Apple, which typically unveils new products every September.

In a letter in June, Apple urged Robert E. Lighthizer, Mr. Trump's top trade adviser, not to proceed with any new tariffs. The company warned that such tariffs would hamper its global competitiveness and reduce its contribution to the United States economy. Apple also said that new tariffs would tilt the playing field in favor of its global rivals.

Thus far, Mr. Trump has shown little sympathy for Apple. Last month, after the company filed 15 tariff-exclusion requests, he said that they would be denied and that the company should make its products in the United States.
And, of course, if the tariffs do go forward, there will be the inevitable Chinese retaliation. In that regard, it's important to note that China's options as far as tariffs are far more limited due to the fact that American imports into China are far smaller than Chinese exports. Much of what China imports consist of finished goods and agricultural products, many of which have already been subjected to tariffs thanks to Chinese retaliation for previous Trump tariffs. That means that Beijing is likely looking at other options to strike against
The trade imbalance between the two countries leaves China with limited options for imposing additional tariffs on imports from the United States. Beijing could introduce different kinds of barriers, including surprise inspections, license rejections for American companies or a broadening of China's "unreliable entities" list.

Analysts have also suggested that China could consider curbing exports of so-called rare-earth minerals to the United States, reinstate a tariff on American cars or continue to shun soybeans from American farmers.

Throughout the yearlong dispute, China and the United States have continued to talk through their disagreements. China's next move may be to give the silent treatment a try.
Even leaving aside the impact that the economy may feel from Chinese retaliation, though, the President's tariffs on consumer goods will hit at the worse possible time of the year:
The L.O.L. Surprise! House, a three-story doll house with a working elevator and heart-shaped swimming pool, was one of last year's best-selling holiday toys.

Now it's one of millions of items caught in the middle of the Trump administration's growing trade war with China. If President Trump's newest tariffs take hold, the $199 doll house will cost $250, according to its manufacturer.

"There is no question: We have to raise prices, which means consumers are going to be paying 30 to 40 percent more for toys," said Isaac Larian, chief executive of MGA Entertainment, which makes popular brands like Bratz, Little Tikes and Poopsie Slime Surprise! "We're in peak holiday season — the orders are in, factories are manufacturing toys and getting ready to ship them out right when these tariffs are going to hit."

Trump tweeted Thursday that he would impose a 10 percent tax on $300 billion worth of Chinese imports — including t-shirts, toys and televisions — beginning Sept. 1. While consumers have been largely shielded from earlier tariffs, the newest round would raise prices on just about everything Americans buy. More than 60 percent of the affected items are consumer goods, according to an analysis by Goldman Sachs.

The price of toys would rise by about 17 percent, shoes by 8 percent, clothing by 5 percent, and furniture and TVs by 4 percent, according to a report by the Trade Partnership, prepared for the National Retail Federation. The cost of laptops and tablets is expected to rise $50 to $120, while smartphones will cost an extra $70, according to the Consumer Technology Association.

Executives at Columbia Sportswear say they have already told retail customers to expect higher prices in the coming months. "Some prices will go up. We don't know exactly which ones or by how much — but what we know is there will be increases across the industry," said Peter Bragdon, the company's chief administrative officer.

Retailers say the timing couldn't be worse. The tariffs are scheduled to go into effect just as they begin their fourth quarter, a make-or-break period that often determines whether they have a profitable year.

The industry has faced its share of turmoil in recent years. The rise of online shopping, coupled with growing competition, has driven down profits and led to dozens of retail bankruptcies since 2017. Retailers have already announced plans to close more than 7,500 stores this year, and analysts say new tariffs could lead to thousands of additional closures and job losses.

"These tariffs will only threaten U.S. jobs and raise costs for American families on everyday goods," David French, senior vice president for government relations at the National Retail Federation, said in a statement. "The tariffs imposed over the past year haven't worked, and there's no evidence another tax increase on American businesses and consumers will yield new results."

He and others warned that raising prices on everyday goods could have a chilling effect on the overall economy. Consumer spending makes up roughly 70 percent of the U.S. economy, and the retail industry accounts for one-fourth of the country's jobs.

For each year the tariffs are in effect, American shoppers would pay $4.4 billion more for apparel, $2.5 billion more for shoes, $3.7 billion more for toys and $1.6 billion more for household appliances, according to the Trade Partnership. Those increases come on top of earlier tariffs, which had already imposed a 25 percent tax on $250 billion worth of Chinese imports as varied as suitcases, garden tillers and dog sweaters

"We survived the Great Depression, we survived the Second World War, but what we're facing now — it's hard to believe we're even in America anymore," said Lance Ruttenberg, chief executive of American Textile Company in Pittsburgh, which makes bedding for brands like Sealy and Tempur-Pedic. "This is debilitating for businesses and for consumers."

Companies of all sizes are likely to feel the pinch of higher prices — and slowing demand. Sales of Apple iPhones, for example, could fall by up to 8 million units in the coming year if the company passes a 10 percent price hike on to consumers, according to Dan Ives, an analyst for Wedbush Securities. He said Apple, which sources the majority of its products in China, has become a "poster child" for the trade war.

"The tariff news throws a mini wrench in iPhone demand, which will weigh on shares," Ives wrote in a Thursday research note. "These latest tariffs could significantly increase the cost of iPhones globally."
Apple's stock price has fallen more than 5 percent since Trump's Thursday afternoon tweet. Shares of Best Buy are down 9 percent, while Target's stock is down about 5 percent.
None of this should come as a surprise, of course. Contrary to everything that the President has said, tariffs on imports ultimately end up getting paid for by end-users and consumers. In this case, the fact that the end-user is the American consumer means that higher prices for a whole host of consumer goods just on the eve of the most important period for American retailers of the entire are inevitable. This will likely translate into lower consumer spending in response to the higher prices, and greater pain for a retail industry already facing pressure from competition with online shopping. This could lead to problems for already struggling retailers such as J.C. Penny and Sears, both of whom have been close to the edge of extinction for years now. Other retailers, such as WalMart and Target, will likely be able to withstand the bad winds due to the fact that they've both developed relatively robust online shopping divisions.
These new tariffs, if they are imposed, are likely to have an even bigger impact on consumers than previous rounds of tariffs have. In part, this is because previous tariffs have largely tried to avoid increasing the prices of consumer goods in ways that would make it noticeable. To a large degree, though, we've run out of ways to avoid placing tariffs on consumer goods and so here we are. This is why retailers are warning the Administration that these latest round of tariffs would result in higher consumer prices and layoffs in the retail industry. Additionally, the fact that these tariffs, which could rise to as high as 25% according to reports, would go into effect as the economy is shifting toward the holiday shopping season could mean that the impact on the economy is even more widespread than forecast.
Taking all of this into account, it's no surprise that world stock markets reacted negatively to the news about the renewed trade war and that American markets are responding in kind. As I write this, the Dow Jones Industrial Average is down more than 800 points, representing a 3.3% drop in value, while the broader S&P 500 is down nearly 100 points, also representing a 3.3% drop, and the NASDAQ is down more than 300 points, representing a drop of nearly 3.9%. This is happening because, unlike the President, who continues to believe that "trade wars are good and easy to win,"  The truth is that they are bad, and everyone loses.