Barack Obama And Michael Vick
President Obama was correct to commend the Eagles for giving Michael Vick a chance to redeem himself.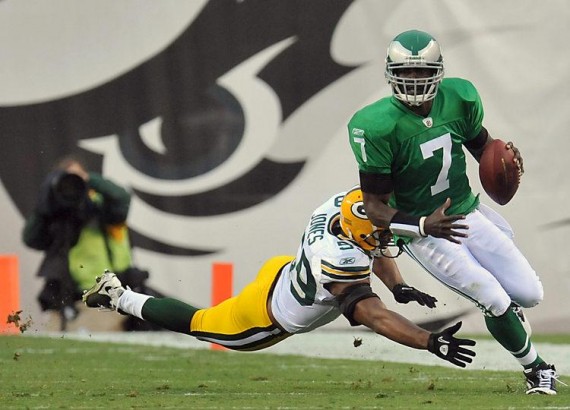 During a telephone call with the owner of the Philadelphia Eagles, President Obama took the time to praise the team for giving Michael Vick a second chance after his dog fighting conviction:
President Obama doesn't seem to shy away from the divisive social and cultural topics that Americans are debating in their living rooms, gyms and workplaces.

He has spoken out about the responsibility of fathers to raise their children, has condemned the arrest of a prominent black Harvard professor who said he was the victim of racial profiling, was heard chastising Kanye West for the rapper's rude behavior at the MTV Video Music Awards, and recently said his views on gay marriage were "evolving" from his previous opposition.

On Monday, the buzz was about how the president had weighed in on the redemption of Michael Vick. Obama phoned the owner of the Philadelphia Eagles to praise the team for giving a second chance to the quarterback, who is again a National Football League star 19 months after leaving prison for his role in a horrific dogfighting ring that killed pit bulls by electrocution, hanging and drowning.

The president has not spoken publicly about the call, though aides acknowledged that it took place. But Eagles owner Jeffrey Lurie told Peter King of Sports Illustrated and NBC Sports that during their conversation Obama was passionate about Vick's comeback.

"He said, 'So many people who serve time never get a fair second chance,' " said Lurie, who did not indicate when the call occurred. "He said, 'It's never a level playing field for prisoners when they get out of jail.' And he was happy that we did something on such a national stage that showed our faith in giving someone a second chance after such a major downfall."

Bill Burton, a White House spokesman, said Obama "of course condemns the crimes that Michael Vick was convicted of, but, as he's said previously, he does think that individuals who have paid for their crimes should have an opportunity to contribute to society again."
President Obama's comments aren't likely to stir nearly the amount of controversy they might have even a year ago, largely due to the fact that Vick has had a very good season in Philadephia, not only taking over for Donovan McNabb amid residual signs that the fans still hadn't accepted him, but leading the team back into the playoffs this year. As the old saying goes, nothing succeeds like success, and even animal rights groups don't hold the same animosity toward him that they used to:
People for the Ethical Treatment of Animals said Obama's call was appropriate, noting that Vick himself has given speeches around the country apologizing for his crimes.

"Obama's a sports guy, Vick's a sports guy, and comebacks and redemption can happen," said Ingrid E. Newkirk, the group's co-founder and president. "We all want a president who can lift us up and move us forwards when ugly things happen, but that cannot let us forget and remain watchful to avoid future abuses."
Some people will never forgive Vick, of course, and I think the condition of parole that forbids him from owning a dog is appropriate under the circumstances. However, he's served his debt to society and he's succeeding at his chosen career. Isn't that sort of what we want criminals who get released from prison to do?