Barr on Trump
Waaaay too little, waaay too late.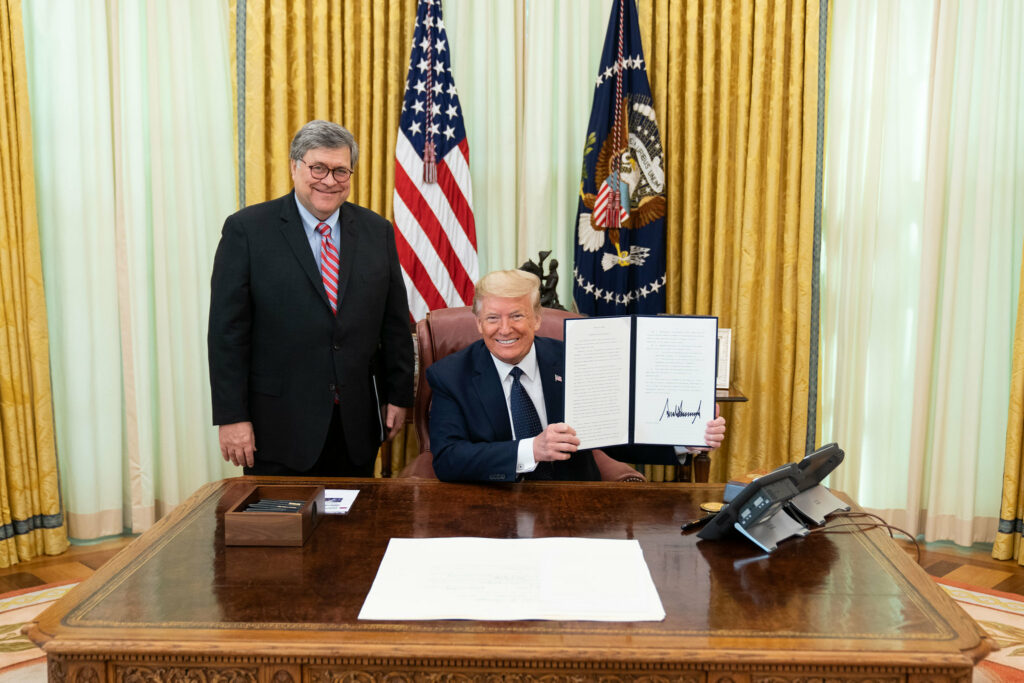 Via Common Sense: Bill Barr: Trump Will Burn Down the GOP. Time for New Leadership.
During the Republican primaries in 2016, I supported, in succession, every alternative to Donald Trump. I did not see him as our party's standard-bearer. He was not my idea of a president. I could see that he was grossly self-centered, lacked self-control, and almost always took his natural pugnacity too far. While he could be compelling, I found myself cringing at his frequently juvenile, bombastic, and petulant style.  
And, so, he agreed to be his Attorney General, and helped deep-six the Mueller Report, as one does for someone who not one's "idea of a president"–especially [checks quote again] someone who "grossly self-centered, lacked self-control, and almost always took his natural pugnacity too far."
In fairness, he details some fairly vacuous positives of the former president:
I also saw Trump's strengths. I liked the clear and direct way he staked out a position and his willingness to state unpleasant truths that many were afraid to say. I appreciated that he was willing to confront head-on difficult issues—like unfair trade deals, or our allies' paltry defense spending—that other politicians dodged. Above all, Trump had accurately diagnosed, and given voice to, the deep frustration of many middle-class and working-class Americans who were fed up with the excesses of progressive Democrats; the shameless partisanship of the mainstream media; and the smug condescension of elites who had mismanaged the country, sold them out, and appeared content to preside over the decline of America. 
Apart from "unfair trade deals" and the reference to NATO defense spending (which Obama did, too, just not as childishly as Trump) I see nothing of substance in that paragraph. Indeed, I would love for Barr to make a list of, say, five "unpleasant truths" that Trump would say that others would not. While I can think of a lot of unpleasant things he was willing to say, I am finding myself unclear on the truths in question.
Later in the essay he does list the following,
Trump has every reason to be proud of his administration's substantive achievements. Among other things, his tax reform and deregulatory efforts generated the strongest and most resilient economy in American history—one that brought unprecedented progress to many marginalized Americans. He had begun to restore U.S. military strength by increasing spending on new-generation weapons, advanced technology, and force readiness. He correctly identified the economic, technological, and military threats to the United States posed by China's aggressive policies. By brokering historic peace deals in the Mideast, he achieved what most thought impossible. He had the courage to pull us out of ill-advised and detrimental agreements with Iran and Russia. And he fulfilled America's long-delayed promise to move its Israeli embassy to Jerusalem. 
Qutie frankly., most of that (save maybe the Jerusalem move) would have been achieved by any GOP president with control of Congress. And the military spending and weapons development hardly stalls under Democratic control.
Not surprisingly, the bulk of this piece is not really about Trump's flaws as president, as much as it is about his flaws as a candidate. Barr far more bemoans Trump's inability to win 2020 (and therefore in 2024) than anything else. Trump's problem, you see, is tone.
Take his handling of Covid. The pandemic was not necessarily fatal to Trump's reelection chances. What hurt Trump was not the substance of his decisions, but his tonal response. His behavior reinforced what many people found repellant about his personality. He yielded to his impulse for pettiness and pointless nastiness; got drawn into infantile name-calling spats; and, in his press conferences, made everything about himself.
Sorry, Mr. Barr, but the substance of his decisions on Covid were highly problematic and led to thousands of unnecessarily dead Americans. So, no, the failings were not just tonal.
At any rate, Barr is worried about Trump's ability to unite the party and win in 2024:
It is painfully clear from his track record in both the 2020 election and the 2022 midterms that Donald Trump is neither capable of forging this winning coalition or delivering the decisive and durable victory required. Indeed, among the current crop of potential nominees, Trump is the person least able to unite the party and the one most likely to lose the general election.

Trump's extraordinarily divisive actions since losing in 2020 are not those of someone capable of leading a party, much less a country. Right after his defeat, he treacherously sabotaged GOP efforts to hold the Georgia Senate seats. The GOP's poor performance in the recent midterms was due largely to Trump's mischief. He fueled internal fights within state parties. He attacked popular Republican governors in Maryland, New Hampshire, and Arizona to dissuade them from running for Senate seats they could have won. He supported weak candidates for key Senate and House seats based solely on their agreeing with his "stolen election" claims. And after foisting these candidates on the GOP, he failed to provide them adequate financial support, largely sitting on a massive war-chest of cash raised from small dollar donors.

It seems to me that Trump isn't really interested in broadening his appeal. Instead he is content to focus on intensifying his personal hold over a faction within the party…
But, of course, the basic behaviors listed above were true (even if the specifics were not yet in place) in 2019 when Barr became part of the cabinet (and, again, did his best to scuttle the Mueller Report).
Quite frankly, this kind of essay (of which I expect to see a lot between now and 2024's primary season) feels an awful lot like apologies that consist of "I am sorry if anyone was offended" (or, perhaps more accurately, simply sorry that they got caught). This also feels a lot like 2015 and up and until Trump won the Electoral Vote in 2016 when all the Serious Republicans were siding against Trump until, you know, he won, and then over time a lot of those Serious Republicans decided that they could stomach Trump after all.
If Barr really wants to stop Trump, he needs to tell the unvarnished truth about his time in the administration and be willing to do a real mea culpa personally and on his party's behalf. To try and have his cake and eat it too on this is simply unacceptable, but is certainly what one would expect from a toady like Barr.
But, of course, that won't happen because Barr's real regret is not Trump (or his tone) but the threat of losing the election in 2024.